OPENING:
Enlighten Up! (NR) Kate Churchill's documentary about her own disastrous plan to turn her skeptical friend (Nick Rosen) into a yoga practitioner. (Opens Friday in Dallas)


Food, Inc. (PG) Robert Kenner's documentary exposé of contemporary corporate food practices. (Opens Friday in Dallas)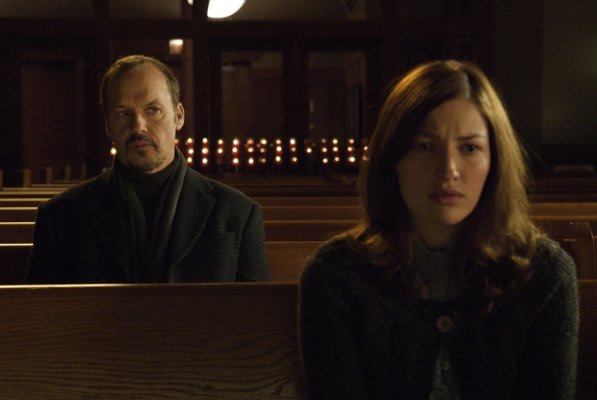 The Merry Gentleman (R) Michael Keaton stars in his directorial debut as a suicidal hit man who befriends a woman fleeing an abusive relationship (Kelly Macdonald). Also with Bobby Cannavale, Tom Bastounes, Darlene Hunt, Guy van Swearingen, and William Dick. (Opens Friday in Dallas)
Sleep Dealer (PG-13) Alex Rivera's science-fiction film stars Luis Fernando Peña as a future Mexican worker who takes a job at a cyber-sweatshop that allows him to assemble parts in factories thousands of miles away. Also with Leonor Varela and Jacob Vargas. (Opens Friday in Dallas)
Year One (PG-13) Jack Black and Michael Cera star in this comedy as two prehistoric hunter-gatherers who are banished from their village and undertake an epic journey through the ancient world. Also with Oliver Platt, David Cross, Christopher Mintz-Plasse, Vinnie Jones, Hank Azaria, Juno Temple, Olivia Wilde, Xander Berkeley, Horatio Sanz, Gia Carides, Kyle Gass, Bill Hader, and an uncredited Paul Rudd. (Opens Friday)
NOW PLAYING:
Angels & Demons (PG-13) Better than The Da Vinci Code, at least. Tom Hanks returns with a more sensible haircut for this sequel as a Harvard professor who's called in by the Vatican to use the clues in a set of Bernini sculptures to solve the kidnappings of four cardinals on the eve of a new pope's election. There's still too much expositional dialogue, especially at the beginning. Once that's out of the way, director Ron Howard turns this into a functional action thriller. The story's religious trappings are so much nonsense, but this is acceptable, if slightly stale, popcorn fare. As a sympathetic priest, Ewan McGregor steals away the acting honors despite his unsteady Irish accent. Also with Ayelet Zurer, Stellan Skarsgård, Pierfrancesco Favino, Nikolaj Lie Kaas, Thure Lindhardt, and Armin Mueller-Stahl.
Dance Flick (PG-13) The Wayans collaborate on this spoof of dance movies. The plot, mimicking those of Save the Last Dance and You Got Served, revolves around white, upper-class Megan (Shoshana Bush), who moves to the ghetto and clicks with one of her neighbors, Thomas (Damon Wayans Jr.), who is preparing for a dance battle to pay off a loan shark. Jokes about dance movies and pop culture and gross-out gags fly at rapid pace but mostly miss — the ones that hit are at most a chuckle. Still, the amiable cast and desire to entertain make Dance Flick less painful than most other bad comedies. Also with Essence Atkins, Affion Crockett, Chris Elliott, Christina Murphy, Chelsea Makela, David Alan Grier, Kim Wayans, Marlon Wayans, Keenen Ivory Wayans, and Amy Sedaris. – Cole Williams
Drag Me to Hell (PG-13) Spider-Man director Sam Raimi returns to his outrageous horror roots with this scary and funny B-movie. Alison Lohman stars as Christine, a mousy woman who, in an effort to assert herself at her banking job, ends up foreclosing on an old gypsy woman, who curses Christine with an evil spirit that torments you for three days before … well, see the title? Despite a PG-13 rating and the passage of 17 years since his last horror movie (cult classic Army of Darkness), Raimi hasn't lost his ability to get audiences to shriek and laugh. The movie drags near the end but generally keeps the scares coming, a welcome effort in a mostly scare-free summer. Also with Justin Long, Loma Raver, Dileep Rao, David Paymer, and Adriana Barraza. – Cole Williams
The Hangover (R) It has some hazy spots, but it's also funny enough to make your head hurt. Bradley Cooper, Zach Galifianakis, and Ed Helms play three friends who accompany a groom-to-be (Justin Bartha) on a bachelor's fling in Las Vegas. The prologue takes entirely too long, but the laughs eventually kick in when the friends awake with no memory of the night before and the groom MIA. Director Todd Phillips (Old School) returns to R-rated territory and retains his sense of comic timing, injecting bursts of violence and surrealism that keep us from getting too comfortable. The cast is a tad off, but the laughs scored by random jokes (like the song about the tiger and Mike Tyson's cameo as himself) make up for it. Also with Heather Graham, Ken Jeong, Rachael Harris, Mike Epps, Rob Riggle, Cleo King, Bryan Callen, Matt Walsh, and Jeffrey Tambor.
Land of the Lost (PG-13) Hiss! Will Ferrell stars in this staggeringly ill-conceived big-screen version of the 1970s TV show as a scientist who finds a portal into an alternate dimension filled with dinosaurs and other strange creatures. Ferrell's bumbling lummox personality is a bad fit with a movie that's supposed to be a wondrous fantasy, and hack director Brad Silberling (Lemony Snicket's A Series of Unfortunate Events) helps neither the star nor the material. The film lurches uneasily from one pole to another and never finds a groove as a comedy or an adventure. The whole experience goes down like too much cotton candy, and the Sleestaks aren't even scary. Also with Anna Friel, Danny McBride, Jorma Taccone, John Boylan, and Matt Lauer.
My Life in Ruins (PG-13) The distant memory of My Big Fat Greek Wedding is all but extinguished in this comedy that turns Nia Vardalos into a disposable unlucky-in-love romantic lead, here playing an uptight tour guide leading overfed tourists through Greece. The script is wearyingly cliché-ridden, the scatological humor is weird and juvenile, the bus driver character (Alexis Georgoulis) is too obvious a match for the heroine, and there's a bizarre subplot in which one of the tourists (Richard Dreyfuss) is posited as a guardian angel or even God. That last bit is typical of this movie: awkward, cheap, and funny for all the wrong reasons. Also with Rachel Dratch, Harland Williams, Caroline Goodall, Alistair McGowan, Ian Ogilvy, María Botto, Ian Gomez, and Rita Wilson.
Night at the Museum: Battle of the Smithsonian (PG) Mediocrity reigns in this sequel starring Ben Stiller as a security guard-turned-infomercial guru who teams up with Amelia Earhart (Amy Adams) to prevent an Egyptian pharaoh (Hank Azaria) from raising an undead army to unleash upon the world. The film's too scattered to work as a thriller, the comic material isn't good enough for the actors, and the special effects are thrown at you until your senses overload. As summer movies go, this is pretty weak. Also with Robin Williams, Christopher Guest, Ricky Gervais, Bill Hader, Alain Chabat, Jon Bernthal, Patrick Gallagher, Mizuo Peck, Jay Baruchel, Mindy Kaling, Craig Robinson, and uncredited cameos by Thomas Lennon, Robert Ben Garant, and Jonah Hill. Voices by Eugene Levy, Brad Garrett, and Jonas Brothers.
17 Again (PG-13) Unexpectedly funny genre picture stars Matthew Perry as a self-loathing 37-year-old named Mike who relives his high-school years after being magically transformed into his 17-year-old self (Zac Efron). A bit fuzzy on Mike's mid-life crisis, the film nevertheless has a number of terrific lines, Leslie Mann investing all sorts of conviction in the role of Mike's wife, and a scene-stealing turn by Thomas Lennon as Mike's tech-geek best friend who poses as his dad and flirts awkwardly with the hot high-school principal (Melora Hardin). Efron's pretty funny, too – his early career is starting to look like John Travolta's in his 1970s glory. Watch for the early scene in which Efron and Lennon duel with lightsabers. Also with Michelle Trachtenberg, Allison Miller, Sterling Knight, Brian Doyle-Murray, Jim Gaffigan, Collette Wolfe, and Hunter Parrish.
The Soloist (PG-13) Based on Steven Lopez' best-selling memoir, this drama stars Robert Downey Jr. as a Los Angeles Times columnist who befriends a mentally ill classical cellist (Jamie Foxx) reduced to living on the street. Director Joe Wright (Atonement) does a nice job with the atmosphere of L.A., and the two leads are excellent, especially Downey. However, Wright's direction too often veers into sentimental excess, and he fails utterly when he tries to capture the homeless man's madness through experimental cinema techniques. It all adds up to a wildly uneven movie whose bad patches and flights of soaring inspiration come equally thick and fast. Also with Catherine Keener, Nelsan Ellis, Tom Hollander, Stephen Root, Rachael Harris, Jena Malone, and Lisa Gay Hamilton.
Star Trek (PG-13) The funniest sci-fi blockbuster in recent memory, this relaunch of the fabled franchise tells the backstory of Kirk (Chris Pine) and Spock (Zachary Quinto) as they make their way through Starfleet Academy and earn their stripes fighting a rogue Romulan warrior (Eric Bana). The antic, high-energy Pine and the deadpan Quinto make an effective hot-and-cold comedy team, and the supporting cast contributes mightily to the laughs, especially Simon Pegg as Scotty. The film includes tons of in-jokes for the fanbase, but non-fans will find plenty to enjoy as well, not least the extended action sequence when Kirk and Sulu (John Cho) parachute onto a Romulan drilling platform and tangle with the guards. For a big-ticket event movie, this film's lightness is refreshing. Also with Zoë Saldana, Karl Urban, Anton Yelchin, Bruce Greenwood, Clifton Collins Jr., Ben Cross, Chris Hemsworth, Jennifer Morrison, Rachel Nichols, Tyler Perry, Winona Ryder, and Leonard Nimoy.
The Taking of Pelham 1 2 3 (R) Tony Scott's remake of Joseph Sargent's 1974 thriller stars Denzel Washington as a New York City transit cop who tangles with an armed former Wall Street wizard (a miscast John Travolta) who takes a train full of hostages and holds them for ransom. Director Tony Scott manages to bring some emotional heft to this slick thriller, which features long, tense pauses in its real-time setup. Scott's frequent leading man Washington invests the role with gravity and restraint. Watch for the melee triggered by a rat. Also with James Gandolfini, John Turturro, Luis Guzmán, Michael Rispoli, John Benjamin Hickey, Victor Gojcaj, Gbenga Akinnagbe, and Aunjanue Ellis.
Terminator Salvation (PG-13) After 25 years, we finally find out what John Connor does in the future war against the machines that's so great. Meh. Christian Bale portrays the grown Connor, while Sam Worthington plays a convicted killer who mysteriously comes back to life and helps Connor's war effort in unexpected ways. Director McG (the Charlie's Angels movies) cloaks the visuals in shades of brown and gray, and executes a few lengthy tracking shots that'll delight any film-school formalist. Too bad he can't begin to handle the emotional content of this movie, such as it is, and never generates any sense of fear and awe of the killer robots. What should be a dark and terrifying film comes out grim and soulless. Also with Anton Yelchin, Moon Bloodgood, Bryce Dallas Howard, Jadagrace, Common, Michael Ironside, Jane Alexander, and Helena Bonham Carter.
Up (PG) The latest Pixar animated film features an absurd yet somehow logical plot about a 78-year-old retired balloon vendor (voiced by Ed Asner) who attaches enough balloons to his house to sail away to South America, accompanied by an 8-year-old kid (voiced by Jordan Nagai) who's marooned on his porch. The best part of the film is a deeply moving wordless montage early on, depicting the early married life of its elderly hero. The rest of the movie is a Pixar adventure that's more lightweight than usual, though no less enjoyable for that. The warmth and simplicity at the heart of this fable are enough to win you over. The film doesn't even need 3-D to work. Additional voices by Christopher Plummer, Bob Peterson, Delroy Lindo, Jerome Ranft, and John Ratzenberger.
X-Men Origins: Wolverine (PG-13) What happens when you take the most badass mutant superhero out of the X-Men soap opera and give him his own feature? A rather tepid movie, unfortunately. The film follows Logan (Hugh Jackman) from sickly boy in the Canadian north in the early 1800s until the 1980s, when he joins a mutant special forces team headed by Col. Stryker (Danny Huston), accompanied by his increasingly vicious half-brother, Victor Creed, a.k.a. Sabretooth (Liev Schreiber). The two leads are perfect for their roles, but neither actor really gets the chance to cut loose. Despite a few decent action scenes, the story plods along without a sense of urgency. Focusing on Logan's work with Stryker instead of his enmity with Sabretooth turns out to be a big mistake. Beloved characters like Gambit (Taylor Kitsch) and Deadpool (Ryan Reynolds) are trotted out and then not given the treatment they deserve. Too many extraneous characters and shoddy special effects don't help either. Also with Lynn Collins, will.i.am, Kevin Durand, and Dominic Monaghan. – Cole Williams