A Fort Worth tradition recently expired with nary a whimper. Back in March, Lola's Saloon-Sixth pulled the plug on its Sunday-night jazz jam, a get-together of some of the best straight-ahead jazzbos in town. The sessions started over a decade ago at the old Black Dog Tavern on Throckmorton Street and carried over to the second and most recent Black Dog incarnation, on Crockett Street in the West 7th Street corridor. Lola's honcho Brian Forella agreed to keep the gig alive after Black Dog II closed in 2007, basically out of the goodness of his heart. The regulars drank enough. There just never were enough of them.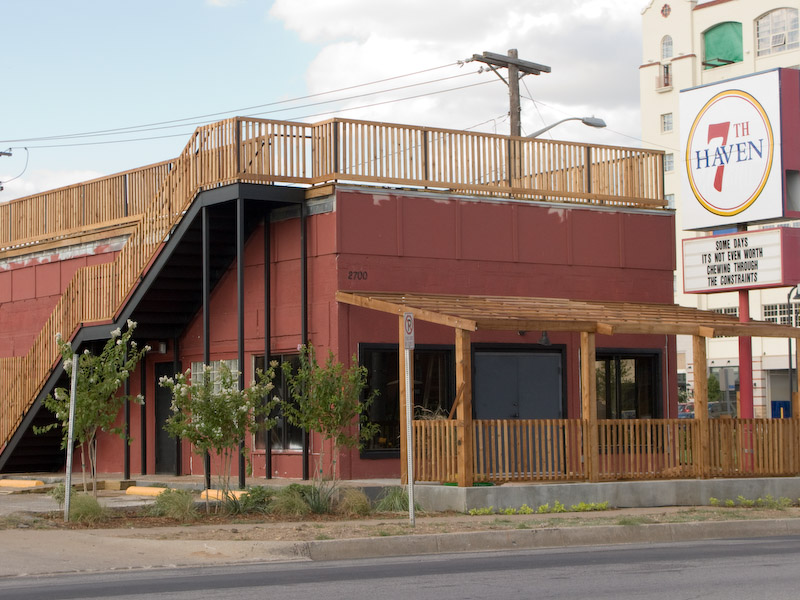 Drummer Dave Karnes, who took over leadership of "the Sunday jazz" when saxman Michael Pellecchia moved back to New England several years ago, is now working with his dad in West Texas. Karnes has left a void in leadership that, evidently, nobody has been eager to fill.
During the Black Dog's terminal phase, the joke was that if you wanted to give directions to the place, you'd say, "Just look for the lights from the 7th Haven next door," since former Black Dog owner Tad Gaither never got around to putting up any signage. Jimmy Moore's neighboring watering hole was similarly peripatetic, having relocated (with substantially the same vibe and appointments) from its original West 7th home after a fire there rendered the building uninhabitable.
While you don't generally think of the Haven as a music spot, it's played host over the years to some memorable gigs, specifically by ex-Woodeye frontman Cary Wolff, indie-rockers Tiebreaker, and jazz guitarist Keith Wingate. Now that Moore's bar is ensconced in its new digs, replete with rooftop patio and within stumbling distance of Montgomery Plaza, Wingate is once again a regular 7th Haven feature, holding down a Thursday night residency, performing standards and originals, either solo or with a revolving cast of bassists. If business picks up, he hopes to be able to afford a drummer.
Wingate's history with the Haven includes gigs as part of a trio with bassist Chuck Brown (Telegraph Canyon) and drummer Lucas White (Rivercrest Yacht Club, Confusatron, Missile Men), playing hits by rockers like The Beatles and Steely Dan alongside fusion favorites by the Mahavishnu Orchestra and Pat Metheny. These days, the axe-slinger favors more purely jazz-flavored fare. Another distinguishing characteristic of his current Thursday night stand is its earlier start time: Wingate performs from 6:30 to 9:30 p.m., hours when fans of jazz around the Fort (except for those who prefer Johnny Case's dinner sets at Sardines Ristorante Italiano) are just starting to think about stepping out. That's good news for jazz lovers with day jobs, who are usually hitting the rack around the time most club shows are getting started. – Ken Shimamoto
About 'Time
After, oh, about 20 years, Overtime Bar & Grill on North Beach Street has opened. The bar/grill has had a "coming soon!" sign out front at least since I moved to the North Beach neighborhood about two years ago. Located in a strip mall by Loop 820, the OT is my new favorite North Fort Worth sports bar. Not saying its competitors aren't charming. Papa G's Sports Bar and Grill in Watoosyin' Watauga, a companion to the Papa G's in Bedford, is spacious, the service superb, and the (homemade) salsa fantastic. Buffalo Wings & Rings, on Western Center Boulevard by I-35, is cozy and serves a mushroom-Swiss burger that almost — almost — rivals OC Burgers' (which is saying something). And "coming soon!" to the same neighborhood by Western Center and I-35 is Baxter's, a companion to the excellent Baxter's on Grapevine Highway in Hurst — both are owned by the same people who own both Papa G's.
So. All of Overtime's competitors are charming in one way or another. None of them, however, is as "me" as the OT. For one thing, I like dynamic spaces, and the OT is laid out about as nicely as a sports bar — any bar, for that matter — can be. The large space is divvied into fifths, with at least 10 TVs in each room. There's a lobby that leads you to two doors. Behind Door Number Two (on the right) is a small seating area and the restrooms. Behind Door Number One (on the left) is the main dining room. Beyond that is another room, for billiards. Hugging an outside wall is a narrow patio that's currently being expanded.
The partitioning of the space gives you options. If you want to play pool in peace, go to the pool room. If you want to watch TV and not be distracted by people playing pool in peace, go to the main dining area. If you want to whisper soft nothings in your date's ear, go to the front room by the restrooms. Variety is the spice of life 'n' all.
Another reason the bar/restaurant works for me is that it's outfitted with one of the coolest pieces of bar furniture I've ever seen: a gently curving row of elbow tables parallel to the gently curving bar counter, everything facing the bartenders with, above, some TVs. In between the two bar counters is enough room for customers at the actual bar to sit comfortably and servers to come and go comfortably.
The OT has a full menu, though you could argue that most people go for the cheesecake. On the day I was there, all of the servers (all of them were female) were wearing skimpy referee outfits.
– Anthony Mariani
Contact Last Call at lastcall@fwweekly.com.