Bigelf's metallic circus-influenced music is a quilt of T.Rex, Black Sabbath, Deep Purple, The Beatles, and Pink Floyd. It's essentially a six-pack of kick ass. But the foursome, with their stovepipe hats and turn-of-the-century, Oliver Twist waistcoats, aren't exactly a novelty outfit. There's some serious musical muscle on their bones.

Tracks off Cheat the Gallows like "Hydra" and "Gravest Show On Earth" are mammoth slabs of ominous guitars and sloth-like rhythms, everything united by Beatlesque harmonies. Other tracks, such as "Superstar" and "Blackball,"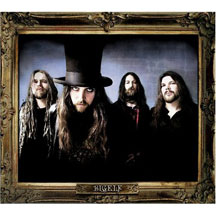 play with nancy-boy pomp and glitter rock, the kind of stuff that evidently has made Alicia Keys, of all people, a fan. So for every head-banging moment there is a danceable riff right around the corner.
The Angelenos' previous three records (including the smash Hex) somewhat sloppily crossed Rue Morgue imagery with men-in-tights metal. With Cheat the Gallows, the band has tightened up and wholly adopted the belief that hard rock can make you do three things: bang your head, strum the air, and shake your ass. And, hell, if you can jam some wheezing, Jon Lord-ish organs in there, go for it.
The swirling, psychedelic, Barnum & Bailey zounds and Floydian romps into interstellar overdrive hover over the album like L.A. smog, giving every track a hazy and doped – but intoxicating – feeling. With all of its haunted-hayride shenanigans, Cheat the Gallows may seem like a ghastly downer, but this was last year's best legal high and is worth hitting now.