As usual on July 4, the Fort Worth Cats and the Texas Rangers are playing home games and setting off fireworks afterward. This year, though, Tarrant County is offering a third sports alternative: soccer!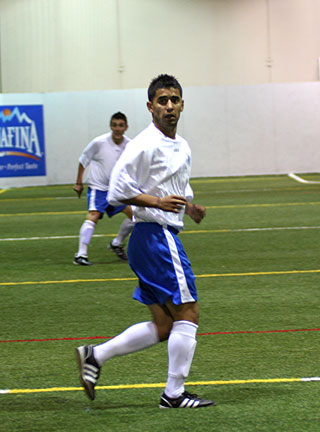 Not just any game, either, but USA vs. Mexico. Granted, this won't be the same USA team that took down Spain last week in one of the biggest-ever soccer victories for this country. No, this'll be the indoor soccer team. As we've said before in this space, indoor soccer is to regular soccer what arena football is to regular football: a faster, higher-scoring, lower star-power version of the real thing. You won't see Tim Howard or Jozy Altidore here, but you will see Texas Outlaws players John Andrews, Anthony Jama, Jamie Harrigan, and Kellan Zindel wearing the USA uniform and playing in the arena that'll be their home stadium for the upcoming season, scheduled to start in November.
Plus, this is a game against our neighbors to the south, and if the outdoor USA-Mexico soccer matches are anything to go by, this should be a contentious, hard-fought game with a few tempers flaring. With the weather in its current state, who wants to be attending sports events outdoors anyway, especially when this game will feature fireworks inside the building? What better way to express national pride on the Fourth than by cheering on America?
USA vs. Mexico kicks off at 6pm Sat at NYTEX Sports Centre, 8851 Ice House Dr, North Richland Hills. Tickets are $18. Call 817-845-8843.