In his native Louisville, Barry King grew up in a house full of cooks. His grandmother, "Meemaw," made a coveted butterscotch pie and cooked pork ribs in the oven until the meat slid off the bone. His father presided over huge family barbecues in public parks and was a sought-after judge at local cook-offs and tastings.


His mother was determined that Barry and his two brothers wouldn't dismiss kitchen artistry as "women's work." They learned how to fry, bake, broil, simmer, and sautée with the best of them. "She taught us how to do everything a woman could do, except give birth," the 53-year-old King said, chuckling.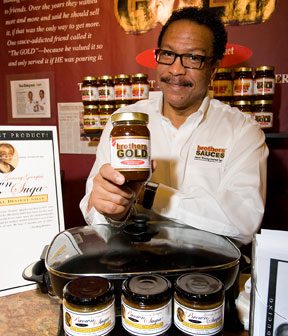 Even with that background, King never suspected he'd enter the bottled sauce business as a middle-aged man. Most of his adult professional life was spent as an advertising art director. After 30 years in that career, though, he grew restless. He decided to take a risk and invest in those homegrown culinary talents. In 2007, King, his wife Leah, and his brother Darryl (who currently lives in Arizona) launched Brothers Mesquite-Flavored Gold, a rich but surprisingly light barbecue sauce, from the Kings' Fort Worth home. Two other sauces — Brothers Peppery Sweet Heat (for chicken wings) and Brothers Hickory-Flavored Spicy Brown Mustard Gold — have since taken their place beside the original Gold on small food retailers' shelves across the country.
The genesis for Brothers Sauces was a simple recipe King improvised at a family barbecue cook-off in 1986. "Those cook-offs were competitive and intense," he said. "We'd all get up at 4 o'clock in the morning and start our grills with flashlights. My cousin from California was walking around videotaping everybody. We'd motion him away, like, 'Don't tape this. It's top-secret.' "
Almost as an afterthought, King created a barbecue sauce from a handful of ingredients purchased at the grocery store. Instantly addicted family members declared it was "good as gold" and insisted he should write down the recipe before he forgot it. Bottling the sauce for loved ones and friends became a 20-year hobby until Barry, Leah, and Darryl decided to become barbecue entrepreneurs. King knew his way around an advertising and marketing campaign, of course — he wrote the press releases, created the web site, and handled most details down to designing the label.
Brothers Sauces have gone on to snag prizes in national barbecue contests in Alabama, Tennessee, and Missouri. Fans in Connecticut, California, Maryland, and Kentucky order by the case. King travels around the country to give tasting demonstrations at fairs, festivals, and trade shows. Ever the salesman, he insisted that Brothers sauces have converted diners in regions of the country with very different ideas about what constitutes great barbecue.
"I think America will never have one really successful national barbecue chain, because people get so territorial about their own," he said. "Every time I meet someone from Kansas City, I tease them with, 'You can't do better than mesquite wood smoke.' They look at me like I'm crazy, of course, because for them, it's all about apple wood or cherry wood. … We developed the Spicy Brown Mustard Gold in part to try and please barbecue fans in South Carolina. Sauce is mustard-based for them. Now we've got buyers there."
King said that Brothers Sauces work well outside of the weekend griller's realm, citing people who use it for omelets, jambalaya-like sausage and rice dishes, turkey meatloaf and chili, and as a sandwich spread. I poured the Hickory-Flavored Spicy Brown Mustard Gold into small streams on the plates of two different meats: a medium1rare, center-cut sirloin and a grill-singed but tender salmon steak, both bought as take-out dishes from local restaurants. The three main ingredients of the Gold are molasses, brown mustard, and apple cider vinegar. With the little chile powder kick the Kings have included, the sauce managed to add welcome savoriness to the fish and satisfying low-flame heat to the beef. That warmth lingered pleasantly on the tongue for a couple of hours after the meals.
Brothers Sauces is about to add another elixir to its line, a dessert topping inspired by an 1895 recipe that belonged to the King brothers' great-grandmother. Barry said it took six months of quasi-scientific experimentation to come up with just the right balance of five basic ingredients: brown sugar, flour, water, butter, and vanilla. The result will hopefully be the same not-too-sweet, caramel-ish concoction that Mama King prepared along with a pan of gingerbread for her sons.
"She'd divide up the gingerbread and the sauce three ways, and give each of us a little container," he said. "And then she'd say, 'My work is done here, the rest is out of my hands,' because she knew we'd be fighting and bargaining if anyone had leftovers."
Brothers Sauces are available for $4.99 a bottle at local retailers and at www.brotherssauces.com.