Chow, Baby has figured out many of the important seasonal changes – Christmas (and Hanukkah and Kwanzaa, yeah yeah) decorations go up before Thanksgiving, Mardi Gras imbibing begins as soon as the New Year's hangover is gone, and we're not supposed to wear white shoes before Memorial Day. Got it. But it's still not completely clear when Chow, Baby's favorite season, Summer Dining, officially begins.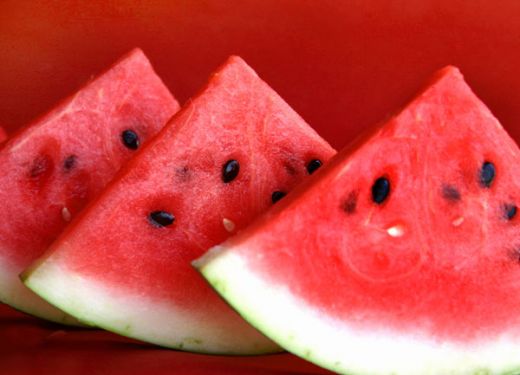 July 4, you suggest? That makes sense, being the first big feast after the solstice. Impatient Chow, Baby  jumped the season a bit with a trip to Ridgmar Farmers Market (900 Alta Mere Dr.), picking up a huge, sweet West Texas watermelon ($8.95) for the centerpiece of its early-Fourth banquet. Ridgmar's tomatoes looked gorgeous, too, in part because the in-house diner, Cowtown Bar-B-Que, had already done the work of chopping them into a tartly refreshing tomato-onion salad, Chow, Baby's side choice on its sliced and sausage (two-meat plate $7.95).
Unfortunately the feast tanked from there. Cowtown's barbecue was OK, nothing special, so Chow, Baby plumped up the cholesterol quotient of its pic-a-nic with a 15-piece box of budget-friendly Lisa's Fried Chicken ($16.99; eight area locations) – much cheaper than most chicken places, because Lisa's doesn't waste money on spices or, apparently, oil changes. Forget the July 4 idea; it's a loser. The official beginning of summer-dining season, truly, is when our bistros and cafes roll out their cool, garden-fresh, and daringly creative summer menus.
At Café Modern (3200 Darnell St.), fresh-and-summery means an herb crepe ($12) enveloping Parker County asparagus, parmesan Mornay, and prosciutto di Parma, with a crunchy provenance-unknown fennel side salad. Lovely. Grilled tenderloin medallions ($14) on greens and crispy onion strings were summer-sparked with blue cheese, brandied cherries, and – this was the masterful touch – roasted-shallot vinaigrette. Another touch of summer genius: brightening a hearty Shiner pastrami dip sandwich ($12) with sautéed Gala apples. It's still not what you'd call a light summer meal, especially with the heap of crispy french fries, but it sure is good. Goes great with the airy lemon-thyme cheesecake ($7).
Fresh-and-summery at Lili's Bistro (1310 W. Magnolia Av.) starts with – actually, Chow, Baby had planned to start with the ideal summer salad: Lili's cucumber-cool Greek wedge ($7.50) with feta-green onion dressing. But its plans were foiled by the newest greatest appetizer in the history of the world, a new menu item that brings together all the best summer flavors [drum roll]: the avocado shrimp-tini ($13), a martini glass full of avocado mousse and mango pico with a quartet of four-bite (each) shrimp balanced on the rim. Stunning. Embarrassing-moan-producing stunning. Addictive pita chips made for marvelous mousse-scoopers.
Lobster, another classic summer taste, is here made ultra-cool as Chef Heather's Lobster Salad ($19), chunks of tempura lobster atop green-tea soba noodles, with a killer sesame-ginger dressing. And on the strength of two sightings – Café Modern's pastrami with apples and now Lili's petite tenderloin fillets with gorgonzola and grilled pears ($24) – Chow, Baby is ready to call meat-'n'-fruit a summer star. How do these chefs keep coming up with these brilliant new combinations of flavors? Chow, Baby, whose pairings-creativity is limited to putting together which restaurants to patronize each week, is looking forward to enjoying them all summer long.
Contact Chow, Baby at chowbaby@fwweekly.com.