Judging by last Sunday's matinee at Theatre Arlington, the arc of the universe bends not just toward justice but also toward farce. What else explains why on July 5, 2009 — 233 years and a day after a bunch of ungrateful commoners declared independence from Her Majesty's government — a bunch of earnest Texas actors energetically attempted a rowdy British comedy that tweaks the excesses of, yep, Her Majesty's government?


This well-timed cocktail of karma and English farce is called Cash on Delivery, a door-slamming, butt-pinching, cross-dressing lesson in raiding socialism's coffers. Director B.J. Cleveland's 10-member cast didn't quite master the combination until the end of the
first act.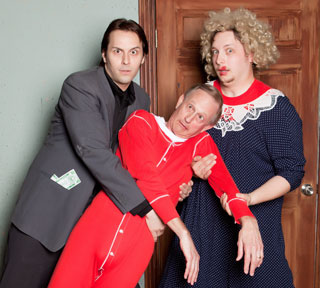 The comedy was written by the English playwright Michael Cooney, who also is an indie screenwriter of some fame (James Mangold's Identity, the upcoming Shelter with Julianne Moore) and the son of Ray Cooney, the author of Run For Your Wife!, that sex-comedy staple for English-speaking community theaters. Son Michael's Cash on Delivery unites the two great influences on his work: the psychology of crime (in this case, government fraud) and dad Ray's penchant for characters who are forced to create entirely new identities, often spontaneously and under duress. The latter is the improv-style device that drives this tale of a desperate unemployed man named Swan (Travis Cook) who must weave big, gaudy, concentric circles of lies to cover up the fact that he's been bilking England's social programs for their unemployment, disability, retirement, and death benefits. His scheme is to file, using the names of people he knows, alive and dead, to qualify for various subsidies.
Set designer Jack Hardaway evokes the slightly strangling, fake-bucolic domesticity of those 20- and 30-year-old Brit-coms still popular on American public television. That quality of overcompensation — the cushions overstuffed, the walls covered with sickly sweet line illustrations — reinforces that this house is not a home, it's a front where government checks are being collected and cashed en masse. Swan's wife Linda (Staci Cook) doesn't know about his systematic fraud. Neither does their lazy lodger Norman (Carter Frost). Swan's Uncle George (Kit Hussey), though, is very much a collaborator. A hospital employee, George falsifies medical documents to prove hardship and steals cancer wigs, surgical stockings, and orthopedic underwear to sell on the black market. Suddenly, all larcenies must be explained away when a series of government employees (Rebecca Brown, James Christjohn, Deborah Dennard), led by Social Security inspector Mr. Jenkins (Burl Proctor), invades the household demanding proof of need for all that taxpayer largesse. Swan and Norman create a series of phony recipients — a lumberjack who's fallen from a tree, a transvestite who happily shares his hobby with the family, a horny Tourette's Syndrome patient – to keep the wolves at bay.
Goofy as it is, Cash on Delivery works especially well in today's U.S. political climate, where Cooney's play can be read as either an indictment of clumsy, paternalistic socialism or as a juiced-up parody of right-wing anxiety about government intervention. Above all, it works best as a clever but dirty-minded romp in which a line like "Norman has a little Dickie" holds multiple meanings.
At Sunday's matinee, director Cleveland's utterly willing cast took a while to launch this unwieldy production. The technical demands on the performers are mind-boggling. Lead actors Travis Cook and Carter Frost began the proceedings at too high a pitch, fidgeting and exhaling and slamming doors loudly. The English accents on display ranged from excellent to barely there. The half-capacity audience responded with uncomfortable silence.
As the chaos accumulated, though, it became clear that the Theatre Arlington actors had an impressive command of the script's constantly shifting character details and, even better, its rigorous physical comedy. A show that started out too fast and hard soon acquired the quick, careful gallop of the playwright's pace, and the cast began to shine as an ensemble while still offering distinguishing individual performances. As the lodger unwittingly drawn into the scam, Frost easily juggled frustration and ingenuity as he spun phony explanations. As a real co-conspirator who received several well-timed door slams in the face, Hussey spent a lot of time appearing to the other characters as unconscious or dead: His sliding, slumping, spread-eagled bits were top-notch. Dennard gamely played a rather butch government supervisor, the better to be thought a cross-dresser for the plot's purposes. She turned a mere gimmick into a memorably formidable boss lady. As the sexy blond bereavement counselor, Brown played her character's cluelessness the right way, like it was a cheerful badge of honor.
At the risk of spoiling anything, Cash on Delivery ultimately rewards its characters for the most reprehensible choices. Crime pays in Cooney's script, and the pure anarchy of farce is victorious again. Despite a rough and ungainly start, Theatre Arlington's cast grew toward its own victory: a much-deserved standing ovation from an initially skeptical crowd. l