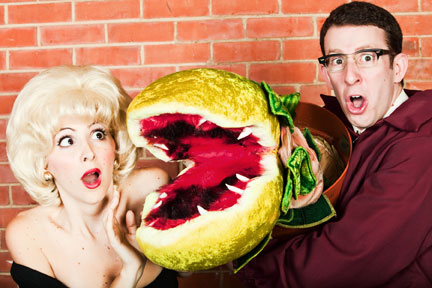 WED ? 8
The Broadway revival of Little Shop of Horrors makes its way to Bass Hall this week. Based on Roger Corman's 1960 black comedy film, this musical was written in 1982 by Alan Menken and Howard Ashman, the same songwriting team that would write songs for Disney musicals in the 1990s. The show runs thru Sun at 555 Commerce St, FW. Tickets are $30-75. Call 817-332-2272.
THU ▪9
Last year Amphibian Productions scored a big hit with Gutenberg! The Musical!, a play so popular that our readers chose it as the best stage production of 2008 in our annual Best Of issue. Amphibian has reason to feel confident bringing it back for another go-around, so if you missed it last summer, here's your chance. The play runs Jul 8-26 at Fort Worth Community Arts Center, 1300 Gendy St, FW. Tickets are $15-30. Call 817-923-3012.
FRI ▪ 10
The Fort Worth Water Gardens are a popular destination for downtowners looking for a picturesque spot. This evening and next Friday, it'll also be a place to catch Pantagleize Theatre's next production. Little Hill of Refuge is an original play about Irish settlers in 19th-century Texas, and before Pantagleize travels to Ireland to perform the work, they'll be bringing it out here. The show is at 9:15pm at 1500 Commerce St, FW. Tickets are $6-7. Call 817-472-0032.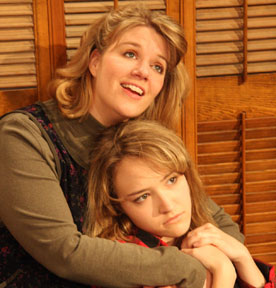 SAT ▪ 11
Moviegoers may remember The Spitfire Grill as an annoying, overheated 1996 independent film about a young, recently paroled ex-con who tries to restart her life waiting tables in a small town in Maine. (Whatever happened to Alison Elliott, anyway?) Perhaps it'll be more endurable as a stage musical put on by Stage West this week. The play runs Jul 9-Aug 9 at 821 W Vickery Blvd, FW. Tickets are $15-28. Call 817-784-9378.
SUN ▪ 12
Khalil Gibran was a Christian, but his writing style was heavily influenced by the Qu'ran all the same, never more so than in his 1923 book of poetic essays The Prophet. That book became wildly popular with the 1960s counterculture, so it's no surprise that Hip Pocket Theatre would adapt it for the stage. How they'll do that with this undramatic source remains to be seen. The show runs Jul 10-Aug 26 at 1950 Silver Creek Dr, FW. Tickets are $5-15. Call 817-989-5057.
MON ▪ 13
The Mimir Chamber Music Festival goes on all this week, and this year you don't even have to be in Fort Worth to experience it. Most of the concerts will take place at TCU, as usual, but this evening there will also be two performances in Granbury. The concerts are at 7pm at Granbury Conference Center, 621 E Pearl St, and St. Mary of the Assumption Church, 501 W Magnolia St. Tickets are $15-25. Call 817-257-5443.
TUE ▪ 14
Fort Worth Symphony Orchestra has reached out to the gaming community before, and this evening they continue that effort with Video Games Live, a multimedia event that features interactive elements with music from such games as Halo, Medal of Honor, BioShock, and God of War. Older gamers will appreciate the part of the program devoted to classic games like Donkey Kong, Dragon's Lair, and Tetris. The concert is at 8pm at Bass Performance Hall, 555 Commerce St, FW. Tickets are $49-125. Call 817-6212-4280.