On Sunday at the Longhorn Saloon in the Stockyards, we announced the winners of our 12th Annual Fort Worth Weekly Music Awards in a ceremony modeled after the Grammys: We announced a couple of winners, who got up on stage, accepted their awards, and said a few kind words, and then a band played, and then we announced a couple more winners, and then another band played, and so on. The event was for nominees and their significant others only. About 500 people and one animal — Lone Star, the Stockyards' mascot steer — showed up. We hope the guests had as much fun as the Weekly staffers did.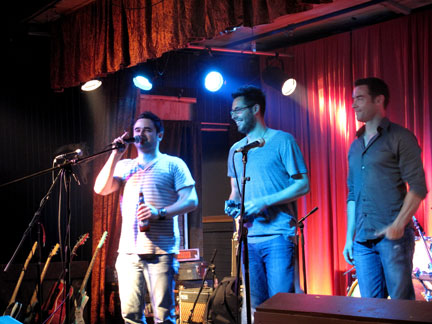 This year's biggest winner was easily The Campaign. The rocking pianistic quartet beat out frontrunners The Burning Hotels to win the Rock category and also took top honors in the categories of Song of the Year ("The Easy Way") and Artist of the Year, acing out Josh Weathers and the True+Endeavors, who did OK themselves. They won the Blues/Funk category, and frontman Weathers was named best male vocalist.
Maren Morris continued her reign over Texas Music, winning the category for the nine-zillionth time. The pint-sized chanteuse also won best female vocalist honors.
The Me-Thinks won in the Hard Rock category for the third or fourth straight year. I've lost count. As in years past, the Haltom City scuzz rockers sent their private paparazzi detail of buddies known as the Asian Media Crew to accept the award on the band's behalf. Frontman Ray Liberio e-mailed me the next day and said, "The Me-Thinks would like to sincerely thank the Weekly and everyone who voted for us or has come out to our shows and helped us perpetuate our brand of adolescent, big, dumb rock 'n' roll. We love the music community in Fort Worth. Whether it's borrowing gear when ours was stolen, seeing everyone at each other's shows, or voting for a category filled with bands we love to go see ourselves (The Great Tyrant, Unit 21, Merkin, etc.) when we're not playing our own sporadic shows, it just means a lot to us."
He added, "We don't want the fact that we send drunken Asians in jumpsuits in our place every year to cheapen our appreciation of the award. Sending Asians is our highest compliment!"
The rest:
No Scope won for Heavy Metal.
The Dangits won best New Artist.
DJ Danny West (from Embargo) won for DJ/Beatsmith.
Spoonfed Tribe: Live Band.
Eaton Lake Tonics: Avant-Garde/Experimental.
Whiskey Folk Ramblers: Alt-Country.
100 Damned Guns: C&W.
Sam Anderson and the Thrift-Store Troubadours: Acoustic/Folk.
Fort Worth Jazz Orchestra with Adonis Rose: Jazz/World.
Rivercrest Yacht Club: R&B/Rap.
April Geesbreght: Songwriter.
Drinkin', Druggin' & Lovin' by Holy Moly: Album of the Year.
Oh No, We're Doing Great! by Darth Vato: Rock Album of the Year.
"Alexander Stone" by Exit 380: Song of the Year.
Poo Live Crew: Cover/Tribute Band.
Tommy Alverson: MVP.
And Lola's Saloon-Sixth: best venue.
One thing about our annual Music Awards that some nominees may not realize is that even third- and fourth-place finishers are receiving in excess of, like, 200 votes. In other words, you're all winners in my book! 😉
As for the ballot: It's compiled by our nominating committee, comprising about a dozen local/North Texas scenesters (booking agents, club owners, journalists). I send them a blank ballot, ask them for their top picks in each category, and, from their write-ins, assemble the ballot that ultimately appears in the paper and online. For next year, I'm wondering whether we should do away with the nominating committee and just accept write-in votes. (I think the Dallas Observer does something similar.) That way, every band — good, awful, large, small — has a chance. Let the politicking begin.