OPENING: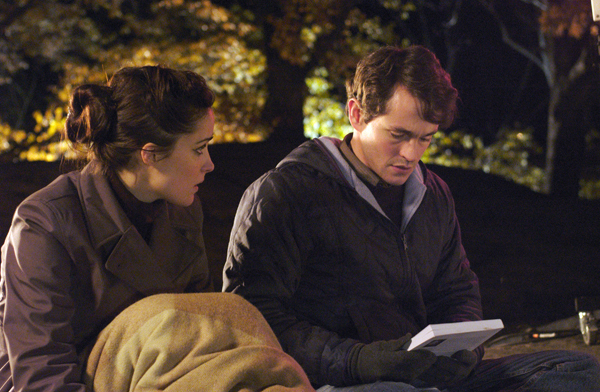 Adam (PG-13) Max Mayer's romantic dramedy stars Hugh Dancy as an Asperger's Syndrome case who falls in love with his upstairs neighbor (Rose Byrne).


Also with Peter Gallagher, Amy Irving, Frankie Faison, Maddie Corman, and Mark Linn-Baker. (Opens Friday in Dallas)
The Goods: Live Hard, Sell Hard (R) Jeremy Piven stars in this comedy as a sales expert brought in to boost the figures at a failing auto dealership. Also with Ving Rhames, James Brolin, David Koechner, Kathryn Hahn, Ed Helms, Jordana Spiro, Ken Jeong, Rob Riggle, Charles Napier, Noureen DeWulf, Wendie Malick, Tony Hale, and Alan Thicke. (Opens Friday)
Ponyo (G) The latest animated film by Hayao Miyazaki (Spirited Away, Princess Mononoke) is about a five-year-old boy (voiced by Frankie Jonas) and his pet goldfish (voiced by Noah Cyrus) who longs to become human. Additional voices by Matt Damon, Tina Fey, Liam Neeson, Cloris Leachman, Lily Tomlin, Betty White, and Cate Blanchett. (Opens Friday)
Spread (R) Ashton Kutcher stars as a Hollywood kept man whose cushy lifestyle is jeopardized when he falls in love. Also with Anne Heche, Margarita Levieva, Sebastian Stan, Sonia Rockwell, Hart Bochner, and Maria Conchita Alonso. (Opens Friday in Dallas)
The Time Traveler's Wife (PG-13) Robert Schwentke (Flightplan) adapts Audrey Niffenegger's romantic novel about a man (Eric Bana) who involuntary travels through time and his wife (Rachel McAdams) who must deal with his prolonged absences. Also with Ron Livingston, Arliss Howard, Brooklyn Proulx, and Stephen Tobolowsky. (Opens Friday)
NOW PLAYING:
Aliens in the Attic (PG) This comedy fires off a few good jokes about family dysfunction before those damned aliens show up. Carter Jenkins stars as a teen spending July 4th with his kid sister (Ashley Boettcher) and cousins (Austin Butler and Henri and Regan Young) when their house is invaded by four aliens serving as an advance team for an invasion fleet that'll take over the world. The kids have to battle the aliens without attracting the notice of their parents. The filmmakers' one inventive touch is making an action heroine out of 78-year-old Doris Roberts as the kids' grandmother. Other than that, the filmmaking is bland, and the kid actors are charmless. Also with Ashley Tisdale, Kevin Nealon, Gillian Vigman, Robert Hoffman, Andy Richter, and Tim Meadows.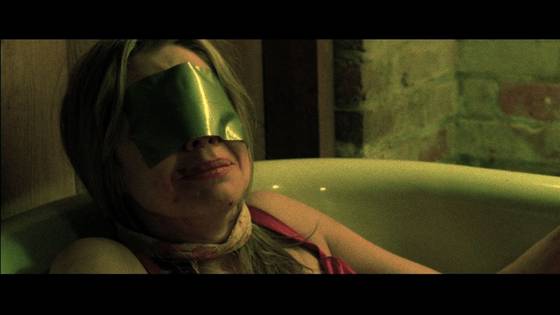 The Collector (R) Safecracker Arkin (Josh Stewart) breaks into a house only to find it's already been invaded by the titular serial killer (Juan Fernández), who has kidnapped the family and booby-trapped the house. Now Arkin must either escape or try to save the family. Despite an interesting setup, the movie becomes standard horror fare, with characters being stalked and killed. Stewart is great as the likeable thief, and there are some inventive kills. But the Collector himself has little personality, the movie's not very scary, and it's almost completely undone by horrible, overdone music and sound cues. A movie only a hardcore horror fan would love. Also with Karley Scott Kollins. — Cole Williams
(500) Days of Summer (PG-13) The smartest, most original romantic comedy in the last five years stars Joseph Gordon-Levitt and Zooey Deschanel as co-workers who spend 16 months doing a dance in which he tries to pair them up and she keeps pulling away. The spiky Gordon-Levitt and the deadpan Deschanel are a terrific match, as she brings out a lightness and playfulness that we haven't seen from him in adult roles. First-time movie director Marc Webb injects the movie with all sorts of nonrealistic storytelling devices that bring out the angst and tension in the relationship and also make for jokes that frequently score – the dance number that erupts during the guy's triumphant walk to work is the most deliriously joyful thing in any movie this year. The comedy's distancing techniques help it peer deeply into the human heart. Also with Geoffrey Arend, Chloe Moretz, Matthew Gray Gubler, Clark Gregg, Patricia Belcher, Rachel Boston, and Minka Kelly.
Funny People (R) There's enough material in Judd Apatow's dramedy to make two good movies, but it adds up to one muddled, overlong, fascinating, deeply flawed dramedy. Adam Sandler stars as a superstar comedian who hires a struggling stand-up comic (Seth Rogen) to write jokes for him. The first half features the comedy star dropping the bombshell that he's terminally ill, while the second half sees him miraculously cured and trying to restart his life by pursuing his now-married ex-girlfriend (Leslie Mann, tremendous as always). The movie is great about the cutthroat professional competitiveness of comics, and Sandler is magnificent as a rotten person who's fearful and raging at the prospect of dying alone. However, the shift in tone between halves is too abrupt, and the very last scene is a huge mistake. The film's a mess, but it's often funny and never boring. Also with Jonah Hill, Jason Schwartzman, Eric Bana, Aubrey Plaza, Ken Jeong, RZA, and Aziz Ansari.
G-Force (PG) Slightly more watchable than the surprisingly similar Transformers sequel, mainly because it's shorter. A genetic engineer (Zach Galifianakis) and his team of talking guinea pigs trained to act as spies (voiced by Sam Rockwell, Tracy Morgan, Penélope Cruz, and Nicolas Cage) try to stop a billionaire industrialist (Bill Nighy) from taking over the world. First-time director Hoyt Yeatman has a pretty good hand with the action sequences and special-effects, but never finds the right balance between the thriller elements and the silly comedy. The movie is played too straight, and it grinds to a complete halt about two-thirds of the way in. I'll take the hamster from Bolt over any of these guinea pigs. Also with Will Arnett, Kelli Garner, and Loudon Wainwright III. Additional voices by Jon Favreau and Steve Buscemi.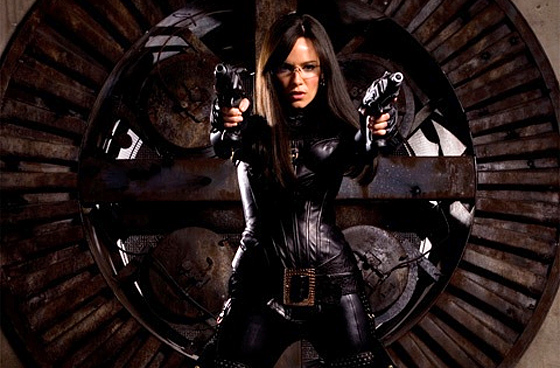 G.I. Joe: The Rise of Cobra (PG-13) Not abysmal, just sloppy, stupid, and hyper, like too many other Hollywood movies of this type. Channing Tatum and Marlon Wayans portray two U.S. soldiers who look to join a secret multinational anti-terrorism organization. There are too many plotlines and too much action going on in too many places for us to even get a chance to taste this thing. The wisecracks are limp, and the script's attempts to engage us in the characters' emotions go all wrong. The movie needed to be longer to at least gain some breathing space. If you're looking for whiz-bang action, check out District 9 instead. Also with Sienna Miller, Rachel Nichols, Dennis Quaid, Joseph Gordon-Levitt, Christopher Eccleston, Ray Park, Saïd Taghmaoui, Arnold Vosloo, Lee Byung-hun, Adewale Akinnuoye-Agbaje, Jonathan Pryce, and an uncredited Brendan Fraser.
The Hangover (R) It has some hazy spots, but it's also funny enough to make your head hurt. Bradley Cooper, Zach Galifianakis, and Ed Helms play three friends who accompany a groom-to-be (Justin Bartha) on a bachelor's fling in Las Vegas. The prologue takes entirely too long, but the laughs eventually kick in when the friends awake with no memory of the night before and the groom MIA. Director Todd Phillips (Old School) returns to R-rated territory and retains his sense of comic timing, injecting bursts of violence and surrealism that keep us from getting too comfortable. The cast is a tad off, but the laughs scored by random jokes (like the song about the tiger and Mike Tyson's cameo as himself) make up for it. Also with Heather Graham, Ken Jeong, Rachael Harris, Mike Epps, Rob Riggle, Cleo King, Bryan Callen, Matt Walsh, and Jeffrey Tambor.
Harry Potter and the Half-Blood Prince (PG) A significant improvement on its predecessor, the sixth Potter movie re-establishes the atmosphere of Hogwarts as a shadowy place full of nooks and crannies that let people eavesdrop on others' conversations. The movie's air of paranoia goes well with its espionage plot involving the boy wizard (Daniel Radcliffe) cozying up to the new professor (Jim Broadbent) in an attempt to discover the secret to defeating Voldemort. Director David Yates gives breadth to the romantic subplots, but he's even better when he's conjuring up scary set pieces like the one in a sea cave. Any movie that works equally well as spy thriller, love story, and horror flick is pretty remarkable. Also with Emma Watson, Rupert Grint, Michael Gambon, Alan Rickman, Bonnie Wright, Jessie Cave, Tom Felton, Evanna Lynch, Robbie Coltrane, Maggie Smith, Julie Walters, Mark Williams, David Thewlis, Natalia Tena, Freddie Stroma, Warwick Davis, and Hero Fiennes-Tiffin.
The Hurt Locker (R) Kathryn Bigelow's austere, nerve-jangling thriller is set in the thick of the Iraq war, but it's not about Iraq or even war in general so much as it is a character study of a U.S. Army bomb technician (Jeremy Renner) who likes the thrill of his job a bit too much. The occasional ridiculousness of Bigelow's earlier thrillers is absent from this muscular, stripped-down film, and the director gives individual character to each of the film's many action sequences. Renner fully inhabits his fundamentally unknowable character, evoking his mix of unflappable bravado and detail-orientation that makes him good at what he does. You walk out not knowing what makes the guy tick but feeling like you've gotten as much of an answer as you'll ever get. Also with Anthony Mackie, Brian Geraghty, David Morse, Christian Camargo, Guy Pearce, Ralph Fiennes, and Evangeline Lilly.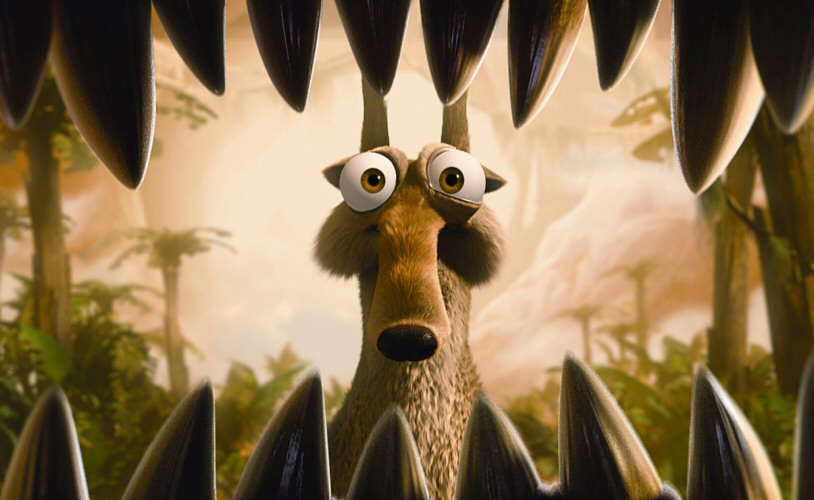 Ice Age: Dawn of the Dinosaurs (PG) The third installment of the animated saga has the gang finding a secret cavern under the ice where dinosaurs still roam. Basically, it's the same plot as Land of the Lost. Too much of the film is taken up with Manny the mammoth (voiced by Ray Romano) becoming a father and his pals (voiced by Denis Leary and John Leguizamo) feeling left out of the family loop. There's better stuff when the group meets a crazed survivalist weasel (voiced by Simon Pegg) who guides them through this unfamiliar world, but even this character – and a weird version of "Alone Again Naturally" rewritten from the point of view of an acorn – can't lift this visually and comedically uninspired film from its doldrums. Additional voices by Queen Latifah, Seann William Scott, Josh Peck, Jane Lynch, Clea Lewis, Bill Hader, and Kristen Wiig.
Julie & Julia (PG-13) Nora Ephron is the perfect choice to film this story that chronicles both Julia Child (Meryl Streep) as she lives in Paris after World War II and Julie Powell (Amy Adams) as she works through a personal crisis by cooking and blogging her way through Child's Mastering the Art of French Cooking. Adams is low-key and grounded and looks fetching in a pixie haircut and baggy wardrobe. It's Streep, though, who gives the film its comic energy with her sweeping grande dame turn. The food is presented in glossy fashion, but the movie's emphasis on the process of food preparation helps it convey the satisfaction of manual labor that makes cooking such a rewarding experience. Also with Stanley Tucci, Chris Messina, Linda Emond, Mary Lynn Rajskub, Jane Lynch, Deborah Rush, and Frances Sternhagen.
Orphan (PG-13) After Kate (Vera Farminga) miscarries, she and husband John (Peter Sarsgaard) decide to adopt Esther (Isabelle Fuhrman). At first the young girl gets along well with the couple's deaf daughter Maxine (Aryana Engineer) but clashes with older son Daniel (Jimmy Bennett). But then "accidents" start happening around Esther, and soon it's dun dun dun-dun! time. Despites some cheap jump-scares and somewhat predictable plot, this is a solid entry in the "evil children" horror subgenre, with a good build-up, devious mind games, just the right amount of gore, and an appropriately evil kid. It's no Bad Seed, but bad, it ain't. — Cole Williams
A Perfect Getaway (R) Clever, clever. Steve Zahn and Milla Jovovich play a couple hiking in the far reaches of Hawaii on their honeymoon when they're stalked by two serial killers who prey on newlyweds. They spend much of the movie trying to figure out whether the killers are the couple they've met on the trail (Timothy Olyphant and Kiele Sanchez) or the hitchhikers whom they refused to pick up (Chris Hemsworth and Marley Shelton), but writer-director David Twohy (Pitch Black) packs an ingenious twist into this character-driven thriller, and though it requires a fair bit of backtracking to explain, it does work. This unheralded B picture is good entertainment value for money. Also with Anthony Ruivivar.
The Proposal (PG-13) Sandra Bullock stars in this romantic comedy as a high-powered Canadian-born book editor who avoids deportation from the United States by blackmailing her put-upon personal assistant (Ryan Reynolds) into agreeing to a sham marriage. The film gets off to a good start, with Bullock relishing the chance to play a cold person forced to pretend to be warm and sweet, and Reynolds getting some rewarding stuff about his difficult relationship with his family. Still, after the couple visits his relatives in Alaska, the slapstick grows labored and the heroine's romantic dilemma doesn't provide enough suspense. Despite the two leads' best efforts, the film dies about halfway through. Also with Craig T. Nelson, Mary Steenburgen, Denis O'Hare, Malin Akerman, Oscar Nuñez, and Aasif Mandvi.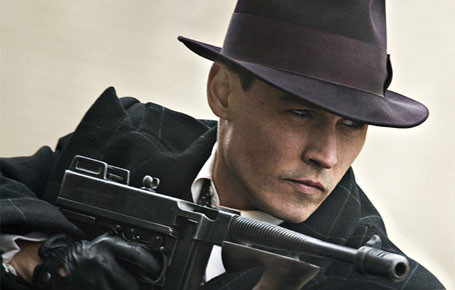 Public Enemies (R) Michael Mann's strangely uninvolving history piece focuses on the manhunt for bank robber John Dillinger (Johnny Depp) led by FBI agent Melvin Purvis (Christian Bale). The film's romance between Dillinger and Billie Frechette (Marion Cotillard) is emotionally distant. While the Purvis half of the film has more potential, the tragedy of a lawman who catches the bad guy and loses his soul is never searing. There are some cool action sequences, the best of which is a nighttime FBI sting that turns into an ambush outside a bar in the woods. The film is eminently well turned and watchable, but it never reaches the operatic pitch it's aiming for. Also with Stephen Graham, Spencer Garrett, Giovanni Ribisi, John Ortiz, Rory Cochrane, Peter Gerety, Madison Dierks, Bill Camp, David Wenham, Stephen Dorff, Domenick Lombardozzi, Branka Katic, Lili Taylor, Billy Crudup, Channing Tatum, and Leelee Sobieski.
Star Trek (PG-13) The funniest sci-fi blockbuster in recent memory, this relaunch of the fabled franchise tells the backstory of Kirk (Chris Pine) and Spock (Zachary Quinto) as they make their way through Starfleet Academy and earn their stripes fighting a rogue Romulan warrior (Eric Bana). The antic, high-energy Pine and the deadpan Quinto make an effective hot-and-cold comedy team, and the supporting cast contributes mightily to the laughs, especially Simon Pegg as Scotty. The film includes tons of in-jokes for the fanbase, but non-fans will find plenty to enjoy as well, not least the extended action sequence when Kirk and Sulu (John Cho) parachute onto a Romulan drilling platform and tangle with the guards. For a big-ticket event movie, this film's lightness is refreshing. Also with Zoë Saldana, Karl Urban, Anton Yelchin, Bruce Greenwood, Clifton Collins Jr., Ben Cross, Chris Hemsworth, Jennifer Morrison, Rachel Nichols, Tyler Perry, Winona Ryder, and Leonard Nimoy.
Street Dreams (R) Paul Rodriguez Jr. stars in this independent film about a skateboarder from the Midwest who travels to Florida to prove his skills in a contest. Also with Rob Dyrdek, Ryan Dunn, Compton Ass Terry, Ryan Sheckler, C.C. Sheffield, Jordan Valley, and Yancey Arias.
Transformers: Revenge of the Fallen (PG-13) Michael Bay directs this sequel like a 15-year-old boy fumbling with a bra strap. The film actually doesn't start out too badly, with Shia LaBeouf holding the center of a mysterious plot that revolves around more evil robots arriving on Earth. After one good action sequence early on, however, the plot stops dead, and the sequences become more incoherent. It's a watchable summer blockbuster, but it could have been so much better. Also with Megan Fox, Josh Duhamel, Tyrese Gibson, John Turturro, Kevin Dunn, Julie White, Spencer Garrett, and Rainn Wilson. Voices by Peter Cullen, Hugo Weaving, Frank Welker, Charles Adler, Tony Todd, Grey DeLisle, and Michael York.
The Ugly Truth (R) Some movie titles are self-fulfilling. Katherine Heigl stars in this depressing comedy as a local TV producer who's forced to work with an insulting, misogynistic self-styled relationship guru (Gerard Butler, channeling both Dr. Phil and Jim Cramer) after he's given a daytime show at her station. The filmmakers can't make anything about the TV host ring true, not his antics, not his advice, not his popularity, and certainly not Butler's shaky American accent. That's bad enough, but the farce gets hopelessly twisted when the lonely and sexually frigid producer seeks his advice while dating a cute neighbor (Eric Winter). The gender politics here are capable of offending women and men, and the movie isn't funny enough to make it worth sitting through. Also with John Michael Higgins, Cheryl Hines, Bree Turner, Nick Searcy, Bonnie Somerville, and Nate Corddry.
Up (PG) The latest Pixar animated film features an absurd yet somehow logical plot about a 78-year-old retired balloon vendor (voiced by Ed Asner) who attaches enough balloons to his house to sail away to South America, accompanied by an 8-year-old kid (voiced by Jordan Nagai) who's marooned on his porch. The best part of the film is a deeply moving wordless montage early on, depicting the early married life of its elderly hero. The rest of the movie is a Pixar adventure that's more lightweight than usual, though no less enjoyable for that. The warmth and simplicity at the heart of this fable are enough to win you over. The film doesn't even need 3-D to work. Additional voices by Christopher Plummer, Bob Peterson, Delroy Lindo, Jerome Ranft, and John Ratzenberger.
DALLAS EXCLUSIVES:
The Cove (PG-13) Louie Psihoyos' documentary about animal-rights activist Ric O'Barry and his attempts to film a dolphin slaughter off the coast of Japan.
The Girl From Monaco (R) Anne Fontaine's dramedy stars Roschdy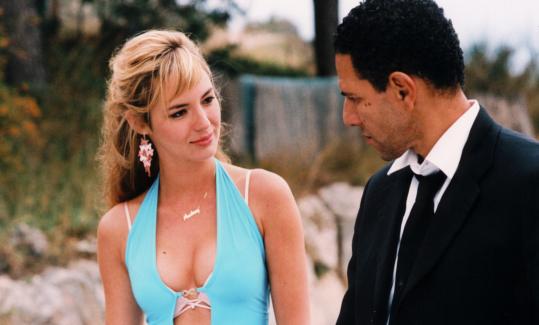 Zem as a French bodyguard who tries to keep his lawyer client (Fabrice Luchini) from an affair with a TV weather forecaster (Louise Bourgoin). Also with Stéphane Audran, Gilles Cohen, Alexandre Steiger, and Jeanne Balibar.
In the Loop (NR) The movie version of the British TV show The Thick of It, Armando Iannucci's political satire stars Peter Capaldi and Tom Hollander as a sharp-tongued British prime minister and his hapless aide as they travel to America on a diplomatic mission. Also with James Gandolfini, Gina McKee, Mimi Kennedy, Anna Chlumsky, David Rasche, Chris Addison, Enzo Cilenti, and Steve Coogan.
$9.99 (R) Tatia Rosenthal's animated film based on Etgar Keret's short stories is about an unemployed 28-year-old slacker (voiced by Samuel Johnson) who answers a magazine ad for a book promising the meaning of life. Additional voices by Anthony LaPaglia, Geoffrey Rush, Joel Edgerton, Ben Mendelsohn, and Barry Otto.
Paper Heart (PG-13) Nicholas Jasenovec's film combines documentary footage of comedian Charlyne Yi asking couples about their relationships with staged dramatic footage of Yi and her real-life boyfriend, Michael Cera. Also with Seth Rogen, Demetri Martin, Paul Rust, and Martin Starr.
Tetro (NR) Francis Ford Coppola's drama stars Alden Ehrenreich as a young man who travels to Buenos Aires to visit his older brother (Vincent Gallo) and uncovers the secret of their family's dysfunction. Also with Maribel Verdú, Klaus Maria Brandauer, Rodrigo de la Serna, Leticia Brédice, and Carmen Maura.