One of the longest-running family food institutions in town, Los Vaqueros in the Stockyards, opened a second Fort Worth location not too long ago. The new restaurant, in the Grand Marc building by Texas Christian University, is pretty similar to the old one, serving Mexican staples in a quaint, Southwestern atmosphere. But the new Los Vaqueros is catering to its new neighbors and potential patrons by offering some lighter fare, including tableside guacamole, brie quesadillas, (a mouth-watering and exceptional) salmon tomatillo, and a tequila glazed rotisserie chicken. Awful nice of a new TCU-area eatery to help its student-customers fight off that Freshman 15.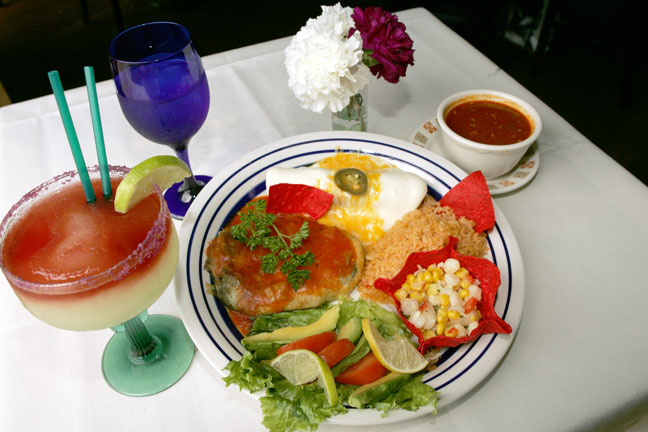 Run by the husband-and-wife team of Johnny and Vicki Cisneros, Los Vaqueros-University does non-pretentious Mexican well. "These are the flavors and fresh ingredients that our families have been using for generations," Vicki said. "People want to categorize it or put it into a stylistic culinary drawer, but it's really not possible. We are using the same time-tested staples, and trying some new approaches with a nod to the past. People change, and their palates do too."
Cassidy's Carne Asada Salad, named after one of the owners' daughters, is a heap of grilled tenderloin on a crisp bed of spring lettuce. Served with a light chipotle lime dressing and fresh avocado, the Cassidy, though hearty, is recommended for meat-eaters trying to shave off a couple of L.B.'s and also hungry salad lovers. Tara's Tacos Tampico, named after another one of the Cisneros' daughters, is new and old: a brisket taco topped not with cheddar cheese but feta and good ol' fashioned pico de gallo. The "almost famous" chicken salad — pieces of juicy bird stuffed into avocado halves — makes for a filling though light lunch.
On the heavier, spicier side, the Shrimp Diablo Enchiladas, featuring succulent mushrooms and zesty grilled shrimp topped with jack cheese and garnished with fresh avocado and tomato, will send you to your beer to put out the flames. Again, the garden-fresh presentation whets the appetite and
just feels healthier. The Cowboy Quesadillas — grilled squash, bell peppers, and 'shrooms — are a filling, spicy treat.
Los Vaqueros-University is rustic and traditional and a little refreshingly complex. As the Cisneros family motto flatly states, "It's all about the food." They're right, and Los Vaqueros-University is the proof.