This latest outing from the prolific Dallas-based trumpeter – his second for L.A.'s Furthermore Recordings – features an all-star cast of musicians. Besides his longtime collaborator, drummer Michael T.A. Thompson, Gonzalez' quartet on A Matter of Blood includes Reggie Workman, bassist from John Coltrane's original "classic" quartet, and pianist Curtis Clark.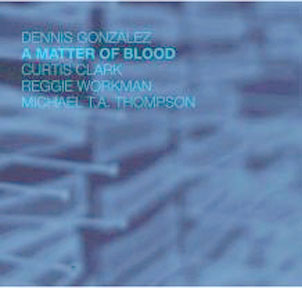 The Chicago-born Clark started playing music in California where he participated in workshops led by drummer/Fort Worth expat Charles Moffett. Clark moved to New York in the '70s and performed with saxophonist David Murray, resulting in a memorable appearance on the 1982 octet album Murray's Steps. Clark lived in Amsterdam during the '90s, working with European avant-garde heavyweights like Han Bennink, Louis Moholo, and John Tchicai before returning stateside to settle in Portland, Maine.
Opener "Alzar La Mano" is a lovely, lyrical lament composed by the Mexican saxophonist Remi Alvarez. The album's other three long compositions – all of them by Gonzalez – are interspersed with three shorter interludes, credited to the other musicians on the date. "Arbyrd Lumenal" starts out with a Workman pizzicato solo, backed by Thompson's cymbals. Cascading tom-tom rolls introduce the tune's wistful theme, which Clark develops with shimmering chords before Gonzalez takes off on a bobbing and weaving exploration of his own.
On the title track and the ensuing one, "Anthem for the Moment," the dialogue between Gonzalez and Clark – both improvisers whose work is characterized by reflection rather than flash – takes place over a busy rhythm section, with loose-limbed, polyrhythmic punctuation from Thompson and a steady commentary of low-end rumbles, double stops, slides, and arco interjections from Workman. The floodgates open on the closing "Chant de la Fee," a collective improvisation with all of the players generating light as well as heat. Order from dennisgonzalezx.blogspot.com.