OPENING: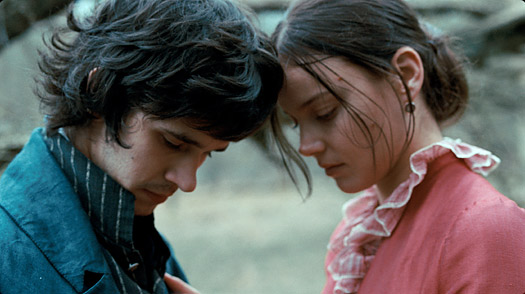 Bright Star (PG) Jane Campion's dramatization of the romance between the poet John Keats (Ben Whishaw) and Fanny Brawne (Abbie Cornish). Also with Paul Schneider, Thomas Sangster, Samuel Barnett, and Kerry Fox. (Opens Friday in Dallas)


The Burning Plain (R) The feature directing debut of screenwriter Guillermo Arriaga (Babel, The Three Burials of Melquiades Estrada) stars Kim Basinger and Charlize Theron as two women living at different times in a hardscrabble New Mexico desert town. Also with Tessa Ia, Jennifer Lawrence, Joaquim de Almeida, Danny Pino, José María Yazpik, J.D. Pardo, and John Corbett. (Opens Friday in Dallas)
Cloudy With a Chance of Meatballs (PG) Judi and Ron Barrett's whimsical kids' book is rendered unrecognizable in this squarely conventional though not unenjoyable animated film about a young inventor (voiced by Bill Hader) who rejuvenates his small town by making food fall from the sky. The movie has a completely different drawing style from the book's and a good message for kids: It's bad to eat whatever you want. Still, this would be a dull and ordinary fantasy adventure if the filmmakers didn't have so much fun inventing whole landscapes out of food – the gentle snowfall of ice cream is a genuinely beautiful moment. The food jokes sneaking in the corners of the frame keep this thing moving. Additional voices by Anna Faris, Mr. T, James Caan, Andy Samberg, Bruce Campbell, Bobb'e J. Thompson, Will Forte, Benjamin Bratt, Lauren Graham, and Neil Patrick Harris. (Opens Friday)
Lorna's Silence (R) The latest gritty drama from the Dardenne brothers (L'Enfant, Rosetta) stars Arta Dobroshi as an Albanian immigrant who marries a heroin junkie (Jérémie Renier) to stay in Belgium legally. Also with Fabrizio Rongione, Alban Ukaj, Morgan Marinne, Anton Yakovlev, and Olivier Gourmet. (Opens Friday in Dallas)
Love Happens (PG-13) Aaron Eckhart stars as a widowed self-help guru who falls for an attendee at one of his seminars (Jennifer Aniston). Also with Judy Greer, Dan Fogler, John Carroll Lynch, Joe Anderson, Frances Conroy, and Martin Sheen. (Opens Friday)
My One and Only (PG-13) Based on the early life of George Hamilton, this film set in the 1950s stars Renée Zellweger as a cheated-on wife who takes her two teenage sons (Logan Lerman and Mark Rendall) on a cross-country trip to search for a new husband. Also with Kevin Bacon, Chris Noth, Eric McCormack, Steven Weber, David Koechner, Troy Garity, Phoebe Strole, Robin Weigert, and Nick Stahl. (Opens Friday at AMC Grapevine Mills)
The Secrets of Jonathan Sperry (PG) Gavin McLeod stars as an elderly man who mentors three 12-year-old friends (Jansen Panettiere, Frankie Ryan Manriquez, and Allen Isaacson) in the ways of a Christian lifestyle. Also with Taylor Boggan, Bailey Garno, Mary Jean Bentley, and Robert Guillaume. (Opens Friday at Harkins Cine Capri Southlake)
NOW PLAYING:
Aliens in the Attic (PG) This comedy fires off a few good jokes about family dysfunction before those damned aliens show up. Carter Jenkins stars as a teen spending July 4th with his kid sister (Ashley Boettcher) and cousins (Austin Butler and Henri and Regan Young) when their house is invaded by four aliens serving as an advance team for an invasion fleet that'll take over the world. The kids have to battle the aliens without attracting the notice of their parents. The filmmakers' one inventive touch is making an action heroine out of 78-year-old Doris Roberts as the kids' grandmother. Other than that, the filmmaking is bland, and the kid actors are charmless. Also with Ashley Tisdale, Kevin Nealon, Gillian Vigman, Robert Hoffman, Andy Richter, and Tim Meadows.
All About Steve (PG-13) Extensively horrible romantic comedy stars Sandra Bullock as a crossword puzzle creator who starts stalking a TV news cameraman (Bradley Cooper) after a single blind date with him. We're supposed to find her lovably eccentric, but she comes off like someone with a personality disorder, thanks to a contorted script and the worst performance of Bullock's career. As if the relationship stuff isn't bad enough, the story then veers into some sour and preachy satire of cynical TV journalists, and Kim Barker's script somehow contrives to miss this huge target. This makes The Proposal look like a towering cinematic masterpiece by comparison. Also with Thomas Haden Church, Ken Jeong, DJ Qualls, Katy Mixon, Howard Hesseman, Beth Grant, and Keith David.
District 9 (R) Maybe not the best sci-fi movie of the year, but certainly the most remarkable. This South African film is built on the premise of a million space aliens being stranded and eventually ghettoized in the city of Johannesburg. Sharlto Copley stars as a bureaucrat who becomes a fugitive after an infection starts to change his body into an alien's. Director/co-writer Neill Blomkamp smoothly integrates human actors with computer-generated aliens and faux documentary techniques with straightforward narrative to tell this story, and the imaginative action sequences are Hollywood-quality. The apartheid allegory isn't terribly subtle, but the movie is still an impressive piece of work with a distinctive South African flavor. Also with Jason Cope, Vanessa Haywood, Mandla Gaduka, Louis Minnaar, Nathalie Boltt, Eugene Khumbanyiwa, and Kenneth Nkosi.
Extract (R) The latest comedy by Mike Judge (Office Space) stars Jason Bateman as a flavor extract plant owner whose life is complicated by his attempts to have an extramarital affair with a temp worker (Mila Kunis) who's actually a con artist on the lam. The movie fails as a workplace comedy, with only KISS rocker Gene Simmons distinguishing himself as a lowlife personal-injury lawyer. Fortunately, that's only half the film; the other half offers better stuff about the main character's sexless marriage and his dealings with his bartending friend (Ben Affleck) who's a fount of bad ideas. Buoyed by the gags, the movie turns out to be modestly enjoyable. Also with Kristen Wiig, Clifton Collins Jr., Dustin Milligan, Beth Grant, David Koechner, and J.K. Simmons.
The Final Destination (R) Death grinds up cardboard characters in this boring and insulting fourquel. Bobby Campo's Main Character (because, let's face it, their names are inconsequential) foresees his and his friends' death in a racecar accident. After avoiding it, they are reclaimed one by one by the Grim Reaper. Calling the characters one-dimensional is an insult to physics, the kills are predictable, and the 3D will only help you notice the bad CGI. Gorehounds may appreciate the violence, but this movie blows so hard I feel like I owe it 50 bucks. Also with Shantel VanSanten, Nick Zano, Haley Webb, Krista Allen, and Mykelti Williamson. — Cole Williams
(500) Days of Summer (PG-13) The smartest, most original romantic comedy in the last five years stars Joseph Gordon-Levitt and Zooey Deschanel as co-workers who spend 16 months doing a dance in which he tries to pair them up and she keeps pulling away. The spiky Gordon-Levitt and the deadpan Deschanel are a terrific match, as she brings out a lightness and playfulness that we haven't seen from him in adult roles. First-time movie director Marc Webb injects the movie with all sorts of nonrealistic storytelling devices that bring out the angst and tension in the relationship and also make for jokes that frequently score – the dance number that erupts during the guy's triumphant walk to work is the most deliriously joyful thing in any movie this year. The comedy's distancing techniques help it peer deeply into the human heart. Also with Geoffrey Arend, Chloe Moretz, Matthew Gray Gubler, Clark Gregg, Patricia Belcher, Rachel Boston, and Minka Kelly.
G-Force (PG) Slightly more watchable than the surprisingly similar Transformers sequel, mainly because it's shorter. A genetic engineer (Zach Galifianakis) and his team of talking guinea pigs trained to act as spies (voiced by Sam Rockwell, Tracy Morgan, Penélope Cruz, and Nicolas Cage) try to stop a billionaire industrialist (Bill Nighy) from taking over the world. First-time director Hoyt Yeatman has a pretty good hand with the action sequences and special-effects, but never finds the right balance between the thriller elements and the silly comedy. The movie is played too straight, and it grinds to a complete halt about two-thirds of the way in. I'll take the hamster from Bolt over any of these guinea pigs. Also with Will Arnett, Kelli Garner, and Loudon Wainwright III. Additional voices by Jon Favreau and Steve Buscemi.
Gamer (R) Gerard Butler stars in this futuristic sci-fi thriller as a wrongly convicted murderer who's forced to submit to the control of a famous teenage gamer (Logan Lerman) to kill other prisoners as part of a shoot-em-up multiplayer video game. There's a seed of an interesting satire in this story, but the filmmaking team of Neveldine/Taylor (the Crank movies) has nothing funny to say about the gaming or celebrity cultures. The only joke that works is the musical number near the end when the bad guy (Michael C. Hall from TV's Dexter) uses the gaming technology to make his henchmen snap their fingers and dance around him to "I've Got You Under My Skin." Also with Amber Valletta, Alison Lohman, Terry Crews, Aaron Yoo, Zoë Bell, Milo Ventimiglia, Keith David, Ludacris, and Kyra Sedgwick.
G.I. Joe: The Rise of Cobra (PG-13) Not abysmal, just sloppy, stupid, and hyper like too many other Hollywood movies of this type. Channing Tatum and Marlon Wayans portray two U.S. soldiers who encounter and look to join a secret multinational anti-terrorism organization. There's too many plotlines and too much action going on in too many places for us to even get a chance to taste this thing, the wisecracks are limp, and the script's attempts to engage us in the characters' emotions go all wrong. The movie needed to be longer to at least gain some breathing space. If you're looking for whiz-bang action, check out District 9 instead. Also with Sienna Miller, Rachel Nichols, Dennis Quaid, Joseph Gordon-Levitt, Christopher Eccleston, Ray Park, Saïd Taghmaoui, Arnold Vosloo, Lee Byung-hun, Adewale Akinnuoye-Agbaje, Jonathan Pryce, and an uncredited Brendan Fraser.
Haeundae (NR) For Korean audiences and Americans who think Hollywood disaster flicks are too subtly characterized, this film stars Seol Yeong-ju as a drunken ex-fisherman and Ha Ji-won as his girlfriend who are caught up in large-scale death when a tsunami wipes out the city of Busan. (The title is the name of a prosperous beachfront neighborhood in the city.) The movie establishes a tone of broad slapstick in the first half that jars with the rest of the film, though there is one nice montage of people enjoying a fireworks display. The tsunami takes up the last third of the film, and it is impressively rendered with the help of some Hollywood-provided CGI. The fine actors here can't redeem the maudlin stories, though. This is a technical achievement more than anything else. Also with Park Joong-hoon, Eom Jeong-hwa, Lee Min-gi, Kang Ye-won, and Song Jae-ho.
Halloween II (R) Rob Zombie's follow-up to his 2007 reboot of the series is overlong, self-indulgent, derivative, and, worst of all, dull. Scout Taylor-Compton plays Laurie Strode, who finds Michael Myers (Tyler Mane) back from the dead on the anniversary of his attacks. There's a few touches of actual beauty when Michael sees the spirit of his dead mother (Sheri Moon Zombie) as an angel on a white horse. The rest of it is so much rote slasher-flick business, a disappointing effort from a talented filmmaker. Also with Malcolm McDowell, Brad Dourif, Danielle Harris, Daniel Roebuck, Mary Birdsong, Brea Grant, Howard Hesseman, and Margot Kidder.
The Hangover (R) It has some hazy spots, but it's also funny enough to make your head hurt. Bradley Cooper, Zach Galifianakis, and Ed Helms play three friends who accompany a groom-to-be (Justin Bartha) on a bachelor's fling in Las Vegas. The prologue takes entirely too long, but the laughs eventually kick in when the friends awake with no memory of the night before and the groom MIA. Director Todd Phillips (Old School) returns to R-rated territory and retains his sense of comic timing, injecting bursts of violence and surrealism that keep us from getting too comfortable. The cast is a tad off, but the laughs scored by random jokes (like the song about the tiger and Mike Tyson's cameo as himself) make up for it. Also with Heather Graham, Ken Jeong, Rachael Harris, Mike Epps, Rob Riggle, Cleo King, Bryan Callen, Matt Walsh, and Jeffrey Tambor.
Harry Potter and the Half-Blood Prince (PG) A significant improvement on its predecessor, the sixth Potter movie re-establishes the atmosphere of Hogwarts as a shadowy place full of nooks and crannies that let people eavesdrop on others' conversations. The movie's air of paranoia goes well with its espionage plot involving the boy wizard (Daniel Radcliffe) cozying up to the new professor (Jim Broadbent) in an attempt to discover the secret to defeating Voldemort. Director David Yates gives breadth to the romantic subplots, but he's even better when he's conjuring up scary set pieces like the one in a sea cave. Any movie that works equally well as spy thriller, love story, and horror flick is pretty remarkable. Also with Emma Watson, Rupert Grint, Michael Gambon, Alan Rickman, Bonnie Wright, Jessie Cave, Tom Felton, Evanna Lynch, Robbie Coltrane, Maggie Smith, Julie Walters, Mark Williams, David Thewlis, Natalia Tena, Freddie Stroma, Warwick Davis, and Hero Fiennes-Tiffin.
The Hurt Locker (R) Kathryn Bigelow's austere, nerve-jangling thriller is set in the thick of the Iraq war, but it's not about Iraq or even war in general so much as it is a character study of a U.S. Army bomb technician (Jeremy Renner) who likes the thrill of his job a bit too much. The occasional ridiculousness of Bigelow's earlier thrillers is absent from this muscular, stripped-down film, and the director gives individual character to each of the film's many action sequences. Renner fully inhabits his fundamentally unknowable character, evoking his mix of unflappable bravado and detail-orientation that makes him good at what he does. You walk out not knowing what makes the guy tick but feeling like you've gotten as much of an answer as you'll ever get. Also with Anthony Mackie, Brian Geraghty, David Morse, Christian Camargo, Guy Pearce, Ralph Fiennes, and Evangeline Lilly.
I Can Do Bad All By Myself (PG-13) More sluggish than usual Tyler Perry effort stars Taraji P. Henson (overacting rather badly) as an alcoholic nightclub singer who's suddenly forced to take in her sister's three children. The message is wearisomely predictable – take care of your babies, go to church, get away from freeloading men who beat you, and find a hard-working man who doesn't – and it's all delivered in the most uninvolving way. The film has more musical numbers than most Perry movies, but the only ones that make an impression are the ones featuring powerhouse Marvin Winans as a pastor. Also with Adam Rodriguez, Brian White, Hope Olaidé Wilson, Frederick Siglar, Kwesi Boakye, Mary J. Blige, and Gladys Knight.
Inglourious Basterds (R) Quentin Tarantino's World War II flick is about a German movie star (Diane Kruger) who teams with an American lieutenant (Brad Pitt) and his band of corpse-scalping Jewish soldiers to kill Hitler at a movie premiere in Paris. Pitt chews on his accent with tremendous gusto, but the show is completely stolen by Christoph Waltz as a multilingual SS colonel who can break people down without raising his voice or dropping his genial, courteous demeanor. The presence of this great Tarantino villain redeems the unconvincing romantic subplot, and the movie boasts some stunning set pieces in an underground bar and in the theater at the end. Irresponsible and overlong, the movie nevertheless succeeds in scraping the thick coating of solemnity off the genre and making World War II movies fun again. Also with Mélanie Laurent, Eli Roth, Michael Fassbender, Til Schweiger, Daniel Brühl, Gedeon Burkhard, Jacky Ido, B.J. Novak, August Diehl, Martin Wuttke, Julie Dreyfus, and Mike Myers.
Julie & Julia (PG-13) Nora Ephron is the perfect choice to film this story that chronicles both Julia Child (Meryl Streep) as she lives in Paris after World War II and Julie Powell (Amy Adams) as she works through a personal crisis by cooking and blogging her way through Child's Mastering the Art of French Cooking. Adams is low-key and grounded, and looks fetching in a pixie haircut and baggy wardrobe. It's Streep, though, who gives the film its comic energy with her sweeping grande dame turn. The food is presented in glossy fashion, but the movie's emphasis on the process of food preparation helps it convey the satisfaction of manual labor that makes cooking such a rewarding experience. Also with Stanley Tucci, Chris Messina, Linda Emond, Mary Lynn Rajskub, Jane Lynch, Deborah Rush, and Frances Sternhagen.
9 (PG-13) Astounding visuals hold this flimsy animated film together, but only briefly. The setup is pretty cool: The title character (voiced by Elijah Wood) is a ragdoll brought to life in a postapocalyptic world to help take down the machines that destroyed humanity. Unfortunately, 9 and his fellow dolls don't reveal too many facets of personality through their spare dialogue, and the stellar voice actors don't add much, either. The evil robots and the desolate cityscape give you lots to watch, but after about 20 minutes, you're left to consider the movie's considerable failings. Additional voices by John C. Reilly, Jennifer Connelly, Martin Landau, Crispin Glover, Fred Tatasciore, and Christopher Plummer.
Ponyo (G) Take a dip in the surreal beauty and ineffable weirdness of Hayao Miyazaki's universe, with this eye-popping animated film about a magical goldfish (voiced by Noah Cyrus) who washes up near a Japanese coastal town and wants to become human after falling in love with a five-year-old boy (voiced by Frankie Jonas). As always with Miyazaki's films, the drawing and Joe Hisaishi's musical score are gorgeous and colorful, and the story has environmental concerns sprinkled throughout. Animated movies for girls tend to be Disneyfied stories about princesses. This is a refreshing alternative. Listen for a tremendous performance by Tina Fey as the boy's frazzled mother. Additional voices by Liam Neeson, Cloris Leachman, Lily Tomlin, Betty White, Matt Damon, and Cate Blanchett.
The Proposal (PG-13) Sandra Bullock stars in this romantic comedy as a high-powered Canadian-born book editor who avoids deportation from the United States by blackmailing her put-upon personal assistant (Ryan Reynolds) into agreeing to a sham marriage. The film gets off to a good start, with Bullock relishing the chance to play a cold person forced to pretend to be warm and sweet, and Reynolds getting some rewarding stuff about his difficult relationship with his family. Still, after the couple visits his relatives in Alaska, the slapstick grows labored and the heroine's romantic dilemma doesn't provide enough suspense. Despite the two leads' best efforts, the film dies about halfway through. Also with Craig T. Nelson, Mary Steenburgen, Denis O'Hare, Malin Akerman, Oscar Nuñez, and Aasif Mandvi.
Shorts (PG) On a scale of Robert Rodriguez kids' movies, this isn't as good as Spy Kids, but it's definitely better than The Adventures of Shark Boy and Lava Girl. Jimmy Bennett stars as a 12-year-old kid who narrates a series of short films having to do with a space rock that grants people's wishes. The movie has its share of dead spots, and its cartoonish tone can wear on you when the jokes aren't firing. However, Rodriguez comes up with all sorts of ingenious ways for the rock's wish-granting to go awry, and the jokes come stuffed in the corners of the frame (nice running gag with two siblings engaged in a movie-long staring contest). It's enough to make this movie enjoyable in fits and starts. Also with Jake Short, Trevor Gagnon, Devon Gearhart, Jolie Vanier, Kat Dennings, William H. Macy, Jon Cryer, James Spader, and Leslie Mann.
Sorority Row (R) Badly made, badly acted remake of the 1983 slasher flick The House on Sorority Row is about a group of sorority girls who are stalked by a masked killer after a prank results in the accidental death of one of their own (Audrina Partridge). The action is pretty much nonexistent until the last half-hour, when the filmmakers try to get creative – and fail – with the various deaths. Up until then, the characters are recalcitrant bitches, and the guys are all prospective date rapists. We're supposed to root for them to die, but they're just unpleasant to be around until then. Also with Briana Evigan, Rumer Willis, Leah Pipes, Jamie Chung, Margo Harshman, Matt Lanter, Julian Morris, Matt O'Leary, Carolina D'Amore, and Carrie Fisher.
The Time Traveler's Wife (PG-13) Not as good as The Lake House. This sleep-inducing weeper stars Rachel McAdams as a woman whose husband (Eric Bana) appears to her at odd times throughout her life because he travels through time without meaning to. Adapted from Audrey Niffenegger's novel, the film fails to make anything meaningful out of the time-travel conceit, and director Robert Schwentke adopts a wearisome tone that never varies from its tasteful placidity. Unless you can time travel, you'll never get the 105 minutes of your life back. Also with Ron Livingston, Arliss Howard, Jane McLean, Brooklyn Proulx, Hailey McCann, and Stephen Tobolowsky.
Transformers: Revenge of the Fallen (PG-13) Michael Bay directs this sequel like a 15-year-old boy fumbling with a bra strap. The film actually doesn't start out too badly, with Shia LaBeouf holding the center of a mysterious plot that revolves around more evil robots arriving on Earth. After one good action sequence early on, however, the plot stops dead, and the sequences become more incoherent. It's a watchable summer blockbuster, but it could have been so much better. Also with Megan Fox, Josh Duhamel, Tyrese Gibson, John Turturro, Kevin Dunn, Julie White, Spencer Garrett, and Rainn Wilson. Voices by Peter Cullen, Hugo Weaving, Frank Welker, Charles Adler, Tony Todd, Grey DeLisle, and Michael York.
The Ugly Truth (R) Some movie titles are self-fulfilling. Katherine Heigl stars in this depressing comedy as a local TV producer who's forced to work with an insulting, misogynistic self-styled relationship guru (Gerard Butler, channeling both Dr. Phil and Jim Cramer) after he's given a daytime show at her station. The filmmakers can't make anything about the TV host ring true, not his antics, not his advice, not his popularity, and certainly not Butler's shaky American accent. That's bad enough, but the farce gets hopelessly twisted when the lonely and sexually frigid producer seeks his advice while dating a cute neighbor (Eric Winter). The gender politics here are capable of offending women and men, and the movie isn't funny enough to make it worth sitting through. Also with John Michael Higgins, Cheryl Hines, Bree Turner, Nick Searcy, Bonnie Somerville, and Nate Corddry.
Whiteout (R) Not a film about correctional fluid, this reasonably effective thriller stars Kate Beckinsale as a U.S. Marshal trying to solve a string of murders around a research base in Antarctica before the sun sets for the winter. Based on Greg Rucka's graphic novel (whose heroine isn't nearly as pretty as Beckinsale), the film's intelligence, focus on character, and innovative use of the unusual setting carries the movie over director Dominic Sena's occasional bad patches. Also with Gabriel Macht, Columbus Short, Alex O'Loughlin, Shawn Doyle, and Tom Skerritt.
DALLAS EXCLUSIVES:
In the Loop (NR) The movie version of the British TV show The Thick of It, Armando Iannucci's political satire stars Peter Capaldi and Tom Hollander as a sharp-tongued British prime minister's aide and a hapless cabinet minister as they travel to America on a diplomatic mission. Also with James Gandolfini, Gina McKee, Mimi Kennedy, Anna Chlumsky, David Rasche, Chris Addison, Enzo Cilenti, and Steve Coogan.
It Might Get Loud (PG) Documentary by Davis Guggenheim (An Inconvenient Truth) about a musical summit between Jack White, The Edge, and Jimmy Page.
The September Issue (PG-13) R.J. Cutler's documentary follows Anna Wintour as she prepares to publish the September 2008 issue of Vogue.
Séraphine (NR) Yolande Moreau stars in this biographical drama about a middle-aged French cleaning lady and the German art dealer (Ulrich Tukur) who discovered her talent for painting. Also with Anne Bennent, Geneviève Mnich, Nico Rogner, Adélaïde Leroux, and Serge Larivière.
World's Greatest Dad (R) Bobcat Goldthwait's dark satire stars Robin Williams as a man who inadvertently becomes famous while trying to cover up the circumstances of his son's death by autoerotic asphyxiation. Also with Daryl Sabara, Alexie Gilmore, Evan Martin, and Henry Simmons.