THU ? 1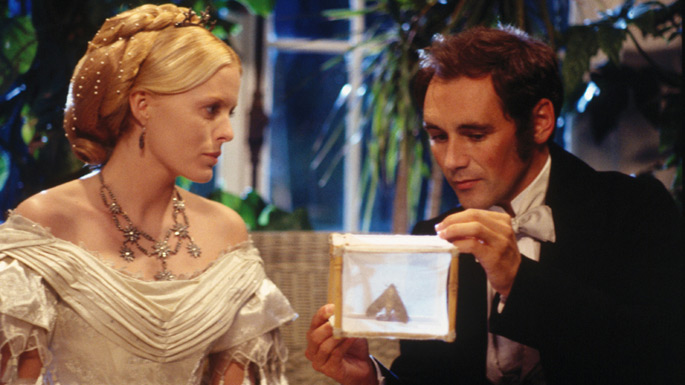 In conjunction with the Philip Haas exhibit at the Kimbell, the Modern is screening Haas' 1995 film Angels and Insects. A rare movie that's worth seeing just for the costumes (the women's dresses bear insect-like markings), this Victorian drama also contains one of Kristin Scott Thomas' best performances and proof that Patsy Kensit – when she wasn't breaking up rock bands or soccer stars' marriages – could act a fair bit. The film screens at 7pm at 3200 Darnell St, FW. Admission is free. Call 817-738-9215.
FRI ▪ 18
The Miranda Writes Players, profiled in one of our pieces last year ("Re-Entry Vehicle," Sept. 10, 2008) put on The Inside Man as part of their annual show. Cathy Harmon's play about a prison guard who finds his life briefly in the spotlight thanks to a reality TV show runs for this weekend only, so be sure to track it down. The performances are Thu-Sun at Rose Marine Theater, 1440 N Main St, FW. Tickets are $13-15. Call 817-834-2833.
SAT ▪ 19
The Amon Carter Museum's new exhibit, Views and Visions: Prints of the American West, gathers prints and illustrated books from the permanent collection. These landscapes and portraits show the shifting artistic styles and attitudes over the course of 150 years of American history. The show runs Sep 19-Jan 10 at 3501 Camp Bowie Blvd, FW. Admission is free. Call 817-738-1933.
SUN ▪ 20
Not sure if you've heard, but the Dallas Cowboys are opening their season at their new stadium thingy in Arlington. They'll be facing the New York Giants, who have revamped their pass rush and are now free of the Plaxico Burress distraction. Kickoff is at 7:15pm at Cowboys Stadium, 1 Legends Way, Arlington. Tickets are $75-239. Call 214-373-8000.
MON ▪ 21
Fathom Events has a whole raft of stuff in movie theaters this week, with the Vans Warped Tour on Thursday and the Mayweather vs. Marquez fight on Saturday. Tonight, though, they have The Age of Stupid, a documentary about what will happen to the earth if climate change is left unchecked. This would probably be great paired with Mike Judge's Idiocracy. The film screens at 6:30pm at various theaters. Check Calendar for locations. Tickets are $12.50. Call 213-639-6166.
TUE ▪ 22
With the official demise of summer, gardeners will want to know how best to deal with the changing of the seasons. That's why WBAP radio host John Krause (Living Natural First) will be on hand to discuss safe cleaners, healthy foods, and other topics that he regularly addresses on his show. The talk is at 7pm at Fort Worth Botanic Garden, 3220 Botanic Garden Blvd, FW. Admission is free. Call 817-263-9322.