Older viewers will remember George Hamilton as a maximally tanned, minimally talented Hollywood actor whose fame in the 1970s and '80s was completely out of proportion to anything he actually did on the screen. (The high point of his cinematic career was probably the spoofy comedies Love at First Bite and Zorro, the Gay Blade, where he mocked his matinee-idol image to good effect.)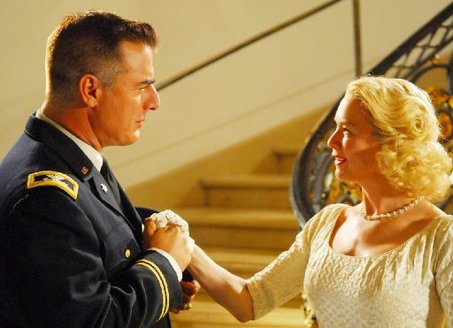 Hamilton does not appear in My One and Only. Nevertheless, the movie is based on his adolescent years, and he's a producer on it as well. His childhood was a fairly unusual one, too, though you'll wish it had been given the treatment it deserved instead of being turned into this engaging but underwhelming drama.
The story picks up in 1953, finding the Hamiltons as a Texas family who've established themselves in New York under the name of Devereaux, the stage name of their bandleader dad Dan (Kevin Bacon). Dan's impractical, optimistic wife Anne (Renée Zellweger) is completely unsurprised one day to come home and find her husband in bed with yet another woman, but this time she decides she's had enough. She packs up her things, pulls her teenage sons – George (Logan Lerman) and his flamboyantly gay half-brother Robbie (Mark Rendall) – out of school, withdraws the family's money from the bank to buy a new Cadillac, and heads for points west. Proper Southern lady that she is, Anne refuses to work for a living, so she looks to land herself a rich husband. That only leads to a string of bad encounters with, among others, an ex-beau who's fallen on hard times (Steven Weber), an abusive military officer (Chris Noth), and a wealthy playboy (Eric McCormack) whose tastes clearly run toward younger women.
The film takes its irony-tinged title from the one hit song written by the real Dan Devereaux. The story's episodic nature keeps the momentum from drooping too much, and director Richard Loncraine (best known for the 1995 film of Shakespeare's Richard III that starred Ian McKellen) does a professional job of steering the movie clear of the soppier excesses of coming-of-age flicks. While Anne's the heroine of this piece, the movie doesn't flinch from showing the cost of her itinerant lifestyle, as she uproots herself and George from potential relationships and Robbie from acting in school plays.
That said, the performances are largely undistinguished, though Lerman, a kid actor (3:10 to Yuma) who's growing into a handsome young man, bears a striking resemblance to the young Hamilton minus the tan. Charismatic supporting actors drift in and out of this movie, yet none of them adds much except for the relatively unheralded Robin Weigert as Anne's devout sister in St. Louis. She takes in the Devereauxs for a while but eventually unloads a lifetime's worth of frustrations on her prettier sibling, who seems to lead a charmed existence. If more of My One and Only had had the intensity and charge of this chapter, it'd be more than the pleasant period piece that it is.