The majestic course with its traps of white Florida sand and slick putting greens glistened in last Thursday's rain, which was coming down harder as dusk approached. Still, a handful of determined golfers kept playing, heading toward the 18th hole at Colonial Country Club.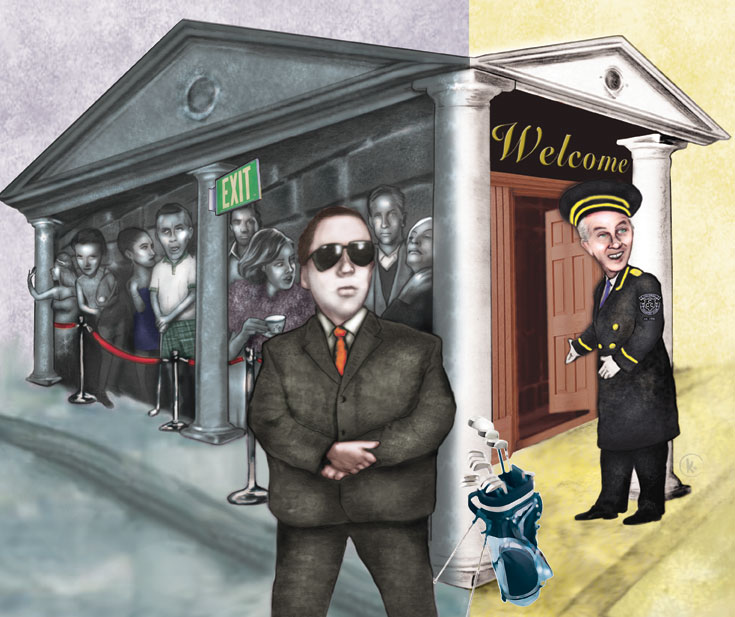 Inside the nearby clubhouse, two dining areas filled up with families enjoying grilled steaks and a colorfully stocked salad bar. Nothing very special for these folks – just another weekday evening at the white-columned enclave that has been a stronghold for Fort Worth's old and well-off families since the 1930s.
Delicious food, an immaculate golf course, and a private, elegant place to hang out, swim, and drink certainly make the club a draw, but there's also tradition.
Especially there's tradition.
The game's greatest golfers have played here – Ben Hogan, Arnold Palmer, Jack Nicklaus, Lee Trevino, Tiger Woods, and on and on. The hallowed Wall of Champions near the first tee, inscribed with the names of previous winners of the prestigious annual tournament, gives chills to visiting players.
But these days there's also a chill of another sort in the air. A small but growing group of members say Colonial just isn't cutting it anymore, and they want out. "It tells you something when there is a longer list of people waiting to get out than there is to get in," said a member who asked for anonymity. "That says a lot about the service and the board and its policies."
It also says a lot about the economy.
The handful of longtime members are hopping mad. They feel cheated. They're talking to attorneys. But until they figure out what they're going to do, they've asked that their names not be used.
"It might give the club an unfair advantage if they know who we are right now," said one man who has belonged to the club for a quarter-century.
Some members have objections to the way the club is being managed. The tournament's current main corporate sponsor isn't sounding excited about extending its contract. And locally, the club took a public relations beating in 2007 when it leased its mineral rights to Chesapeake Energy with the requirement that the noisy, messy, unsightly drilling rigs be set up off the club property. The result was that Chesapeake drew vehement protests when it cut down several acres of old-growth oaks, elms, and cedars just across the river next to a popular hike-and-bike trail.
For others, the club has simply become too expensive a luxury in troubled economic times – an $80,000 initiation fee for full membership is followed by $470 a month in dues, plus hefty fees, for example, for bringing guests to play golf. And those members believe that club officials are violating long-standing provisions of the club's charter regarding members who want to leave.
The charter allows for a member who wants to quit to be reimbursed for 30 percent of the initiation fee when the club resells his or her spot on the membership list, which is capped at 700 people. Some members say they have been waiting for more than a year on the "get-out" list and that they haven't moved up even though the club has accepted new members. They suspect the club is hurting financially, overselling membership capacity, and trying to keep its hands in their pockets by leaving them dangling on the list.
"It looks to me like they're trying to find a way to screw me out of $24,000 plus the dues I've been paying for the last year," a disgruntled member said.
General manager Michael Lawrence wouldn't discuss the situation. "Those are all personnel matters between the members and the club," he said.
Stepping through the front door at Colonial takes visitors back to a vaguely Victorian era of grand chandeliers, fireplaces, and staircases. Golfing legend Ben Hogan's portrait hangs in the front room, alongside many of his possessions, including five championship trophies he won at Colonial. The walls are richly paneled, the bathroom counters stacked with thick, soft paper towels monogrammed with the Colonial logo and "est. 1936."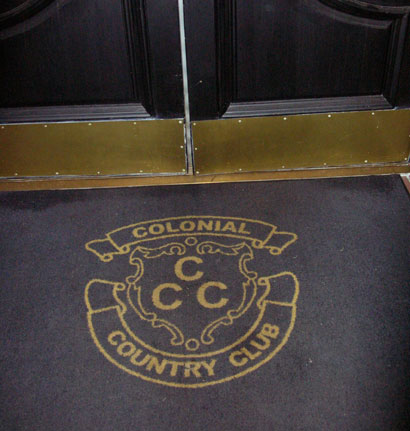 Still, the Ritz needn't worry. Despite the whopping fees, the atmosphere at Colonial is nice but not stiff. This is a golf club first, geared toward people who want to pop in, play a round, have a drink, grab a bite, and hit the road.
"It's a lovely club," said an elderly woman dining near a large picture window that overlooks the 18th hole. "The servers and waiters are very attentive, and I love to bring guests here."
The woman has been a Colonial member for 50 years. Although she gushed about the club, she, like most of the former and current members and staffers interviewed, didn't want to be identified. Colonial members have money, power, and connections, and dishing their dirt to outsiders could be a recipe for social and business suicide.
The half-dozen members who are considering a lawsuit know this well, and they're moving with caution. But they feel hoodwinked by a club that has always touted its desire to cater to them. And their discontent pre-dates the current economic downturn.
Some said their unhappiness with Colonial began several years ago, in one of the more unpleasant incidents in the club's recent history. A member used the N-word in speaking to a black staff member. The employee was so offended that he knocked the man to the floor.
Colonial's board of directors eventually canceled the man's membership. And they kept the employee on board.
A former manager confirmed the incident, but declined to give more details, except to say that reaction among club members was divided: "Some members were upset that he was kicked out, some thought he should have been kicked out."
The members interviewed for this story, all white, said it was wrong for the member to use the racist term, but also wrong for the worker to have responded physically. They said club directors overreacted and were hypocritical, since, as one disgruntled member said, "I've heard people on the board use the N-word."
Colonial, like many country clubs across the country, maintained a whites-only membership for decades, until the rise of African-American players such as Tiger Woods highlighted the clubs' apparent racism and brought pressure on them to change. In 1990, the Professional Golfers Association (PGA) Tour was embarrassed to admit that many of its tournaments were held at segregated clubs. The organization threatened to withdraw its hugely lucrative, nationally televised tournaments from discriminatory clubs.
---
The PGA tournament that has been held the longest at the same course is none other than Colonial, and the Fort Worth country club quickly changed its membership policies to keep its cash cow in the barn. Black families were invited to join, and a few did.
A longtime member said she has invited African-American and Hispanic guests for dinner in the clubhouse numerous times in the past 20 years and never had a problem, but she couldn't recall ever meeting a black or Hispanic member, although she knew of some Jewish members.
A recent visit to Colonial revealed little minority presence among the members dining, socializing, and playing golf. The only African-Americans in evidence that day were clubhouse employees.
The racially tinged incident and its aftermath created a small powder keg of resentment among members. It wasn't long afterward that the board of directors lit the fuse on the keg by quietly granting more memberships than the 700 allowed in the club's charter. When people learned of the subterfuge, they pushed for a change among board members, voted some out, and stopped the practice.
Clubs like Colonial aren't recession-proof. The traditional sponsors for PGA tours – banks, car companies, and other corporations – have pulled back their spending. Crowne Plaza Hotels & Resorts, Colonial's primary tournament sponsor for the past six years, hasn't said whether it will renew its contract after 2010. In June, the Fort Worth Star-Telegram reported that tickets sales at May's tournament were strong but that corporate spending was down about $300,000, or about 10 to 12 percent, from the previous year.
Crowne Plaza spokeswoman Gina LaBarre wouldn't tell Fort Worth Weekly whether the company will renew its sponsorship past 2010. She said only that the company enjoys its relationship with Colonial and "is committed to the ongoing evaluation of our sponsorships … to ensure that the objectives of the relationships are being met."
The economic downturn has been tough on the club's individual members as well.  For people who've lost a job or a sizable chunk of income, those hefty club dues can look like a place to start cutting the family budget.
If membership numbers drop too low, a club can falter, and the leadership has to do what it can to keep the ship afloat. Reducing initiation fees could lure new blood, but board president John Anderson said in a recent letter to members that it wasn't time for that. Instead, he said, the board had concluded that the club should stretch out the time period for paying the fee. The board wanted "to protect the value of the Colonial membership."
The club was obviously in a pinch. In a similar downturn in the 1980s, Colonial had responded by reducing the buyout amount for departing members from 40 percent to 30 percent of their original fee. In a later crunch in the 1990s, the club allowed new members to pay out initiation fees over 10 years instead of two.
By summer of 2008, the number of people on the get-out list had grown beyond the number of those wanting into the club. Some members simply walked away, forfeiting their 30 percent buyout but saving themselves the $470 in monthly dues. What has angered the would-be dropouts is that club managers have chosen to sell those memberships first to new members, while leaving them at the same spot on the drop-out list, still paying dues and waiting for the $24,000 rebate on their initiation fee.
The handful of members considering a lawsuit against the club said they learned through management that the club's get-out list has grown to more than 50 members, all of whom are continuing to pay their dues while hoping to reach the top of the list. They realize, however, that after a few years of waiting they will have spent more on monthly dues than they will get from their initiation reimbursement.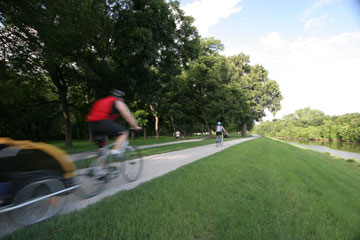 "John Anderson takes the position that these are difficult economic times for the club, and they are looking out for what's best for the club," a get-out list member said. "I beg to differ. I'm still a dues-paying member in good standing, and they sure aren't looking out for me."
Anderson sent a letter to members on Aug. 3, saying that "these difficult economic times" had caused a glut on the get-out list similar to what happened during a similar economic turndown in the 1980s.
"After that economy turned around, we experienced an 8-year wait list to join," he wrote. "I feel confident our club remains one of the best in the country with a high demand for membership."
A few members requested the names of everyone on the get-out list, hoping to organize and give themselves some collective weight for negotiating. If 50 members threatened to collectively walk away from their memberships, the resulting loss in monthly dues could reach $300,000 a year. But Anderson refused to supply the list of names.
Dramas occurring inside the clubhouse during the 11 months of the year when the tournament isn't being played have little impact on the public's perception of Colonial. The club is a whirlwind each May, when thousands flock to see the nationally televised event. The rest of the time it's a private enclave whose business is mostly its own.
The United States was barely climbing out of the Great Depression when Fort Worth businessman and golf fanatic Marvin Leonard founded Colonial Golf Club in 1936. The owner of the Leonard Brothers grocery and hardware store had been playing golf at Fort Worth country clubs for years but couldn't convince course managers to go to bentgrass greens. So, according to the club's web site, Leonard built his own dream course on 157 acres of rolling land southwest of downtown.
Back then, greens at most courses in the Southwest used a clumpy strain of Bermuda grass that golf purists consider only slightly better than gravel. Leonard wanted bentgrass, a strain imported from Europe during America's colonial period to produce fine, gorgeous lawns. Bentgrass is smooth as silk but difficult to maintain in sweltering Texas.
The club opened in 1935, and about 100 members paid $50 each to take part in Leonard's pet project. Membership would grow to about 300 over the next several years.
Nationally, the club was extolled for its gorgeous and challenging course that required precision shots. The prestigious U.S. Open golf tournament was held there in 1941. Winning at Colonial meant being able to strike with precision rather than blasting the long balls.
The following year, Leonard sold the golf club to its collective membership, figuring shared ownership would lead them to value the course and guarantee a promising future. Thus Colonial Country Club was born, and from that came the Colonial National Invitational golf tournament that has been held every May since 1946, except in 1949 when the Trinity River flooded the city.
The course mesmerized Hogan, one of golf's greatest players, who considered Colonial his second home. He played and won there so often in the 1940s and '50s that it became known as Hogan's Alley.
---
The country club also found a place in Texas literature. Texas Christian University's golf team enjoyed free course privileges during those years, including a player named Dan Jenkins. He became Hogan's lifelong friend, wrote about sports for the Fort Worth Press and other local rags, moved on to Sports Illustrated and Golf Digest, became an author, and is now considered by many to be the greatest living writer on golf. Author Bud Shrake set his 2002 novel Billy Boy at Colonial.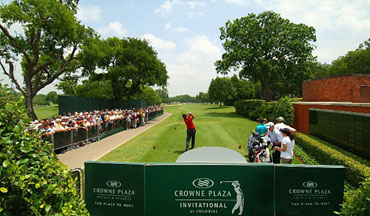 Though the Colonial tournament is one of the oldest on the storied PGA tour, its status appears to be slipping somewhat. Golf Digest ranked the course No. 35 on the list of 100 greatest American golf courses in 2004. The rank fell to No. 73 by 2006, fell further to No. 80 in 2007, and has since dropped off the list.
Still, the course is admired by many pro golfers. "The players consider it one of the best events," said Golfweek senior writer Jeff Rude, who has covered the last 18 Colonial tournaments. "It's at the House of Hogan. You can feel it when you're there. That Wall of Champions by the first tee – everybody who's anybody in golf except Tiger is on that wall."
Ah, Tiger. Few people dispute the impact of the "Tiger effect" on economics and TV ratings when he plays a tournament.
Woods exploded onto the golf scene in the 1990s as a power hitter. Improvements in golf club design and materials have increased many players' ability to smash the ball long distances. But Colonial was designed when a shorter, trickier course ruled, and it's landlocked to the point that lengthening the course is difficult.
Woods last played Colonial in 1997, in the early years of Tigermania, and it looked as if he might put his name on the sacred Wall of Champions that year. But toward the tournament's end, he lost his distance control and ended up tying for fourth place. Afterward he pouted in the clubhouse and refused to speak to reporters.
About a week later, he inked a multi-million dollar endorsement deal with American Express and became a household name and the PGA Tour's hottest draw. But he never played Colonial again.
A Woods-free tournament draws less interest from fans, television viewers, and sponsors. Still, the Colonial flourished through the first years of this century and hooked its wagon to popular golfer Phil Mickelson after he won the 2008 event. This year, the club designed a marketing campaign around the defending champion, including Mickelson's image on billboards and posters. But a week before the Crowne Plaza Invitational at Colonial was set to begin in May, Mickelson dropped out to be with his cancer-stricken wife, Amy.
Attendance remained strong, however, and Colonial persevered despite its missing poster boy and cutback in corporate contributions.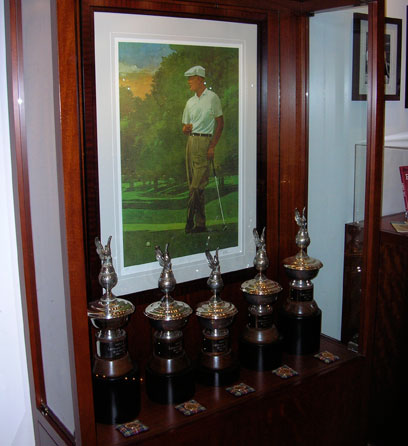 "I don't think Colonial has anything to worry about," Rude said. "You don't have Tiger, and you are not in the Top 100 list, but Colonial is still a great course with a great tradition, highly regarded among [golfers on] the tour."
Sports Illustrated senior writer Michael Bamberger said Colonial is among many country clubs and tournament hosts facing challenges in a tough economy.
"It's not an unusual situation now, with more people trying to get out than get in," he said. "It's happening at clubs all over the country." However, he said, "It's a little unusual for a club that is as prestigious as Colonial to have members trying to get out."
He agreed that Colonial has lost a bit of its luster since the 1960s.
"Every tournament wants Tiger to play, and this is a common problem in the Tiger era," he said. "If you have Tiger at your event every year you've got a big-time sporting event for TV, for the press coming out and watching it. Where Tiger goes, everybody goes."
But Bamberger appreciates Colonial's course. Just because clubs are better made and pros hit balls longer these days doesn't necessarily mean a course should employ radical design changes, he said. The course is there for members to play year-round, not just for the pros who show up once a year.
"How much do you want to give in to the demands of modern technology?" he said. "Colonial is a rugged, demanding course but also a very charming course. Why fine-tune everything to cater to one week a year?"