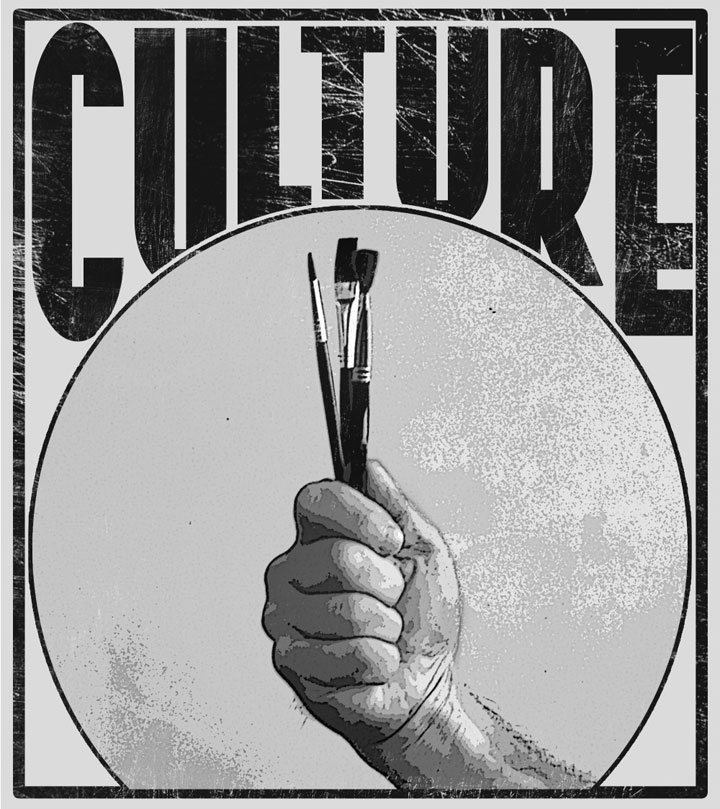 Click here to read more and see who won best Artist, Art Gallery, Theater Troupe, and more.
Top 5 Artworks Created or Exhibited Locally in Last 12 Months
"Advocate's Adjunct," by J.T. Grant
The lone portrait in The Sin Eater and the Anchorite, Grant's new show at William Campbell Contemporary Art, "Advocate's Adjunct" is just plain spooky, drawing tight focus on a grim-looking customer in white face-paint whose head is adorned with what appears to be a wooden '70s-era salad bowl. In the background, gloomy clouds gather as a telephone pole stands guard. If you see this adjunct hitchhiking, you may want to duck down and speed by.
"All Puffed Up," by Jason Reynaga
Exhibited at Artspace 111 as part of a group exhibit entitled Cirkit of Mythos: Synaptic Snap!, "All Puffed Up" is pure dynamism. From afar, the two-dimensional piece seems to be just an illustration of a pink rampaging Incredible Hulk outlined in black on sparkly pink background. On closer inspection, however, the piece reveals itself to be a relief map of sorts, with the black outlines forming hills and the pink spaces in between forming rivers.
"Irrational Exuberance," by Daniel Blagg
As with most of the pieces in Thrashing About, his most recent Artspace 111 exhibit, "Irrational Exuberance" is a photorealist depiction of some of the contents of Las Vegas' Neon Boneyard, where old marquees go to die. For this painting, however, Blagg stepped outside his normal M.O. and loaded the image with symbolism. The faded red Golden Nugget marquee represents, well, golden nuggets, the white "B" in the corner stands for Wall Street crook Bernie Madoff, and the kitchen sink symbolizes "All in!" The best part is that you don't need to know the symbols to enjoy the deft brushwork on display and lighthearted tableau.
"Opiate Sequence No. 1," by John Holt Smith
Its gentility is soothing. Exhibited at William Campbell Contemporary Art, "Opiate Sequence No. 1" is a series of fine, softly hued concentric circles whose "retina" is a pleasant lime green and whose "pupil" is a calm red. As with Smith's other work, the piece was methodically abstracted from a minuscule cross-section of a photograph.
"PRC Shanty," by Christopher Blay
In response to the 1980 coup in Liberia, Blay composed a sweeping, dissonant orchestra for ancient tape recorders, microfilm machines, overhead projectors, toy soldiers, and slide machines. The lone sculpture in Blay's Best Of-winning Microaudiotellaerevolution at Gallery 414, "PRC Shanty" was a small hut constructed from dirty wood and windows and exhibited in a side gallery illuminated only by a series of overhead projectors on which lay some toy soldiers, casting ominous shadows on the structure itself and the exhibit overall.
Top Five Theatrical Performances (Female)
Critic's choice: Lynn Blackburn, Hail Mary!, by Circle Theatre; Stormi Demerson, Shundra Grubb, Lisa B. Whitfield, The Bluest Eye, by Jubilee Theatre; Becca Shivers, Almost, Maine, by Theatre Arlington
It's difficult to convey intelligence, warmth, self-doubt, and a fiery rebellious side all in one performance, but Lynn Blackburn did it effortlessly as a Catholic schoolteacher challenging dogma in Hail Mary! The three leads in Jubilee's The Bluest Eye — Shundra Grubb as a wistful victim, Stormi Demerson as her life-battered mother, and Lisa B. Whitfield as a loquacious neighbor and witness — were riveting and unsparing. Becca Shivers excelled in several roles in Almost, Maine but was especially commanding as the middle-aged career woman who returns to the site of her first love.
Actor (Female)
Readers' choice: (tie) Debbie Dacus, Judy Keith, Dana Schultes, Jenny Thurman
Top Five Theatrical Performances (Male)
Critic's choice: Jim Covault, The Seafarer, by Stage West; Jason Cruz, Joshua Heard, dark play or stories for boys, by Amphibian Productions; David Fluitt, Daniel Fredrick, Twelfth Night, by Trinity Shakespeare Festival
In The Seafarer, Jim Covault gave the most thrillingly detailed performance we've seen from him as an emotionally sadistic blind man who manipulates his brother to keep the darkness at bay. Jason Cruz and Joshua Heard were inseparably intertwined as, respectively, a wunderkind internet stalker and the fragile teen he traps in a murderous plot in dark play or stories for boys. David Fluitt was a straightforwardly ambitious, grandly pathetic, and scarily vengeful Malvolio, while Daniel Fredrick was all pompous, prat-falling charm and comic scene-stealer as Aguecheek, both from Twelfth Night.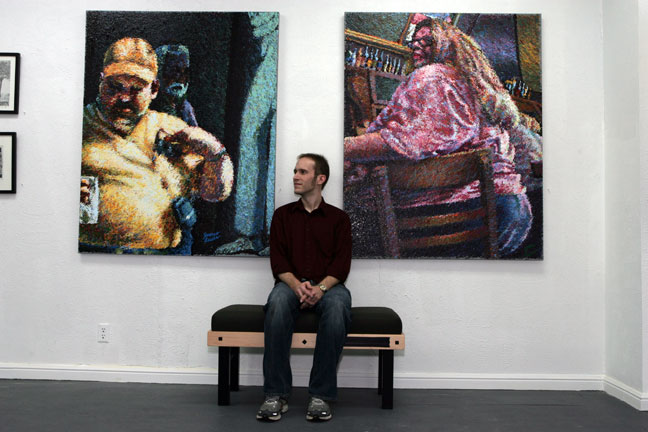 Actor (Male)
Readers' choice: Damon Carney
Dance Performances
Critic's choice: Anatoly Emelianov (Metropolitan Classical Ballet), Letitia Oliveira, Andre Silva (Texas Ballet Theater)
Anatoly Emelianov gave a menacing, brooding portrayal of a silver-hued creature collecting unsuspecting females for his harem in a murky lair in The Time, an atmospheric ballet that he choreographed for Metropolitan Classical Ballet and set to a score by Arvo Pärt. Texas Ballet Theater principal dancers Letitia Oliveira and Andre Silva were magic in their last pairing here as the lovers in Swan Lake. (Silva has joined a Montreal company.) Oliveira matched his flamboyant technique tit for tat in the acrobatic department.
Outdoor Cultural Event
Readers' choice: Mayfest
Critic's choice: First Friday on the Green
It's only natural that the hippest area in town would play host to some of the hippest regional music acts such as Chatterton, Jordan Mycoskie, and Spoonfed Tribe. Magnolia Green Park provides the perfect outdoor setting for the live music series, which feels like a family picnic but with cool bands, better beer, and good food. (Full disclosure: The Weekly sponsors the event.)
Unsung Artist:
Critic's choice: James Lassen
This TCU-educated painter specializes in drip-style, broken-consciousness, photorealist portraits. His visual essays of people engrossed in their own worlds evoke a range of social commentary, mass disconnection from the here and now chief among them.
Photographer
Critic's choice: Byrd Williams IV
One in a long line of Byrd Williamses documenting the Fort — going back to the turn of the century — Byrd the fourth isn't afraid to insert himself into people's lives. One of his series is of bathrooms. Another is of gun lovers and their weapons of choice. He also knows how to tease out of his camera just the right mix of depth and texture.
---
Gallery Art Show of Last 12 Months
Critic's choice: Microaudiotellarevolution, by Christopher Blay, Gallery 414
Is Chris Blay the only artist in town with any balls? As fantastic as some 817 painters and sculptors are, they're still painting and sculpting. Blay is re-imagining what art can be and do, and Microaudiotellarevolution has to go down as his most ambitious project yet. A haunting multimedia exhibit inspired by the 1980 coup in Liberia, Microaudiotellarevolution interrogated the mediatization of reality by confronting the viewer with antiquated media (ancient microfilm machines, ancient tape recorders, ancient overhead projectors), a veritable Wall of Babel, and imagery (army men, soldiers, dictators) lifted from the war-torn Third World. As we said in a Feb. 18 review, "The inert yet dynamic space Blay has created has the aloofness of a news report from the gory frontlines and the quiet intimacy of a bedtime story written by David Lynch, Jim Morrison, and Colonel Kurtz."
Visual Artist
Readers' choice: J.T. Grant
Critic's choice: Jason Reynaga
Sparklingly colored and full of references to video games and superheroes, Reynaga's prints may be the visual equivalent of bubblegum, but there's no denying their easy charm. The TCU alum and art department chair at Wade College in Dallas, Reynaga has been seen exhibiting with fellow rabble-rousers Omar Hernandez, Greg Mansur, and Eddy Rawlinson.
Art Gallery
Readers' choice: Artspace 111, 111 Hampton St, FW
Critic's choice: Gallery 414, 414 Templeton Dr, FW
From a pure programming perspective, Gallery 414, a past Best Of winner, had an excellent past 12 months, exhibiting a new, urgent, political side that missed a lot but that was warranted during the year of the most important presidential election of the modern era.
Museum Art Show of Last 12 Months
Readers' choice: Butchers, Dragons, Gods & Skeletons, by Philip Haas, Kimbell Art Museum
Critic's choice: Butchers, Dragons, Gods & Skeletons
Probably the best museum show in Fort Worth since the Amon Carter Museum commissioned Richard Avedon's In the American West, lo, these 25-plus years ago, Butchers, commissioned by and installed in the Kimbell, is a series of short films inspired by select pieces in the museum's permanent collection that truly bring the pieces to life. Looking at, say, James Ensor's "Skeletons Warming Themselves" is one thing. Watching it is another.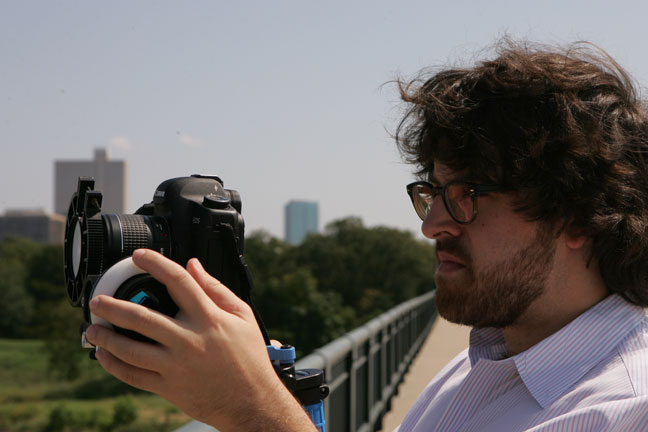 Performing Arts Organization
Readers' choice: Fort Worth Symphony Orchestra
Critic's choice: Van Cliburn Foundation
Given the great success that the Cliburn had hosting the 13th Van Cliburn International Piano Competition this past summer, it had to be them. Despite a depressed economy (which no doubt prevented some out-of-town fans from traveling to Fort Worth) and media organizations with fewer resources to devote to covering the competition, the buzz around this quadrennial event was stronger than ever, thanks to a strong field of competitors and the way the peerless staff handled this gigantic series of logistical challenges without a hitch.
Production Staged by a Local Theater
Readers' choice: The Prophet, by Hip Pocket Theatre
Critic's choice: dark play or stories for boys, by Amphibian Productions
Most theater communities could use fewer Elizabethan romps and more bracing, imaginative, contemporary-to-the-moment plays like Carlos Murillo's dark play or stories for boys, an almost unbelievable (yet entirely true) internet-era tale of an impostor, a victim, a twisted seduction, and an attempted murder that made British courtroom history. Director JV Mercanti found high theatrical drama in the alternative digital universe of online social networking.
Theater Troupe
Readers' choice: Stage West
Critic's choice: Trinity Shakespeare Festival at TCU
TCU's Trinity Shakespeare Festival relieved an unquestionable Cowtown drought — seven years without Summer Willie — and provided top-quality performances, excellent production values, and a necessary desire to re-invigorate the iconic playwright with sensitive and intelligent readings of his texts.
Classical Music Performance (Cliburn Competition)
Critic's choice: Andrea Lam, semifinals
The Australian pianist didn't make the final round of the Cliburn, but she was dazzling in all phases of her one-hour semifinal recital. She played a sparkling version of a Haydn sonata, turned Stravinsky's Four Études and Ginastera's Danzas Criollas ("Creole Dances") into hair-raising showpieces, and was the only contestant who caught the American idiom of Mason Bates' White Lies for Lomax. The real glory, though, was her jewel-like set of Brahms' late pieces that seemed to still the air with their intimate beauty.
Book By Texas Author Published in Last 12 Months
Readers' choice: Jon Bonnell's Fine Texas Cuisine, by Jon Bonnell
Critic's choice: Go Down Together: The True, Untold Story of Bonnie and Clyde, by Jeff Guinn
The lives and deaths of Bonnie Parker and Clyde Barrow have lost much of their rich, juicy Texas folklore quality over the decades since Arthur Penn's bowdlerized 1967 movie version. Former Fort Worth Star-Telegram staffer Guinn restored the fascination with his meticulously detailed, heartbreaking, and sometimes gruesome retelling of the North Texas couple's mostly amateurish criminal antics.
Show at Bass Hall in Last 12 Months
Readers' choice: Cleopatra, by Texas Ballet Theater
Critic's choice: La Cenerentola, by Fort Worth Opera
That's Cinderella to you and me. Rossini's comic take on the story was the hit of Fort Worth Opera's summer festival. Headlined by star-in-the-making Isabel Leonard, the show featured formidable singing from the lead and supporting cast and overflowed with crackling, inventive comic business that left the Bass Hall crowd on its feet clamoring for more. And FWO's Carmen wasn't far behind.
Local Filmmaker
Readers' choice: James Johnston
Critic's choice: Andrew Disney
Distantly related to the famous Disneys, the 23-year-old Fort Worth native turned heads at the 2007 Lone Star International Film Festival with his short film, Frank's Last Shot. Then he caught the filmmaking world's attention by shooting his trailer for Searching for Sonny on a still camera. His technological breakthrough has raised the possibility that low-budget filmmakers can make movies that look as good as Hollywood's stuff.
---
Classical Performance
Readers' choice: Mahler festival, by Fort Worth Symphony Orchestra
Critic's choice: La Cenerentola, by Fort Worth Opera
Just when you thought good bel canto ensemble singing had all but disappeared, FWO put together a wondrous cast of young singers totally at home in the coloratura extravagance of Rossini's Cinderella. Mezzo-soprano Isabel Leonard, a beauteous creature still in her 20s with the vocal agility of a young Marilyn Horne, led her colleagues in a joyous romp through the fairy tale opera. David Gately's hilarious staging and Scott Bergerson's sympathetic conducting completed the stylish triumph.
Locally Made Film
Critic's choice: Karma Police
John Venable's high-concept film about a tech worker who's hired to bestow good karma and inflict bad karma on those deserving it used several Fort Worth locations for its shoot, and the result looked far more impressive than its budget should have allowed. It's now out on DVD.
Dance Production
Critic's choice: Mozart Requiem, by Texas Ballet Theater
Artistic director Ben Stevenson climbed new choreographic heights in his vision of the Mozart Requiem, a powerful musical statement he set with an all-male cast. The dancers captured the music's majesty and poignancy with inspiring nobility and left many audience members teary-eyed and still cheering after the curtain came down and the lights went up. The Fort Worth Symphony Orchestra and Schola Cantorum met the musical challenges with joy under the baton of Jack Buckhannan, whose performances here turned out to be his last. He died suddenly later in the season.
Film Series
Readers' choice: Lone Star Film Society's Best Of Fest at the Modern Art Museum of Fort Worth
Critic's choice: Butchers, Dragons, Gods & Skeletons
Philip Haas' film installation at the Kimbell Art Museum was a first for the traditionalist venue. The five films commissioned by the museum were built around specific works of art in the Kimbell's collection and raised thought-provoking questions in addition to being spectacularly beautiful.
Place to See Art Films
Critic's choice: The Modern Art Museum of Fort Worth, 3200 Darnell St, FW
Every weekend, the Magnolia at the Modern showcases foreign films, documentaries, and other less-widely-distributed movies. The Lone Star Film Society also uses the museum year-round for screenings. From French films to epics from Zaire, the theater at the Modern can accommodate just about any obscure taste.
Locally Produced Comic Book
Critic's choice: PvP, by Scott Kurtz
PvP earns its second Best Of in as many years mainly because creator Scott Kurtz has strengthened his 11-year-old panel. Earlier in black and white, it now includes color, and though the artwork is still energetically stylized, it's more realistic. But what could keep PvP on top for a long time is the writing. Kurtz can be satirical — in one panel, he re-imagines his characters as members of the Watchmen to parody the current, awful state of newspaper panels. He can be hilarious. Check out the panel in which character Cole Richards discovers that his father once starred in a 1950s sci-fi kiddy serial. Read PvP at www.pvponline.com.
Outsider Artist
Critic's choice: Grayson Harper
Peculiar scenes featuring people are this Fort Worth artist's stock in trade, and his in-your-face style is captivating and edgy without being crass. Rather than looking to Mother Nature for inspiration, he visits a slum or a morgue. An exhibition of his work at the Fort Worth Community Arts Center included "Home For Christmas," a large oil-on-canvas depicting a dead soldier in a pine box. And his startling "We Signed" shows people celebrating after signing gas leases, with money literally falling from the sky. The scene oozes with dread.
Green Space
Critic's choice: Fort Worth Botanic Garden
Any individual garden in this complex could be considered among the best green spaces in Cowtown. But taken as a whole, from the impossibly tranquil Japanese garden to the small but amazing — and calming — fragrance garden, this place never fails to delight.
Arcade
Readers' choice: Putt Putt Golf & Games, 7001 Calmont Av, FW
Critic's choice: Tornado Terry's, 4530 Keller Hicks Rd, Keller
The video game mags have been saying it for years: The arcade is going the way of the dinosaur. If that's the case, then Keller must be a Lost World of sorts, because Tornado Terry's is alive and well. Maybe it's because you can play unlimited games all day for $12.50. Featuring all of the golden oldies and recent hits (Tekken 5, anyone?), Terry's is a great way to while away an afternoon with the kids – or remember what social gaming was like before Rock Band and its little baby guitars came along.
Backdrop for a X-Mas Card
Readers' choice: (tie) Bass Hall and Fort Worth Botanic Garden, 3220 Botanic Gardens Blvd, FW
Critic's choice: Clown Burger, 5020 Stanley Keller Rd, Haltom City
Clown Burger has been happily grilling burgers, dogs, and other greasy goodness for half a century. And the food's good, too, especially with the crinkle fries. But damn if it isn't creepy the first time you happen upon that ancient, dilapidated clown face looming over the saddest parking lot in the world. If you want to weird-out your relatives, you really can't beat a shot of you and the kids in matching sweaters beneath the peeling menace of Clown Burger's sign. And if that backdrop isn't creepy enough, go take one inside – the clowns parachuting from the ceiling are enough to make David Lynch shiver.
Day Trip
Critic's choice: Grant Casino Resort, Grant, Okla.
Slot machines are often "loose" at new casinos, meaning the payoffs are more frequent. Casinos are legally required to pay out a certain percentage of winnings but can voluntarily pay out more. Gamblers are reporting loose slots at Oklahoma's newest casino, which opened in July and boasts 1,000 one-armed bandits as well as eight blackjack tables and seven poker tables. The only downside: No booze allowed.
---
Outdoor Workout Space or Running Trail
Critic's choice: Oak Grove Park, Lake Grapevine 2500 Dove Loop Rd, Grapevine
If you're a runner, you'll find paradise on the trails that run around Lake Grapevine. Long stretches of hills, plus a killer view of the lake and docks, make for a great workout and a relaxing break from the concrete city.
Place to Take Your Kids
Readers' choice: Fort Worth Zoo
Urban Digs
Readers' choice: Montgomery Plaza, 2600 W 7th St, FW
Critic's choice: Miller Lofts, 311 Bryan St, FW
Real estate developer Eddie Vanston has done some great historic restoration of old apartments on the near South Side (Markeen, Lueda-May, LaSalle, Sawyer Grocery), but his latest is the best. Vanston has converted the 1910 Miller Manufacturing Building into 15 loft apartments. And these are real lofts, with 16-foot ceilings, concrete floors, and open space. As he has done in the past, Vanston bypasses expensive housing and goes with mid-market rates, with rents ranging from $850 to $1,600 a month.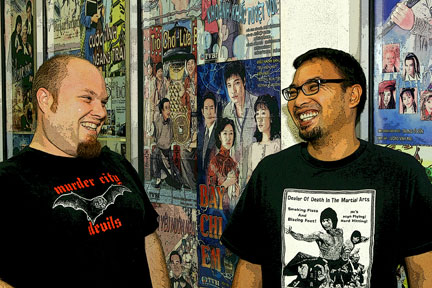 Graphic Designer
Critic's choice: Pussyhouse Propaganda
Maybe it's because they don't advertise. Maybe it's because their projects fall less on the side of corporate parties and more on the side of local shows and charity events. Maybe it's because they'd rather find a way to combine Evel Kneivel and a map of Mordor than put your real estate company's logo on a koozie. Regardless, Pussyhouse continues to be funny, edgy, and antipathetic to what a graphic design firm is supposed to be, and that's why we like 'em best.
Place to Study
Readers' choice: Fort Worth Botanic Garden
Critic's choice: Southwest Regional Library, 4001 Library Lane, FW
In its predictably quiet atmosphere, you can set up camp at one of the many available tables and count on being undisturbed. Bring your laptop and use the free Wi-Fi or be even more radical and use those traditional library resources – books!
Urban Development/Smart Growth
Readers' choice: Fort Worth South
Critic's choice: West 7th Street
When Dallas-based Cypress Equities bought all that property in the West 7th Street corridor several years ago, some worried about what would go in there. But Cypress has been smart about it. Though still under construction, the development mixes apartments with a movie theater with a bowling alley with office space and restaurants. Some say it's a little too high-end, but it does create a place where folks can live, work, eat, shop, and party without hopping in their cars.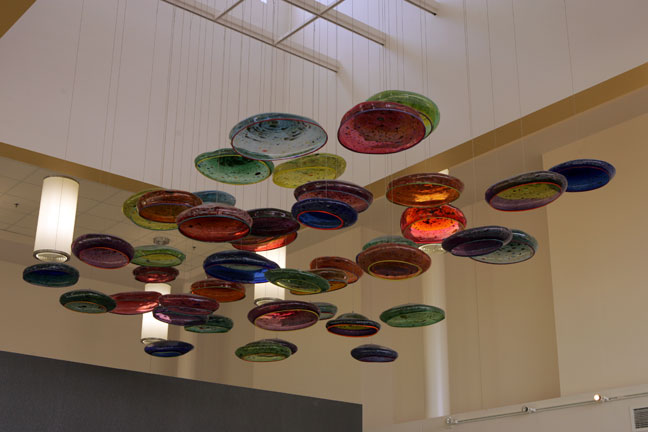 Example of New Architecture
Readers' choice: Omni Hotel, 1300 Houston St, FW
Critic's choice: Villa de Leon, 500 Samuels Av, FW
So garish it's lovable. Only in conservative Fort Worth could someone get away with erecting what's effectively a six-story wall on the banks of a downtown river. Designed by Ames Fender and located on the Trinity Bluff, Villa de Leon has a flat neoclassical façade that calls to mind Caesars Palace in Las Vegas, one of the kitschiest, coolest buildings in the country. However, you'd have to be as rich as Caesar to live in one of Villa de Leon's 23 luxury condos.
Rebirth/Relocation/Re-opening
Readers' choice: (tie) Aventino Ristorante, 3206 Winthrop Av, FW; Domain XCIV, 3100 W 7th St, Ste 112, FW
Critic's choice: Museum Place
As recently as two years ago, the West 7th Street/Camp Bowie Boulevard intersection was a boring collection of benighted storefronts. Thanks to some prescient developers, the area may soon rival Sundance Square for shopping and ambiance. The development's architectural crown jewel is by James Harwick + Partners. A corner building sheathed in glass, it cuts through the visual clutter like a knife.
Public Art
Readers' choice: "Avenue of Light," by Cliff Garten, Lancaster Avenue
Critic's choice: "Chroma Refraction," by David Keens, North Park YMCA, 9100 N Beach St, Keller
Consisting of several dozen vibrant blown-glass amoeba shapes suspended from the ceiling and right below a natural-light well, the UTA professor's project is buoyant and enchanting – if a bit unnerving – as if a school of celestial, DayGlo jellyfish were about to plop down on you. The piece, commissioned by Fort Worth Public Art, is one of several new, outstanding pieces of public art throughout the city that stand to transform our town into a world-class metropolis.
Place to Skateboard
Readers' choice: Trinity Park
Critic's choice: Like, wherever, man
Skateboarders know the best places to freestyle are the forbidden ones: sidewalks, buildings with steep guardrails, drainage ditches, places perfect for skating but often off-limits. "The best place to skate is the terrain that you find on your own, a private spot," said local skateboarder Greg Stubbs.
Example of Public Architecture
Readers' choice: Ella Mae Shamblee Branch Library
Critic's choice: Parking in Color, 1201 Houston St, FW
Form meets function in artist Christopher Janney's $25 million parking garage for the Fort Worth Convention Center. Each corner of the 11-story building is sheathed in multicolored glass. Plus, sounds endemic to Fort Worth, from avant-garde jazz to the ramble of a livestock auctioneer, emanate from speakers on each floor, entertaining motorists while helping to orient them.