Click here to read more and see who won best Hair Salon, Spa, Customer Service, and more.
Barber Shop
Readers' choice: West 7th Street Barber Shop, 701 Barden St, FW
Critic's choice: Shelton Given's Barber Shop, 512 Main St, Ste 112,  FW
This quaint three-chair barbershop is located on the ground floor of the Sinclair Building – downtown's funkiest example of Art Deco design — and the location is perfect because stepping into Shelton's shop is like stepping into a Norman Rockwell illustrated Life magazine cover. The well-loved Given is always at his chair, cutting hair and serving as camp counselor to the many regulars who come to discuss politics, sports, and weather, and try to solve the world's problems in the 20 minutes it takes to get shorn. The best part: $15 buys a haircut with a beard trim and even a razor shave around the ears, topped off with a touch of talcum power.
Hair Salon
Readers' choice: Esoterica, 941 Foch St, FW
Critic's choice: Halo Salon and Color Lab, 6333 Camp Bowie Blvd, FW
The relatively new salon in the Village at Camp Bowie is known for its coloring — owner Jennifer Rabideau is a master colorist who specializes in both corrective work and first highlights. The friendly, contemporary-looking establishment is also genuinely guy-friendly, and the prices are reasonable.
Fashion Fad
Critic's choice: Flip-flops
Flip-flops capture the laid-back essence of living in Fort Worth. A perfect choice for the hot summers, the myriad possibilities in this mode of footwear adorn the feet of 817 denizens in restaurants, malls, nightclubs … even in the toniest restaurants. They can be anything from fancy and jeweled to the poolside variety, with versions to fit every occasion and personality – as long as one is proud enough to show off his or her feet.
Tattoo Shop
Readers' choice: Randy Adams Tattoo Studio, 6467 E Lancaster Av, FW
Critic's choice: Elite Tattoo Gallery, 5936 Curzon Av, FW
Like a cheap guitar or a German automobile, a tattoo is one of those things where you get what you pay for. What you're paying for at Elite is several of DFW's (if not the state's) best artists in the cleanest shop in town. Got a custom piece in mind but can't draw for shit? Roxxy and his crew can flesh out your idea and sink it in your flesh – his color work is bar none the best in town. As the saying goes, pain is temporary, but tattoos are forever, so you might as well get 'em from the best.
Guitar Shop
Readers' choice: Guitar Center, 5250 S Hulen, FW
Critic's choice: Competition Music, 3136 E Lancaster Av, FW
The "little guitar shop that could" continues to be the workingman's dream. Scott, the owner, is one of the few remaining dinosaurs who specializes in used guitars and musical equipment and is willing to buy, sell, trade, arm wrestle, flip a coin, and do what's necessary to turn over inventory. He's not out to screw anybody, but he's no sucker either. Expect a fair deal. Also to his credit, for the past eight years he's hosted the annual Fort Worth Guitar Show in July.
Masseuse
Critic's choice: Rachel Parker-Maxey, Legacy Salon and Day Spa, 6115 Camp Bowie Blvd, Ste 100, FW
Don't let her easygoing charm fool you, Parker-Maxey has a grip like a python and can work out even the most stubborn of knots. She can also adopt a light touch for frailer clients. She combines experience, know-how, and the ability to put her clients at ease.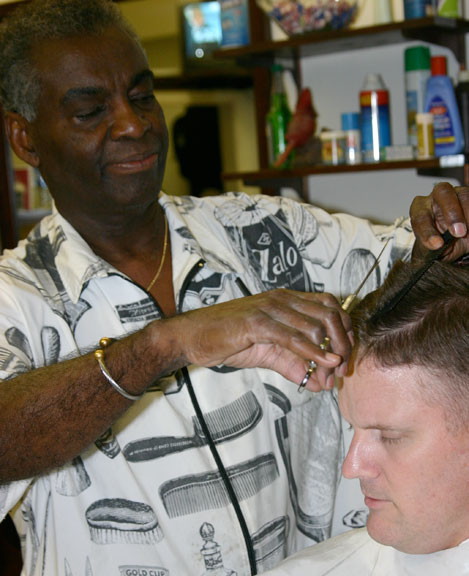 Customer Service
Readers' choice: Perfect Touch Day Spa, 3023 Bledsoe St,  Ste 103, FW
Critic's choice: Cheryl Gay, 7-Eleven, 2500 Forest Park Blvd, FW
We've all seen the derelicts who work at some convenience stores – the ones with unlit cigarettes hanging from their mouths, silently scowling at you for having the audacity to come to the counter when they were just about to go on a smoke break. The complete opposite of that is Cheryl Gay. Anyone who has ever been more than once to the 7-Eleven at Forest Park and Park Hill knows her name. Always smiling and never without a kind word, Cheryl is the kind of person whom giant franchises put on their marketing material to brag about their happy employees. She'll brighten your day for sure.
Thrift Store
Readers' choice: McCart Thrift Center, 5203 McCart Av, FW
Critic's choice: Berry Good Buys, 1701 W Berry St, FW
Diggers, beware! Berry Good Buys isn't as cavernous as some of the warehouse-like thrift stores in town, but their treasure-to-junk ratio is much higher. In impeccably clean surroundings, shoppers can find unbeatable deals on wearable clothes, shoes, and furniture. The stock rotates often, so each visit brings the possibility of adding another bit of dirt-cheap elegance to a wardrobe. The fact that all proceeds go to SafeHaven of Tarrant County is a major plus.
Car Wash
Readers' choice: Colonial Car Wash, 8880 Hwy 80 W, FW
Critic's choice: Magic Carwash & Detail, 7008 South Fwy, FW
They'll do right by your wheels (and your chrome and carpets and dashboard) at this modest-looking establishment on the west frontage road of I-35, south of the Alta Mesa exit. The detailing is by hand, the service is personal and personable,  and the rates (beginning at $12) are hard to beat. Customers seem to include a lot of folks who obviously care about their sporty and/or classic cars.
Antiques
Readers' choice: Montgomery Street Antique Mall
Critic's choice: Carter Bowden Antiques, 4704 Bryce Av, FW
This shop offers an interesting collection of small, mostly European antiques peppered with occasional oriental pieces and garden decorations.
Spa
Readers' choice: Pamper House Day Spa, 806 W Abram St, Arl
Critic's choice: Hanna Isul, 6333 Camp Bowie Blvd, FW
Owner Myong Chong calls her serene establishment a "med-spa." All the products you'll see on the shelves are her own formulations, and they're all pure botanicals. She's worked since childhood to develop her expertise, and it's in the genes as well as the effort: Her family has produced physicians for generations. Expect the usual pampering experiences, just taken up a couple of notches. Even the air feels better inside, thanks to a state-of-the-art filtering system.  No animal testing, no cardboard packaging: Myong was green before it was cool.
Enviro-Friendly Business
Readers' choice: Spiral Diner & Bakery, 1314 W Magnolia Av, FW
Critic's choice: Spiral Diner
Aside from ass-kicking vegan food that's mostly organic – good enough that you don't need to be a vegan to love it – owner Amy McNutt sees to it that her joints (there's another in Dallas) are run as green as humanly possible. She keeps her place clean with environmentally friendly, biodegradable cleaning products; uses unbleached and recycled paper products; has biodegradable take-out containers; donates a portion of profits to green organizations; and donates excess food to local food banks – among a host of ways she's trying to keep things cruelty-free and environmentally friendly. If McNutt can do it, why can't McDonalds or Starbucks?
Toy Store
Critic's choice: Go! Toys & Games, 3000 Grapevine Mills Pkwy, Grapevine
Yeah, this place is inside Grapevine Mills Mall, which should disqualify it from contention. Still, it's hard not to be impressed when you're faced with an entire wall of differently themed Monopoly games. (Whichever pro or college football team you root for, it's probably represented here.) The store also features tons of other board games and puzzles for hobbyists of all ages.
---
Gun Store
Readers' choice: Cheaper Than Dirt, 2522 NE Loop 820, FW
Critic's choice: Cheaper Than Dirt
Picking the best spot to grab your .50-cal is not easy, what with hundreds of gun shops in North Texas. But we're going with Cheaper Than Dirt. It's right off I-35, on a straight route to Nuevo Laredo, Mexico, where you can mix it up in the border drug war if you want. And the people who work there are all very pleasant; many of them look like, well, ordinary people who happen to think that having a half-dozen Uzis and AK-47s is normal in this crazy world. They've got hundreds of rifles, assault rifles, and handguns; they carry pink rifles and pearl-handled pistols for the ladies or men who don't want to look macho when they kill you over a parking space. This is an NRA dream. And they're real clear: Have a clean record and they'll sell you whatever you want, as many as you want, because, "You never know if you have enough firepower."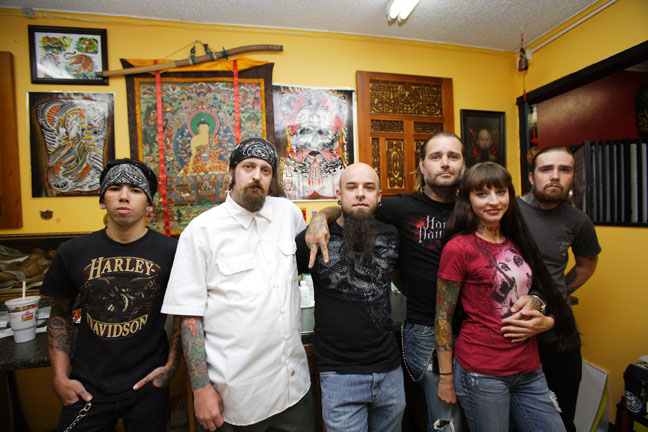 Head Shop
Readers' choice: Smokie's House of Pipes, 6031 Camp Bowie Blvd, FW
Critic's choice: Henderson Street Bazaar, 1000 N Henderson St, FW
If there's one thing that can harsh your mellow, it's overpriced gear. Sure, every shop does it (there's even a subtle joke about that in August's High Times), but man, when you've chunked your piece out the window because a cop just drove by, it sucks even more when you don't have $40 lying around to get a new one. Enter T&R Trading Company, whose booth at the Henderson Street Bazaar has ounce upon ounce of pipes, vapes, and accessories, plus all those ceramic dragons 'n' shit – all at swag-low prices. Load the car and roll up to the Bazaar.
Bike Shop
Readers' choice: Bicycles, Inc., 5125 Granbury Rd, FW
Critic's choice: Panther City Bikes, 1306 W Magnolia Av, FW
What with shoulderless country roads, big gas-industry trucks on every byway, and the general lack of bike lanes, cycling in these parts can be hazardous not only to your health but to that of your cherished two-wheeler. When it needs a cleanup or a tune-up, take it to Panther City Bikes. On a recent visit, the crew there gave one vintage bike a sheen it hadn't had in 15 years. Top-flight service, with a reasonable price tag.
Gym/Health Club
Readers' choice: LA Fitness, 141 Road to Six Flags, Arl
Critic's choice: Inursha, 525 Bailey Av, FW
The staff at Inursha is friendly, the place is clean, the location is easy to get to, and parking is usually good. The vibe is laid-back and family-friendly. There's a nice mix of new-ish equipment, machines, and free weights. The 10-year-old gym doesn't pressure-sell fancy supplements or training classes. The focus is more on lifestyle change that's gradual and do-able, rather than a magic shake in a can. Owner Robin Thomas, a former personal trainer, still books training appointments and says his clients' commitment to weight loss and changing their "numbers" – cholesterol, blood pressure – is as important as getting pumped up.
Place to Blow Money Accidentally
Critic's choice: Doc's Records & Vintage, 2111 Montgomery St, FW
Walk in thinking you're just gonna browse. Walk out $90 lighter. Just another day at Doc's, a recently opened record store and vintage clothing outlet on the West Side. Vinyl albums of the kind you haven't thought of or seen in years, from Abba to Zappa, lurk in every aisle, and there may be no finer collection of black vintage and faux-vintage t-shirts anywhere. Don't let your inability to keep your wallet closed keep you from visiting. Often.
Liquor Store
Readers' choice: Two Bucks Beverage Center, 4702 South Fwy, FW
Critic's choice: Two Bucks
During the last year, Two Bucks has more than doubled its size, and it was already about the biggest liquor store in the Fort. The great staff knows what's up with everything from Texas wines to fine French; they offer the best selection of Irish and Scotch single malts on the planet, hold tastings several times a week, and rent kegs and margarita machines. Hell, it's damned near a destination spot even if you don't drink, just to see what other folks are having.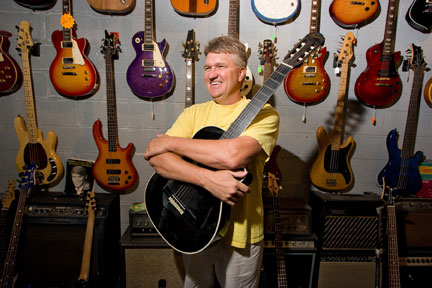 Skate Shop
Critic's choice: Rhythm Skate Shop, 5725 Watauga Rd, Watauga
Regardless of which direction you're coming from on Watauga, slow down or you'll miss the funky-font "Rhythm" sign. The exterior isn't what you're expecting – more Granny's cottage than boarders' hangout, but inside, this place is way cool, with red and black minimalist décor, friendly service, a good selection of boards, shoes, wheels, and other skateboarding equipment, and some excellent t-shirts.
Esthetician
Critic's choice: Shannon Moon, Skin Therapies Inc., 4545 Bellaire Dr South, Ste 2, FW
Turning back the clock on sun damage, reducing veins and fine lines, and  permanently removing unwanted hair without surgery, needles, or long recovery times are just some of the services offered by the always-smiling Moon. You can also get a t-shirt that reads "Shannon Moon's Room of Doom," though the room isn't as scary as it once was. For photorejuvenation procedures not too long ago, she was using a crude laser device — every zap to the face had the bite of a small flame. But she now has a new laser machine that's reportedly much less painful. All boon and no doom.
Motorcycle Shop
Readers' choice: Fort Worth Harley-Davidson, 3025 W Loop 820 S, FW
Critic's choice: Thunder Alley Cycles, 416 NE Wilshire Blvd, Burleson
Bikes are available for sale here only occasionally. But at this Burleson shop, located on the service road where Hwy 174 turns off from I-35, you can get just about anything else cycle-related – helmets, gloves, vests, jackets, leather pants, and all the rest. So what makes these cats special? Their custom work. They will do anything you want done to your bike. Seats, bars, horsepower, chopping, painting … you dream it up, they'll execute. Good prices, great service.
Place To Buy:
Cheap Threads
Readers' choice: DD's Discounts, 1050 W Arkansas Ln,  Ste 150, Arl
Critic's choice: Plato's Closet, locations in Arlington, Euless, and FW
When the rich kids have too many fancy things, recycling can be fun, especially at Plato's Closet, which describes itself as "a nationwide unique recycling retail store." While the stores specialize in clothes for teens and 20-somethings, the 30- and 40-something moms have also caught on. Buyers are pretty picky about what they stock – tales have made the rounds about the barely used Kate Spade bags that some lucky shoppers grabbed up. If you think that's just urban legend, walk into any of the three Tarrant County locations. The Abercrombie distressed jeans may indeed be from the spring collection and not the fall line, but they'll cost only about a third of what you'd pay at the mall.
---
DVDs
Readers' choice: Entertainmart, 3415 S Cooper St, Arl
Critic's choice: Fry's Electronics, 102 I-20E, Arl
When it comes to buying DVDs, movie connoisseurs are too often slaves to the Big B's: Blockbuster, Barnes & Noble, and Best Buy. Fry's is also a nationwide chain, and like Best Buy, it's devoted mostly to selling computers and TVs. However, their Arlington store's movie collection is surprisingly comprehensive, with foreign films, martial arts, and exploitation fare to go with the usual Hollywood stuff. Their prices match up well with the big-box retailers', too.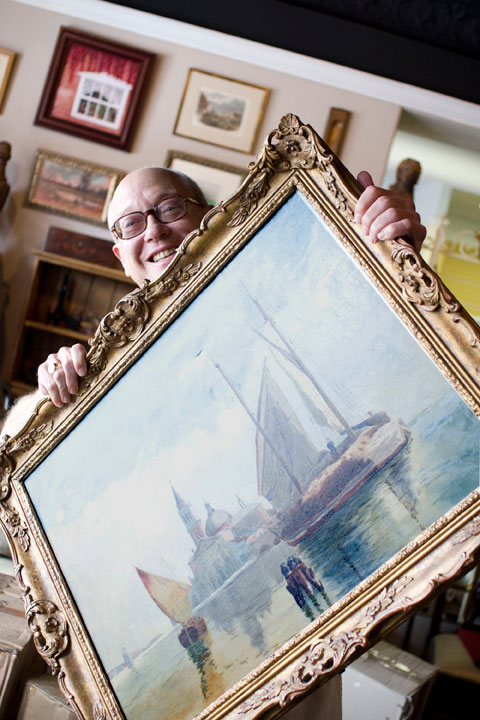 Adult Toys
Readers' choice: Condom Sense, 1077 N Collins St, Arl
Critic's choice: Magic Etc Fort Worth Costume, 2300 W Fwy, FW
Dive into a world of fun at Magic Costume, which offers an array of adult wigs, costumes, pantyhose, stage makeup, and creativity. Couples who are into role-playing have enough possibilities for every night of the year. For the truly kinky types, Magic even has adult SpongeBob and Scooby-Doo costumes for men, as well as Disney Princess attire and Austin Powers outfits for women.
Used CDs/Records
Readers' choice: Entertainmart
Critic's choice: Doc's Records
For both superannuated vinyl-heads and whippersnappers just discovering the hobby/obsession, this is a crate-digger's paradise. The convenience of finding or downloading stuff online is quickly forgotten once you experience the pulse-quickening thrill of perusing stacks where at any moment you might stumble on a treasure or five that you simply can't live without. The main attraction is the trove of LPs, including multiple copies of many desirable items, but there are also 7-inchers, CDs, books, a selection of vintage clothing (silver cowboy boots, anyone?), photos, and memorabilia, all at surprisingly reasonable prices.
Books
Readers' choice: Half Price Books, 5417 S Hulen St, FW
Critic's choice: Recycled Books, 200 N Locust St, Denton
Yes, it's a long drive up I-35 to Denton. But true bibliophiles – you know, the people who spend hours perusing shelves of Beatles biographies or an aisle of Dragonlance fantasy novels – come to Recycled Books to get so happily lost in the purple three-story building that they forget what day of the week it is. This labyrinth of the written word excels at dissolving thoughts of time or place. Remember when Half Price Books was a haven for dust-covered manuscripts and reaching the highest shelves meant standing on an empty crate? Recycled keeps alive that tradition of imbuing books with mystery and power – a quality sadly missing from today's corporate-dominated industry. Find that used Cormac McCarthy you've been searching for or simply wander around the seemingly limitless shelves of esoteric history, board games, and photography. The best part of Recycled is knowing that something you'll love is inside and that the hunt for it is half the pleasure.
Cigars
Readers' choice: Pipe Dream Cigar & Tobacco, 4622 Benbrook Hwy, FW
Critic's choice: Pop's Safari Fine Wines, Cigars, and Food, 2929 Morton St, FW
It's the easy and obvious choice, but it's also the right one. Set in a Hemingway dream, Pop's offers an unparalleled selection of smokes and a wine list the size of a Harry Potter book. Plus, they serve lunch and dinner. There are imitators but nothing that quite reaches Pop's level.
20th-Century Relics
Readers' choice: Montgomery Street Antique Mall
Critic's choice: Salvation Army Thrift Store, 2901 NE 28th St, FW
Not as big as many of its antique/secondhand/thrift competitors, this store a few blocks off I-35 nonetheless always seems to have a few gems in its aisles, whether it's a set of fine china, good-quality furniture, or a piece of 1950s memorabilia that all those other fools have overlooked. And remember: Next time you move, clean out the garage, buy new furniture, or split with a once-significant other who leaves significant amounts of belongings behind, the folks at the Army will welcome your 20th-century relics with open arms.
Comic Books
Readers' choice: Lone Star Comics, 5429 S Hulen St, FW
Critic's choice: Lone Star Comics
Despite economic troubles and a somewhat niche clientele, local comic book stores have for the most part been going strong. The best of the bunch is Lone Star Comics on Hulen. After reorganizing and redecorating, the store has a warmer, more inviting feel, while still being packed to the gills with comic and geek accessories, plenty of current and back issues, room for gaming, the works. But what sets the store apart is the knowledgeable and friendly staff, always ready to help find a back issue or chat about the latest storylines.
Men's Clothing
Critic's choice: Dean-Kingston, 821 Foch St, FW
No Affliction t-shirts and hats here. Just Rat Pack-approved gear with a contemporary urban touch. Though not exclusively a men's store, the recently opened retailer in the West 7th Street corridor has racks full of guy stuff from brands such as True Religion, French Connection U.K., and English Laundry, in addition to Dean-Kingston clothing.
Jewelry
Readers' choice: Cowtown Gold & Silver, 913 University Dr, FW
Critic's choice: Barse Sterling Silver, locations on Main Street in FW and Southlake
The Sundance Square branch of the family-owned jewelry store occupies one of the best pieces of real estate downtown: a corner spot with windows on both Main and 4th streets, displaying jewelry with beautiful turquoise and other semi-precious stones. The store, co-owned by Nancy Barse Moore and Melanie Moore Gobril, is named after their relative, American painter and muralist George Randolph Barse. Many of the designs are created in-house. The result: combinations of vibrant orange coral, red sea bamboo, lime turquoise, and smoky quartz, all bound in shimmering silver.
Touring Van
Critic's choice: Galaxy Auto Sales, 608 E Division St, FW
For the second year, Galaxy Auto Sales has the best selection of low-budget vans, perfect both for grizzled road warriors and for bands that have just booked their first show in Austin. While it's a small lot, you'll find a wide variety of rock 'n' roll party-rollers, some old, some new, some decrepit, and one that's perfect for you and your mates' out-of-town hijinks.
---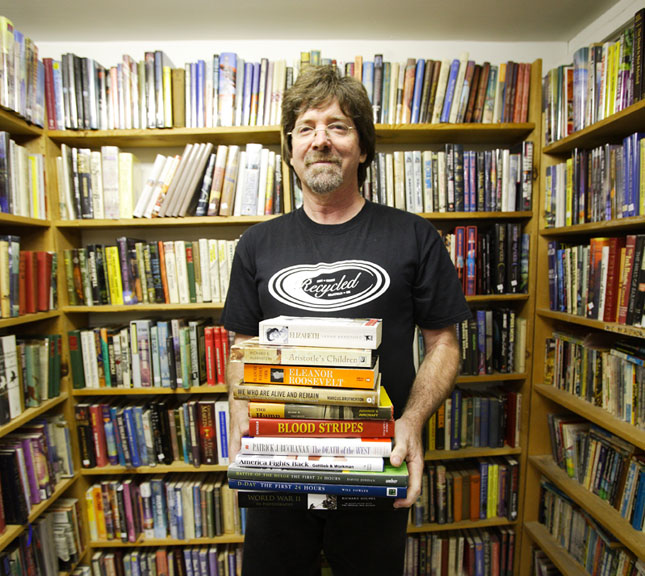 Video Games
Readers' choice: Game Stop, 3250 Hulen St, FW
Critic's choice: Movie Trading Co., various locations
This store (with locations in Fort Worth, Hurst, and Arlington) won this award last year, but we couldn't find any other place with a comparable selection of games ranging from Rock Band: The Beatles to cartridges for the Atari 2600. Unless someone else comes up with a better resource for video games both old and new (and at the prices that MTC offers), we're sticking with the reigning victors.
Kitchen and Tableware
Critic's choice: Dishes from the Past, 3701 Lovell Av, FW;  Ace Mart, various locations
Divided choices here. For china and crystal, absolute best place to start looking is Dishes from the Past, with a huge selection. And for an equally vast selection of serious cookware, serving ware, linens, and equipment, try Ace Mart. There, for some items, you have to buy a whole case of whatever it is, which is only good if you're planning a banquet or furnishing your kitchen from scratch. But if you like cooking, it's a fun place to browse for stuff you didn't know you needed.
Future Garage Sale Item
Critic's choice: Fort Worth Weekly back issues
Garage sales, flea markets, and antique stores often carry copies of vintage newspapers with interesting or historic covers. An old magazine or newspaper featuring Elvis, Marilyn, Babe Ruth, JFK, or another iconic figure on the cover often fetches decent money years after publication. Weekly covers over the years have depicted a vast array of movers, shakers, criminals, celebrities, and local characters. Already this year, covers have included a previously unpublished photograph of Willie Nelson from 1973 and a vintage Fort Worth cityscape taken by local photographer Byrd Williams III in 1937. They're free each week, but perhaps priceless if you hang on to 'em.
Western Wear
Readers' choice: Maverick Fine Western Wear, 100 E Exchange Av, FW
Critic's choice: Fincher's White Front Western Store, 115 E Exchange Av, FW
They're pros at Fincher's, have been since 1902. They can fit you in boots, steam your hat, and put a crease in your jeans, cowboy. Sure, the tourists buy here, since Fincher's is on the main drag of the Stockyards, but for several generations now, rodeo performers and working ranch families have been coming here too. Rough-stock riding gear shares the narrow aisles and tall shelves with souvenirs, clothing, and jewelry. Go ahead – get 'em to put your name, or your sweetie's, on the back of your belt.