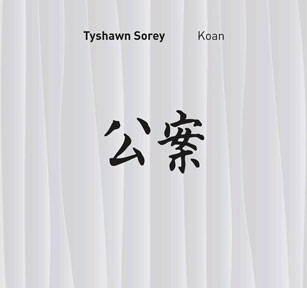 Tyshawn Sorey's a drummer best known for his work with pianist Vijay Iyer. He's a trap-kicker of force and intelligence who effortlessly dominates the cooperative trio Fieldwork's last album, Door. But there's more
to him than mere percussive power, as his latest recording demonstrates.


Sorey started composing music as a teenager. He's schooled in the methods of Arnold Schoenberg and Morton Feldman as well as Charles Mingus and Wayne Shorter, and Koan – on which he's joined by a pair of classical guitarists (Todd Neufeld and Thomas Morgan) who also play electric guitar and bass – is clearly a composer's record, a work of minimalist formalism.
Like a beach or a forest, Koan is a quiet space with a lot going on beneath the surface. Sorey's scores are filled with plenty of space to allow the listener time to reflect upon each sound played by the musicians. When his drums are heard, they're often used more for color than even for punctuation – pulse (let alone "swing") is not the first element that you notice in this music. "Correct Truth" employs the guitar-bass-drums format most traditionally, and as a result, it's probably the least interesting item here.
The opener, "Awakening," juxtaposes chiming harmonics, wide intervals, and dissonance with cymbal splashes and seemingly random drum hits. The guitars' organic sounds are swathed in reverb and echo, recalling a Ralph Towner ECM session. Around the six-minute mark, things seem to get stuck in a rut; the absence of forward motion gets disconcerting before Sorey's patterns coalesce and subtly build to a crescendo that's over before you realize it's happening. This whole record is like that: At first, it seems as if nothing's going on, but with repeated hearings, all sorts of events spring into relief.