Whenever Chow, Baby muses, as it often does, on how well-educated it is (Hook 'Em Horns!), how widely traveled it is (Hail Colombia!), how just plain brilliant it is (… we'll think of an example later), it also has to wonder: How is it, then, that you're also so darn ignorant about most of the world? Entering Filipiniana Bakeshop and Café (209 Bedford Rd., Bedford), Chow, Baby did figure out all by itself that the owners were probably from the Philippines, which is a country somewhere over there (gesturing toward the Pacific Ocean).


But Chow, Baby didn't know hardly any of the menu words (lumpiang? dinuguan? pancit?), and it couldn't even say "hello" to the nice server in her own language. This is unconscionable given that the Philippines – the world's 12th most populous country – has 92 million people, of which nearly 4,000 have moved to Tarrant County, so the least Chow, Baby could do is be able to greet them properly. Boy, did it feel stupid to learn that the Philippines used to be a U.S. territory – like Guam, which is also somewhere over there – and so English is one of the official languages. "Hello" works just fine.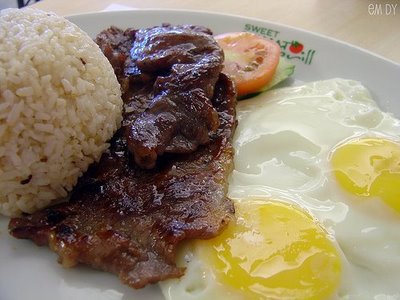 And though the dish names are mystifying, the cuisine is a meld of mostly familiar flavors, primarily Polynesian, Chinese, other Asian, and Spanish. Spanish? Oh, right – as Chow, Baby sort of recalled once the server explained it, the Philippines were a colony of Spain for, like, 350 years, hence the yummy mango-filled empanaditas (cute mini-empanadas, 3/$1). Thanks to this extraordinarily patient young woman, who didn't sigh even once at Chow, Baby's endless obtuse questions nor point out that this all could be figured out from the Filipino-English bilingual menu, we learn that "lumpiang" refers to eggrolls (as in "Shanghai" style, with sweet and sour sauce, $3.45); "dinuguan" is pork-blood soup with vinegar ($6.25); and "pancit" means rice noodles (as in "Malabon" style, with shrimp, smoked fish flakes, and lemon-egg sauce, $5.75). And much, much more.
Chow, Baby finally went with tapsilog ($6.50), a deceptively simple-looking plate with a pile of soy-sauce-marinated beef slices, a heap of garlic-fried rice, and a fried egg. Incredible. Especially when washed down with citrus-y calamansi juice ($1.75), like a honey lemonade but more so. Next came Chow, Baby's appetizer – they cook everything to order, so it comes when it comes – whose English name was Filipino barbecue ($5.25) but should have been "Fantastically Tender Sweet-Glazed Pork Chunks on Sticks." Or maybe just "satay," to match the Southeast Asian flavor. Dessert, another tough choice, was the bicultural cassaba ($1.15), sort of a tapioca cake with flan icing. For a midnight snack Chow, Baby chose from the deli case several roast-pork buns ($1.50 each), very much like the ones you get in Vietnamese supermarkets; and from the one-shelf grocery section, a bag of Super Bawang (garlic-flavored corn nuts).
The décor is about what you'd expect from a 13-year-old mom & pop restaurant in a Bedford strip mall, from the parking-lot view to the stained acoustic-tile ceiling. But it's all eat-off-the-floor clean, and the food is as cheap as it is delicious. There's a lot more to learn about the Philippines – beginning with exactly where it is – but Chow, Baby now knows all it needs to about Filipiniana.
Contact Chow, Baby at chowbaby@fwweekly.com.