What better place than by TCU to open a restaurant named after Old Rip, a once-famous horned frog who, in the early 1900s, was interred into the Eastland County courthouse's cornerstone only to reappear three decades later, no worse for wear? But what worse place than right by the beloved Fuzzy's Tacos to open a Tex-Mex restaurant?


Alas, we have Old Rip's Tex-Mex Restaurant, located in the heart of Horned Frogs territory and only a healthy leap from Fuzzy's.
The good news for Old Rip's father-and-son owners, Cy and Clarke Barcus, is that most of their food holds its own.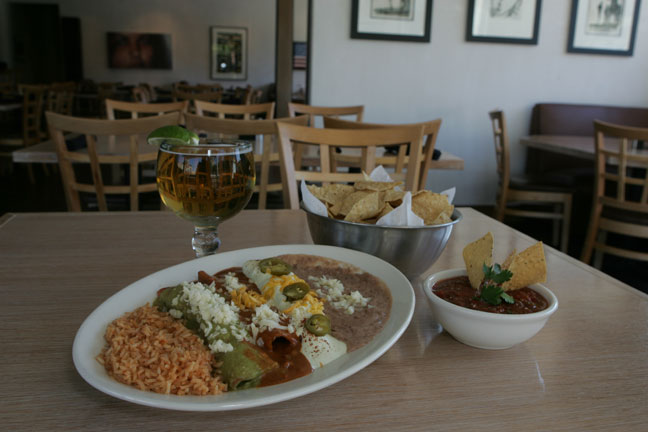 Housed in a limestone building on Cockrell Avenue, the restaurant has a modern elegance and wonderful semi-enclosed patio facing a tony neighborhood. Cy is a gem of a storyteller, Clarke is funny and cute, and both seem to enjoy talking to customers. It may take all that — and food that's worth walking a few more feet for — to overcome the Fuzzy-proximity problem.
The positive vibes start with smoky, chunky, mouth-tingling pico-esque salsa and thick corn chips that are delivered, along with the diverse menu, as soon as you sit down.
Breakfast is served all day, and of all the items sampled, the breakfast tacos were the sure-fire winners. The bean-and-cheese version was a satisfyingly gooey and flavorful handful – a corn tortilla holding some of the best refried beans ever, plus tart Monterrey jack cheese. The shrimp taco was also fabulous, with a mildly spicy, simple mixture of chopped shrimp in a light tomato sauce. The potato-egg-and-cheese and the sausage-and-egg tacos were also good, but "dainty" is the appropriate word to use to describe them.
The problem with diversity is that it's difficult to do everything well. Take the tortilla soup, a Tex-Mex staple. Old Rip's version had all the right ingredients — chicken, jack cheese, a slice of avocado — but it didn't come together in the tomato-y broth. The better choice was the mushroom-poblano soup: a wonder of cream, mushrooms, and julienned poblanos that was spicy and almost too rich. Old Rip's could probably make a killing selling shot glasses of the stuff to the TCU tailgaters on cold, rainy game days. Even a cup might be a little too filling, if you plan on ordering anything else. A possible alternative: Order the chicken breast entrée. You'll get the same mushroom-pepper-cream combination in the topping sauce.
The chicken in the chicken fajita salad was great – perfectly seasoned but not marinated slices of white meat atop an artfully arranged bed of greens, fresh avocado, pico de gallo, and multicolored peppers. Skip the chile-lime vinaigrette dressing. It's too acidy, which doesn't sit well with the already zesty pico. The sour cream chicken enchiladas were pleasingly gooey, but the spinach enchilada was made with stringy shredded spinach that was a little tart.
The only major letdown was the plate of beef fajitas. The slightly dry and chewy meat came with some grilled veggies and bland flour tortillas that weren't house-made. Tastier were the sides: chunky, fresh guacamole that needed just a pinch of salt, more of that piquant pico, and generous helpings of fresh sour cream and cheese.
Old Rip's has an extensive selection of mix-and-match Tex-Mex favorites. Two for $8.50 come with passable rice and absolutely delicious, salty, creamy-chunky refried beans.
Another issue: Cy and Clarke are apparently the only ones who've mastered the extensive menu. The server at lunch was obviously new. The soup came out two seconds before lunch did, and he didn't know what dressings went with the salad. He looked shocked when the issue of dessert came up.
Speaking of which, the desserts were a mixed bag. Pass on the bland sopapillas. Instead, try the delicate flan, which comes in a flood of thin caramel sauce. Or go for the sundae, delivered in a frosty beer schooner. Mounds of ice cream, chocolate sauce, whipped cream, and chunks of pralines made a tasty and impressive presentation.
Overall, Old Rip's has the building blocks of a great neighborhood hangout. Fans can only hope the menu and service glitches will get streamlined in time for the Horned Frogs' post-Thanksgiving game against the University of New Mexico.
Old Rip's Tex-Mex Restaurant
3105 Cockrell Av, FW. 817-207-0777.
7:30am-10pm Sun-Thu, 7:30am-midnight Fri-Sat.
All major credit cards accepted.