OPENING: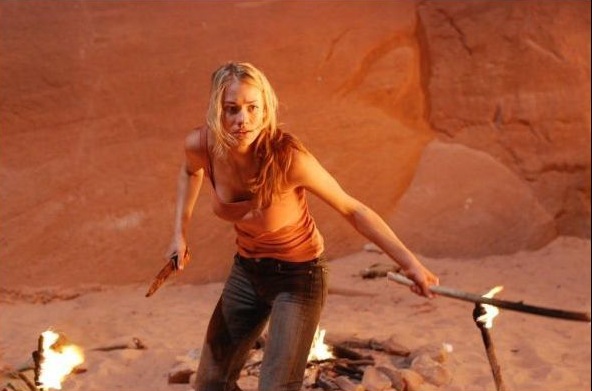 The Canyon (R) Eion Bailey and Yvonne Strahovski star in this thriller as a couple who get lost while taking a mule tour of the Grand Canyon. Also with Will Patton. (Opens Friday in Dallas)


Earth Days (NR) Robert Stone's documentary traces the history of the environmental movement. (Opens Friday in Dallas)
An Education (PG-13) Lone Scherfig (Italian for Beginners) adapts Lynn Barber's memoir about an English schoolgirl (Carey Mulligan) in the 1960s who falls in love with an older man (Peter Sarsgaard). Also with Alfred Molina, Dominic Cooper, Rosamund Pike, Olivia Williams, Cara Seymour, Sally Hawkins, and Emma Thompson. (Opens Friday in Dallas)
Flame and Citron (NR) The title sounds like the name of a cologne. Ole Christian Madsen's drama stars Thure Lindhardt and Mads Mikkelsen as two famous real-life organizers of Danish resistance during the Nazi occupation. Also with Peter Mygind, Mille Lehfeldt, Hanns Zischler, Christian Berkel, Claus Riis Østergaard, and Jesper Christensen. (Opens Friday in Dallas)
Halloween II (R) Rob Zombie's follow-up to his 2007 reboot of the series is overlong, self-indulgent, derivative, and, worst of all, dull. Scout Taylor-Compton plays Laurie Strode, who finds Michael Myers (Tyler Mane) back from the dead on the anniversary of his attacks. There are a few touches of actual beauty, such as when Michael sees the spirit of his dead mother (Sheri Moon Zombie) as an angel on a white horse. The rest of it is so much rote slasher-flick business. A disappointing effort from a talented filmmaker. Also with Malcolm McDowell, Brad Dourif, Danielle Harris, Daniel Roebuck, Mary Birdsong, Brea Grant, Howard Hesseman, and Margot Kidder. (Re-opens Friday)
Somers Town (NR) The latest film by Shane Meadows (This Is England) stars Thomas Turgoose as a young runaway who befriends a Polish immigrant (Piotr Jagiello) in London, only for them both to fall for the same girl. Also with Ireneusz Czop, Perry Benson, and Kate Dickie. (Opens Friday in Dallas)
This Is It (PG) Kenny Ortega's documentary contains backstage footage of Michael Jackson's preparations for the concert tour that he was planning before his death. (Opens Wednesday)
Tony Manero (NR) Pablo Larrain's dark comedy stars Alfredo Castro as a Chilean psychopath who's willing to kill people in order to win a nationally televised John Travolta lookalike/dance competition. Also with Paola Lattus, Héctor Morales, Amparo Noguera, and Elsa Poblete. (Opens Friday in Dallas)
NOW PLAYING:
Amelia (PG) We'd rather have Amy Adams in the Night at the Museum sequel. Mira Nair's pretty and pretty dull biography turns the pioneering aviatrix Amelia Earhart into a pontificating wax figure played by Hilary Swank. The movie's highly picturesque visuals (courtesy of cinematographer Stuart Dryburgh) and period sense are hitched to a script full of woolly sentiments about womanhood and aviation, and Gabriel Yared's music heavily underscores every emotional beat in a film that's hardly subtle to begin with. This squarely conventional biopic turns into a droning history lesson. Also with Richard Gere, Ewan McGregor, Christopher Eccleston, Joe Anderson, Mia Wasikowska, and Cherry Jones.
Astro Boy (PG) What should be a breezy, enjoyable family adventure instead becomes a series of toothless gags and lackluster visuals in this yawn-worthy animated film about a scientist (voiced by Nicolas Cage) who engineers a robot boy (voiced by Freddie Highmore) to replace his lost son. Both the characters onscreen and the filmmakers seem strangely blasé about Astro Boy's superpowers, and the plot – based on Osamu Tezuka's legendary manga comic – is weepy stuff about how robots have feelings, too. Your watch will be the only piece of technology that'll interest you as you sit through this. Additional voices by Kristen Bell, Donald Sutherland, Nathan Lane, Moises Arias, Bill Nighy, Eugene Levy, Samuel L. Jackson, and Charlize Theron. — Steve Steward
Capitalism: A Love Story (R) There's very little love in this Michael Moore essay film that's subpar for Moore but still fascinating. He uncovers some appalling instances of corporate greed, but he never quite illustrates his central thesis that capitalism is broken beyond repair. His target is too big, his treatment of the suffering poor is cheap and exploitive, and his comic touch deserts him here. His film still hits a groove in the second half when he narrows his focus to the recent housing and financial crisis, detailing the toxic grip that Big Business has on government regulators and using the stories of workers retaking control of their workplaces to build to an uplifting end. The movie taps into the anger that many working Americans feel at a system that doesn't seem to care about them, and as such, it's a valuable snapshot of our national mood.
Cloudy With a Chance of Meatballs (PG) Judi and Ron Barrett's whimsical kids' book is rendered unrecognizable in this squarely conventional though not unenjoyable animated film about a young inventor (voiced by Bill Hader) who rejuvenates his small town by making food fall from the sky. The movie has a completely different drawing style from the book's and a good message for kids: It's bad to eat whatever you want. Still, this would be a dull and ordinary fantasy adventure if the filmmakers didn't have so much fun inventing whole landscapes out of food – the gentle snowfall of ice cream is a genuinely beautiful moment. The food jokes sneaking in the corners of the frame keep this thing moving. Additional voices by Anna Faris, Mr. T, James Caan, Andy Samberg, Bruce Campbell, Bobb'e J. Thompson, Will Forte, Benjamin Bratt, Lauren Graham, and Neil Patrick Harris.
Cirque du Freak: The Vampire's Assistant (PG-13) Three novels in Darren Shan's series are turned into this intriguing but slapdash film about a teenager (Chris Massoglia) who becomes a half-vampire and goes on the road with a carnival of freaks. John C. Reilly makes a terrific vampire as the kid's mentor, and Patrick Fugit steals a few laughs as a reptile boy. However, director/co-writer Paul Weitz can't find the right balance of scary and funny here, and the plot is overstuffed with poorly developed supporting characters played by high-wattage character actors. This would have been better turned into a TV show; as it is, it plays like a bad episode of Buffy the Vampire Slayer. Also with Josh Hutcherson, Michael Cerveris, Jessica Carlson, Orlando Jones, Frankie Faison, Ken Watanabe, Willem Dafoe, Jane Krakowski, and Salma Hayek.
Couples Retreat (PG-13) A depressing comedy, because it ends with four couples together but leaves you feeling that two or three of them would have been better off apart. Vince Vaughn and Jon Favreau co-write and co-star as part of a party of eight roped by their married friends (Jason Bateman and Kristen Bell) into taking part in a retreat where they work on their issues at an island resort. Much stale business ensues about New Age therapy, midlife crises, seven-year itches, and overworked professionals. Vaughn and Favreau have better chemistry with each other than any of the actors who play couples do, but the Swingers guys can't save this mirthless exercise. Also with Kristin Davis, Malin Akerman, Faizon Love, Kali Hawk, Tasha Smith, Peter Serafinowicz, Carlos Ponce, Jean Reno, John Michael Higgins, and Ken Jeong.
Fame (PG) This update of the 1980 film is still set in a performing arts high school in New York City, though the students and teachers are all new. Some of the performers show some intriguing musical talent (Naturi Naughton as a classical pianist who wants to sing R&B/hip-hop and Kherington Payne as a modern dance student), and first-time director Kevin Tancharoen does a fair job with the numbers. Fatally, though, none of the kids is given interesting storylines or personalities. Bringing back the TV show version of Fame would probably have been a better move than bringing back the movie. Also with Kay Panabaker, Asher Book, Walter Perez, Collins Pennie, Anna Maria Perez de Tagle, Paul Iacono, Paul McGill, Megan Mullally, Charles S. Dutton, Bebe Neuwirth, Kelsey Grammer, and Debbie Allen.
Good Hair (R) African-American women and their relationship to their hair is the subject of this not overly deep but highly entertaining documentary by Jeff Stilson, with Chris Rock as a writer and onscreen guide. Rock interviews the contestants at the Bronner Brothers Hair Show in Atlanta, visits a plant that makes chemical relaxer, travels to India to trace the process of making hair weaves, and talks to a string of celebrities from Maya Angelou to T-Pain. Rock and Stilson could have used a bit more of Michael Moore's confrontational spirit in looking at the beauty-industrial complex, but they uncover telling insights, whether Rock's talking to famous actresses or high-school girls. The comedian is an engaging guide to this world that non-black moviegoers might be unfamiliar with.
The Informant! (R) Wacky-but-true story stars Matt Damon as the Archer Daniels Midland executive who alerted the FBI to his company's illegal business practices and then proceeded to almost wreck the investigation with his own lies and criminal misdeeds. Director Steven Soderbergh plays the corporate shenanigans for high comedy, and Damon (sporting glasses, a bad hairpiece, 30 extra pounds, and a wussy mustache) provides the gleeful spark in a cast full of comedians. The script ruthlessly dissects the character of a compulsive liar by letting us in on the guy's deepest thoughts, which turn out to be quite shallow. As is often the case, the most ridiculous parts of this movie are the ones that really happened. Also with Scott Bakula, Melanie Lynskey, Joel McHale, Tony Hale, Tom Papa, Ann Cusack, Patton Oswalt, Clancy Brown, Tom Smothers, and Dick Smothers.
Inglourious Basterds (R) Quentin Tarantino's World War II flick is about a German movie star (Diane Kruger) who teams with an American lieutenant (Brad Pitt) and his band of corpse-scalping Jewish soldiers to kill Hitler at a movie premiere in Paris. Pitt chews on his accent with tremendous gusto, but the show is completely stolen by Christoph Waltz as a multilingual SS colonel who can break people down without raising his voice or dropping his genial, courteous demeanor. The presence of this great Tarantino villain redeems the unconvincing romantic subplot, and the movie boasts some stunning set pieces in an underground bar and in the theater at the end. Irresponsible and overlong, the movie nevertheless succeeds in scraping the thick coating of solemnity off the genre and making World War II movies fun again. Also with Mélanie Laurent, Eli Roth, Michael Fassbender, Til Schweiger, Daniel Brühl, Gedeon Burkhard, Jacky Ido, B.J. Novak, August Diehl, Martin Wuttke, Julie Dreyfus, and Mike Myers.
The Invention of Lying (PG-13) Wow, this premise sucks. Ricky Gervais stars in this comedy (which he also co-writes and co-directs) as the only man who's capable of lying in a world where everyone always tells the truth. Gervais remains a funny guy, and he's surprisingly affecting in the middle section when he invents the concept of religion to comfort his dying mother (Fionnula Flanagan). However, the movie's depiction of an entirely truthful world is too depressing to raise too many laughs, and the last third bogs down in the hero's attempts to woo a beautiful woman (Jennifer Garner). A sumptuous supporting cast is wasted in this dreary exercise. Also with Rob Lowe, Tina Fey, Jonah Hill, Louis C.K., Jeffrey Tambor, Nate Corddry, Martin Starr, Christopher Guest, Jason Bateman, Edward Norton, and Philip Seymour Hoffman.
Julie & Julia (PG-13) Nora Ephron is the perfect choice to film this story that chronicles both Julia Child (Meryl Streep) as she lives in Paris after World War II and Julie Powell (Amy Adams) as she works through a personal crisis by cooking and blogging her way through Child's Mastering the Art of French Cooking. Adams is low-key and grounded, and looks fetching in a pixie haircut and baggy wardrobe. It's Streep, though, who gives the film its comic energy with her sweeping grande dame turn. The food is presented in glossy fashion, but the movie's emphasis on the process of food preparation helps it convey the satisfaction of manual labor that makes cooking such a rewarding experience. Also with Stanley Tucci, Chris Messina, Linda Emond, Mary Lynn Rajskub, Jane Lynch, Deborah Rush, and Frances Sternhagen.
Law Abiding Citizen (R) Gerard Butler's acting is getting worse and worse. He hams his way amateurishly through this sadistic thriller as a government spymaster who turns his fury on the justice system – one assistant D.A. in particular (Jamie Foxx) – after a plea bargain sets his family's killers free. The bad guy's hypercompetency isn't fully explained by the big revelation near the end, and F. Gary Gray directs this like the latest installment of Saw when he should be keeping things light and witty. His lugubrious manner just exposes the rottenness at the heart of this exercise and lets the bad taste build up. Also with Colm Meaney, Bruce McGill, Leslie Bibb, Regina Hall, Michael Irby, Emerald-Angel Young, Annie Corley, and Viola Davis.
New York, I Love You (R) This sequel to Paris, je t'aime is an anthology of 10 short films set in New York City, directed by filmmakers from around the world. They vary in quality, as you might expect. Yvan Attal's comic vignette (starring Ethan Hawke and Maggie Q) has a great twist, and Brett Ratner contributes a surprisingly winsome film about a rejected high-school kid (Anton Yelchin) who has a dream prom date with a paraplegic girl (Olivia Thirlby). The best is Shekhar Kapur's crisply elegant drama about a suicidal opera singer (Julie Christie) and a hotel porter with a spinal deformity (Shia LaBeouf). The stylistic range of these pieces isn't as wide as you'd hope, but the good definitely outweighs the bad. Also with Natalie Portman, Christina Ricci, Bradley Cooper, Chris Cooper, Robin Wright Penn, Drea de Matteo, Andy Garcia, James Caan, Blake Lively, Orlando Bloom, Hayden Christensen, Rachel Bilson, John Hurt, Jacinda Barrett, Burt Young, Irrfan Khan, Eva Amurri, Justin Bartha, Shu Qi, Eli Wallach, and Cloris Leachman.
9 (PG-13) Astounding visuals hold this flimsy animated film together, but only briefly. The setup is pretty cool: The title character (voiced by Elijah Wood) is a ragdoll brought to life in a postapocalyptic world to help take down the machines that destroyed humanity. Unfortunately, 9 and his fellow dolls don't reveal too many facets of personality through their spare dialogue, and the stellar voice actors don't add much, either. The evil robots and the desolate cityscape give you lots to watch, but after about 20 minutes, you're left to consider the movie's considerable failings. Additional voices by John C. Reilly, Jennifer Connelly, Martin Landau, Crispin Glover, Fred Tatasciore, and Christopher Plummer.
Paranormal Activity (R) I shook off this vérité horror flick when I first saw it and then found I had trouble sleeping later that same night. Oren Peli's instant cult film is a fake documentary about a day trader (Micah Sloat) who buys a video camera to record the demonic happenings that his new live-in girlfriend (Katie Featherston) claims are going on around her. The script goes through too many contortions to keep the characters inside their house and filming, but Peli stages some spooky stuff when the couple are sleeping at night with the camera running, making excellent use of a low-frequency rumble on the soundtrack to indicate the demon's presence. The film was reportedly made for $11,000. The results are dazzling. Also with Mark Fredrichs.
Saw VI (R) Please God, let him die. Tobin Bell returns one more time as a game-playing serial killer. Also with Costas Mandylor, Shawnee Smith, Mark Rolston, Betsy Russell, Samantha Lemole, and Peter Outerbridge.
The Stepfather (PG-13) Penn Badgley stars in this dull remake of the 1987 thriller as a troubled kid who comes home from boarding school and finds his mother (Sela Ward) newly engaged to a man (Dylan Walsh) who might well be a killer. The good news is that the bad guy is made to be clever; the bad news is that everybody else is made to be extremely stupid, which effectively kills any suspense here. The performances by a cast full of TV actors are indifferent, but given the film's unforgivably slapdash treatment of its characters, maybe that's understandable. Also with Amber Heard, Jon Tenney, Paige Turco, Jessalyn Gilsig, and Sherry Stringfield.
Surrogates (PG-13) Bruce Willis stars in this undistinguished potboiler as an FBI agent trying to solve a string of murders in a future world in which everyone stays at home and sends robotic metal surrogates to do all their living for them. Director Jonathan Mostow does a good job of filling the screen with pretty, blank-expressioned extras and makes some nice use of the surrogates' imperviousness to pain or grievous injury. In the end, however, the movie's heavy-handed message sinks whatever entertainment value there is in this thing. Also with Radha Mitchell, Rosamund Pike, Boris Kodjoe, James Francis Ginty, Jack Noseworthy, James Cromwell, and Ving Rhames.
Toy Story (PG) 3-D re-release of Pixar's 1995 animated film about a toy cowboy (voiced by Tom Hanks) threatened when his owner gets a new spaceman toy (voiced by Tim Allen). Additional voices by Don Rickles, Jim Varney, Wallace Shawn, John Ratzenberger, Annie Potts, and R. Lee Ermey.
Toy Story 2 (PG) 3-D re-release of Pixar's 1999 animated film with the continuing adventures of Woody and Buzz Lightyear (voiced by Tom Hanks and Tim Allen). Additional voices by Joan Cusack, Kelsey Grammer, Don Rickels, Jim Varney, Wallace Shawn, John Ratzenberger, Annie Potts, Jodi Benson, and Wayne Knight.
Where the Wild Things Are (PG) Spike Jonze and scriptwriter Dave Eggers strip down Maurice Sendak's beloved children's book to its emotional essence and then gracefully expand it into a series of adventures about a kid (Max Records) discovering that he's not the center of the universe. Sendak's mythical beasts are rendered beautifully by Jim Henson's workshop and given extraordinary expressive range, and the fake-documentary filmmaking style gives the movie an unnerving tinge of reality. The result is a sweet, bleak fantasy full of blunt truths about families that traces a goofy, scary, and poignant arc. Also with Catherine Keener and Mark Ruffalo. Voices by James Gandolfini, Catherine O'Hara, Forest Whitaker, Paul Dano, Lauren Ambrose, and Chris Cooper.  — Jimmy Fowler
Whip It (PG-13) A ragged but charming directorial debut by Drew Barrymore, this lo-fi indie-style comedy stars Ellen Page as a small-town Texas girl who finds her calling when she joins a roller derby league in Austin. The director is hamstrung by a thoroughly conventional script (adapted by Shauna Cross from her own novel Derby Girl), and sometimes she doesn't know when to get on with the action. However, Barrymore draws excellent performances from a cool supporting cast (in which she has a small role) and displays good command of atmosphere and tone, turning this into a much more lyrical film than you'd expect. Let's see what she can do with better material. Also with Kristen Wiig, Marcia Gay Harden, Andrew Wilson, Alia Shawkat, Eve, Ari Graynor, Zoë Bell, Daniel Stern, Landon Pigg, Juliette Lewis, and Jimmy Fallon.
Zombieland (R) Terrifically funny postapocalyptic movie stars Jesse Eisenberg as a paranoid shut-in who teams up with a redneck (Woody Harrelson) and two sisters (Emma Stone and Abigail Breslin) to survive after most of the world's population is turned into zombies. Director Ruben Fleischer and writers Rhett Reese and Paul Wernick manufacture tons of gags centered on rules to live by in a zombie world and creative ways to kill zombies. Encouragingly, the jokes don't stop during the movie's few zombie-free stretches, and the actors know how to play this tricky material. (Eisenberg's beta-male neuroses are much more amusing in this context than in The Squid and the Whale.) A fiercely original and funny debut for these brilliant comic filmmakers. Also with Mike White, Amber Heard, and Bill Murray.
DALLAS EXCLUSIVES:
Coco Before Chanel (PG-13) Audrey Tautou stars in this biography of the French fashion giant, written and directed by Anne Fontaine (The Girl From Monaco). Also with Alessandro Nivola, Emmanuelle Devos, Benoît Poelvoorde, Marie Gillain, and Régis Royer.
The Damned United (R) Michael Sheen (Frost/Nixon, The Queen) stars in this dramatization of the 44-day reign of error when Brian Clough took over as head coach of the English soccer team Leeds United in 1974. Also with Colm Meaney, Timothy Spall, Tom Hooper, Andy Harries, Grainne Marmion, and Jim Broadbent.
Trucker (R) Michelle Monaghan (Eagle Eye, Made of Honor) stars in this drama as a truck driver who's forced to take care of the 11-year-old son (Jimmy Bennett) whom she abandoned years before. Also with Nathan Fillion, Benjamin Bratt, Mika Boorem, Johnny Simmons, and Joey Lauren Adams.