In Spanish, "algo" translates into "something." And the menu at Mi Tierra Latin Fusion Restaurant is literally full of algos. Every section is preceded by "algo": "algo to start," "algo to drink," and so on. And it's true: The kitchen is full of algos muy sabrosos, which you can read as "really good somethings."


The secret's out about the beautiful little family-owned restaurant located in an old house near the University of Texas at Arlington. Keen foodies, including Chow, Baby, have already discovered the inventive cuisine of chef/co-owner Damaris Torres. Though the restaurant describes its food as "Latino," don't go expecting traditional Mex. At Mi Tierra, everything comes with a delicious twist.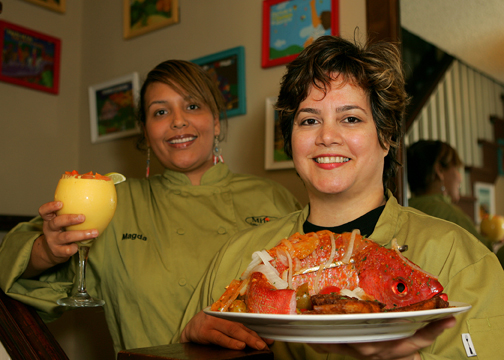 You don't have to have an adventurous palate, says Carlos Gutierrez, Damaris' husband and the restaurant's weekend host. However, you do have to have an open mind. Some of the recipes will sound familiar, such as the papalina, a kind of spaghetti carbonara, with cream sauce, bacon, and parsley. But most of them will be largely foreign to palates unaccustomed to Afro-Cuban and Puerto Rican cuisine with classic European touches. Everything is homemade, which means it's fresh but also liable to be on the menu one day and not on the next. Never fear, though. The regular menu is full of excellent choices.
For "algo to start," try the empanadas: heavenly crispy-flaky pockets of either gooey melted cheese or ground beef seasoned with exotic spices and chunks of olive. Sometimes if a chef's not careful with his or her ground beef, the result can be an overload of grease dripping unattractively out of the shell. Not here. The plate came with what Carlos described as "Puerto Rican special sauce." At first he wouldn't tell what was in it, but eventually he grudgingly, grinningly copped to its being a kind of aioli-infused catsup.
Pass on the cornmeal fritters. They tasted fine, but you really should save room for the array of other starches that Mi Tierra stocks. There's yucca (a root vegetable slightly sweeter than a spud), plantain, and sweet potato. You can have them served several ways, but fried and bathed in garlic is highly recommended.
The soups, like the specials, change daily. On a recent visit, the featured soup was shrimp bisque. Not overly heavy with cream, it featured a spicy broth kissed by a little richness. Ground shrimp gave the bowl an interesting texture.
The eggplant lasagna was noodle-less, a fact that both the server and Carlos made sure that a newbie diner understood. Chunks of al dente roasted eggplant were bathed in a lovely ricotta-based cheese sauce redolent with, yes, more garlic. The dish was the perfect balance of creamy, salty, spicy, and chewy.
The carne frita — chunks of mildly seasoned roasted pork, beautifully caramelized onions, and more olives — was spicy but not fire-in-the-hole scorching. For sides, there were beans and a salad. Calling the beans "ranch style" doesn't do them justice. They were exceptional, spicy and rich. The salad with house dressing was a field of greens covered in lemon juice, olive oil, and an Italian-spiced emulsion and topped by pecans and dried cranberries, making for a wonderful balance of sweet and sour.
Save room for dessert. The delicate guava empanadas came with a cup of vanilla ice cream. Here's why: The guava filling, which is the consistency of apple butter, is served blazing hot. After biting into one of the empanadas, you can quickly slurp down a spoonful of ice cream to cool your blistered tongue. The molten filling in the crisp pastry is just so tasty that you may find yourself repeating the filling-then-ice-cream process instead of waiting for the darn things to cool.
Don't limit yourself to the scrumptious turnovers. Try the chocolate tres leches cake, too. Incredibly moist and served with mounds of whipped cream, it boasted a chocolate flavor that was subtle, not too sweet or overpowering. The menu also includes flan and bread pudding.
For the cost of dinner for two at a chain restaurant, you and a partner can dine well at Mi Tierra. On Fridays, the restaurant features seductive live Latin music. There's no alcohol service, but you can bring your own bottle of vino. Offer some to Carlos, and he might divulge a secret recipe or two.
Mi Tierra Latin Fusion, 603 W Abram St, Arlington. 817-861-9144. Exotic blend of Latin cuisine (not just Mex) served in an old house near the UTA campus. $
Appetizer sampler $10
Carne frita $9
Guava empanadas $4
Tres leches chocolate cake $3