"I would love to record my album in a million-dollar studio," said local musician and music producer Zaq Bell. "But why? I can do it at home in my underwear."


Regardless of what he's wearing, Bell is at the forefront of a growing group of Fort Worth musicians who have expanded their duties into the production realm and are turning laid-back spaces into full-fledged studios.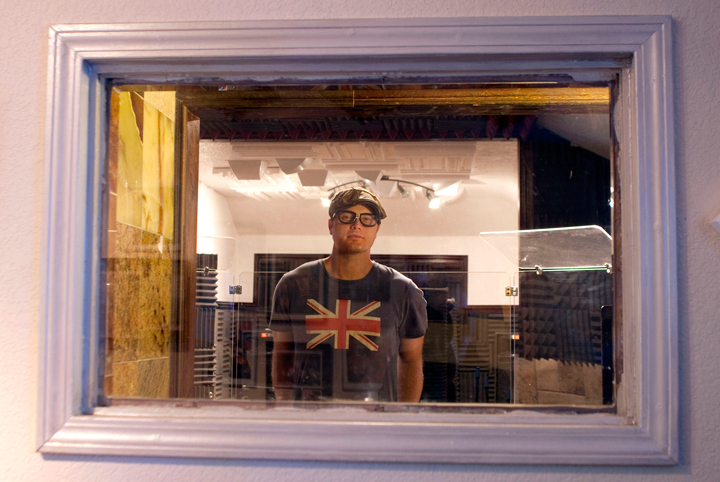 In the old days when only big studios and major labels had the bucks and technology to make records, musicians weren't expected to know how to do anything beyond writing songs and playing their instruments with talent and skill. But then the internet became a major purveyor of new music, record companies crashed, new technology put portable equipment and studio abilities at almost anyone's fingertips – and musicmaking became a community effort. Again.
Now, for musicians to make any money at all, they need to get tradeable, downloadable copies of their efforts somewhere, and musicians like Bell, Nick Choate, and Curtis Heath are answering the call. In the process, they're giving the more traditional recording studios in Fort Worth – like Fort Worth Sound and Eagle Audio – new competition.
"All the studios in the world could open up right here, and I'd still be doing what I'm doing," Choate said. "I make music because it makes me happy."
Along the way, Fort Worth's relative isolation from the larger music world, which keeps both the egos and the incomes of local bands modest, may have become an advantage. Bands in this town don't normally aim to write radio hits. With little financial incentive to go mainstream, they've kept their sound their own. The level of unique songwriting is set pretty high, so bands have to dive deep inside the music to sound different, special, or even on a par with what is happening here.
The best part about the Fort Worth music spectrum is its breadth and variety. Fort Worth Weekly's annual music awards ballot includes bands ranging from blue-eyed soul to heavy metal to country to experimental and more. The number and quality of potential nominees grow every year, but in the past, bands had to choose from among a small handful of studios for help in capturing their songs beyond live performances. Some drove to Dallas, Denton, and beyond to record their music. In the last few years, however, that trend has begun reversing, with the opening of several home and low-budget studios in the Fort.
A few guitarists-cum-producers in town have primed their knowledge, collected the gear, and posted 'Now Open' signs on their virtual front doors. With relatively low rates for studio time and with short drive times, more artists are choosing to stay home to record their music, leading to more quality releases now and even more in the near future. Add in all the bands that choose to do it by themselves at home, and the majority of Fort Worth music releases soon could be truly homegrown.
Like the music scene itself, the new school of producers varies both in approach and result. Some gravitate toward futuristic electronica, some focus on the songwriter, and others delve back into retro gear and focus on the analog space where music lived before computers. But every one of them is leaving his or her fingerprint, on pressed discs and downloadable mp3s. Thanks to them, Fort Worth is developing new, distinct sounds to separate itself from the mass equality and homogenization of much of the music world.
In the beginning of rock 'n' roll, popular bands gathered in expensive studios and played together. What they produced in the studio concert was released as the final product.
Over the years, advances in technology have greatly extended the possibilities of music-making. Computerized sounds, going far beyond the capabilities of natural acoustics, changed what audiences expected to hear on the radio. A little knowledge of popular recording software packages made almost anything possible: One click of the mouse, and a drummer plays in perfect time. One extra programming option, and every singer sings in some approximation of perfect pitch. Somewhere along the line, even as the industry was fragmenting, much of the music was beginning to sound the same.
Not everything was leading toward sameness, however. The social networking and music-listening site MySpace offers millions of tracks available for consumption. Many are reminders of the past – the well-known melodies and familiar refrains of a century of musical explosion – but more and more are creations flowing from bedrooms and home computers across the world.
Zaq Bell is the local model for turning a house into a full-fledged recording studio. He attended the MediaTech Institute at Dallas Sound Labs in Irving in 2002, learning the complicated ins and outs of recording logistics and software. After completing the year-long program, he worked at Sound Labs' in-house recording studio, then at Dallas' Luminous Studios before deciding to branch out on his own. In 2004, he was working at the TCU-area Moon Bar and slowly building a practice space for his band Exposing Janus – now The Shadow – and a modest recording studio in a rented house on University Drive.
"I learned everything in that period of time," Bell said. Before that, "All I knew was that I wanted to be a musician, and I wanted to skip the step of paying other people to record."
In 2005, Bell met Jarrett Vamvakidis, now a vice-president at Tile, Marble, and Granite Works of Fort Worth. Vamvakidis, a native of Greece who was living in downtown's residential Tower, helped provide funding and support so Bell could acquire more sophisticated recording equipment like microphones and mixing boards. Bell eventually moved into Vamvakidis' downtown apartment, and the duo worked together to start a record label and recording lab named Fusion Project Studios and Records.
Bell, a guitarist and singer, practiced with his band and started recording projects for friends in The Tower until the sheer volume of the noise became overwhelming. Vamvakidis eventually invested in a six-bedroom house in Saginaw.
---
The neighbors aren't exactly complaining. Bell spent a long time soundproofing the studio, and any escaping trickle of noise gets cut off by 10 p.m. Were it not for the changing guard of musicians hauling drums and amps through the entryway, the neighbors probably wouldn't even know a studio existed next door.
"It's funny," Bell said, "You roll up to a house in a brand-new rural subdivision. It's all plush carpet, and we put a lot of work into it so it would look nice and feel comfortable."
Walking in the front door, the first thing a visitor notices is that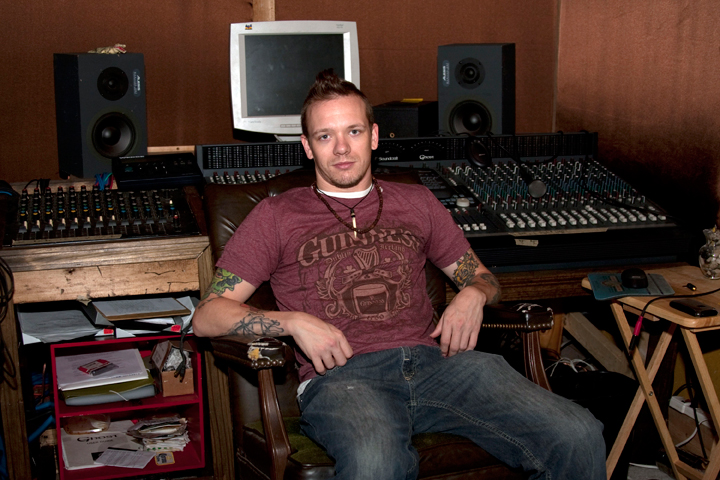 the house is immaculately clean. On the other hand, the workout equipment filling the living room gives a hint that this Saginaw space is not a family home.
Upstairs, Fusion's gem is revealed: a remodeled space complete with a professional-quality isolation room. Next to the wood-paneled recording room is a control studio with racks of keyboards, an electronic drumkit, a mixing board, and two large flat-panel computer monitors. Bell curtained off his part of the living area, leaving the open central room as a couch-lined space for non-recording musicians to hang out and be mellow or communicate with an inner muse.
The builders clearly didn't design the house with a studio in mind, but Bell definitely had that vision when he moved in two years ago and has worked steadily to make his plan become reality. He made some changes to improve the way the carpeted floors and sheetrock walls reflected sound. "The original version of the studio was one room." he said. "It was foamed up, and I put in wood floors." Over time, Bell installed foam on the ceiling, sound-insulating panels on the walls, and a small, marble-walled room to capture ambient sounds. Next to the marble-enclosed space, a window gives a direct view into the control station, where Bell harnesses the sound waves into his computer and generally makes the magic happen.
Although Bell worked occasionally on recording projects while he completed the remodeling, he didn't feel he had an actual green light until about six months ago. Since then, he has been pretty busy. In addition to working tirelessly on The Shadow's songs, he finished the upcoming Stella Rose album Drag; did a "Barron Von Luxxury" remix of a cut from The Burning Hotels' debut album; recorded hip-hop artists KJay, Mr. Pookie, and Mr. Lucci; and produced records for rap artist Warchild, the rock outfit proud warrior, and solo material for Kristina Morland – and for this writer.
In coming months, the combined efforts of Bell and the artists will be released to listeners. Fort Worth's sound will be directly affected by Bell's trademark producers' stamp – electronica.
A record producer often functions as an extra band member by adding otherwise skipped-over sonic elements, so bands choose carefully in deciding to whom they'll entrust their creative babies.
"I do a lot of experimentation with sounds," Bell said. The artists come to Fusion with a game plan, and Bell uses software to add textured effects. On the Stella Rose album, Bell and the band used transistors, synthesizers, and unique drum microphone placement to make the album sound different from those of other grunge-rock bands. The album is also a departure from the band's live gigs. "If you've ever seen Stella Rose live, then their album is going to sound a lot different," he said.
Bell also recently retooled The Moon's sound system. By running sound there and spending a good chunk of his time in a live-music venue, he is in constant contact with potential customers.
"Fusion is great," said local singer and guitarist Sam Anderson. "You can be upstairs in a professional studio, then go downstairs and make yourself a grilled cheese." He recently joined forces with bassist Steve Steward – another Weekly freelance writer – plus drummer and guitarist Jordan Richardson, guitarist and keyboard player Michael Richardson, and guitarist David Matsler in a project called EPIC RUINS.
The group is the brainchild of Steward and of Richardson, who spent the last year touring the world as a member of Ben Harper and Relentless7. The band recorded its first three songs at the sleek Fort Worth Sound studios and is tracking the second triad with Bell at Fusion.
"Jordan and I always wanted to work together," Bell said. "I was going out to Los Angeles to mix [Richardson's former band] Oliver Future, but they broke up. … We would see each other in passing and talk about studios." EPIC RUINS plans to finish its project in L.A., but the majority of the disc will be recorded in Fort Worth – a fact that speaks volumes about the potential of the Fort to become a veritable recording destination.
In the future, Bell and Vamvakidis want to offer the house as a bunkhouse and recording studio for out-of-town bands. Maximizing time spent in a recording studio eases the pressure for everyone involved, as bands watch the clock move and the expensive hours passing.
"It's cheaper in the long run for people to just stay here," Bell said, "and a lot of musicians don't have extra money to spend." Artists can expect to spend from $40 to $60 every hour at Fusion, but recording projects rarely go as planned. "I usually end up … capping the price," Bell said. "I don't want anyone to feel rushed."
Seven days a week, Bell is putting his equipment and space to use, for personal recording projects, working with other bands, or as a practice room for bands like Dallas' ODIS.
"It's cool to wake up, then walk 10 feet and be at work," Bell said. "I've come to know so many musicians, and working with them is like hanging out with my friends. It's a business, but it's chill."
After the musicians finish playing their parts, the chaos briefly evaporates, and Bell sits down to focus on his main role in the music. He tweaks knobs and changes levels until the combined efforts in the songs balance out into a cohesive whole. "And I don't follow the rules," he said. "I experiment with new sounds and techniques … . I almost always add dark, ominous sounds."
---
Bell, like any good producer, complies first with the artist's wishes, but if he has an idea, he's not afraid to share it. He hopes to branch out into all kinds of local music, including tejano and gospel. Creative combinations inspire him both as a producer and a musician, and Bell wants to keep building in the name of strengthening local music.
"Great albums aren't necessarily great albums because of the songs," he said. Listeners might recognize Pink Floyd's "Wish You Were Here" by the lyrics, but the vocal sample at the beginning instantly gives away the song's identity. Whether by adding deep bass, sharply processed beats, or a concert-hall sonic atmosphere, every great record has an unmistakable contribution from the producer.
"It's how they [records] sound," he said. "Music has a role, but in the end, it's all about the sound."
Some producers take a more hands-off approach.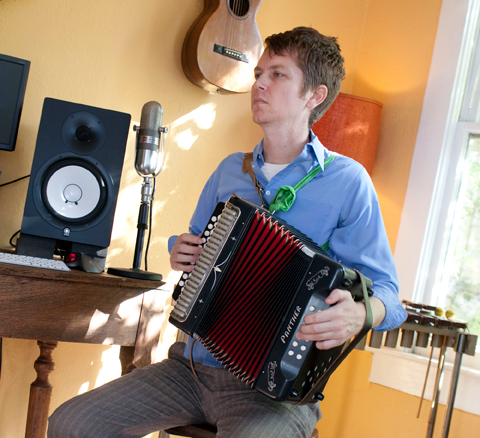 "Good players don't need technology," said Nick Choate, another local producer whose star is quickly rising. "People should be honest when they make songs. If you make original music and people like it, then that's something special. … I'm not going to falsify a performance."
More a fan of amplifiers and tones than computerized augmentations, Choate originally started recording himself as a North Richland Hills teenager, using dual cassette decks. His guitar obsession also eventually led him to the Dallas Sound Lab program in 2005. The then-$18,000 price tag for the full course of study was a little steep, so Choate covered the fundamentals, then bolted to pave his own path.
The job market for new producers isn't exactly booming, and Choate initially had a hard time turning his new knowledge into profit. "It didn't take me long to realize there were no jobs to be had," he said, "So I made up my own job. I was tired of delivering pizzas."
With a small amount of borrowed money, Choate bought some basic studio equipment and signed a lease on a warehouse in an industrial complex in East Fort Worth. He named his corner of the space Blue Smoke Studios. As a first step, he bought construction materials and built interior walls to define the studio. To help pay for the space, Choate divided the rest of the warehouse into practice rooms for other bands.
Rent from the studios, currently occupied by the bands Webbed and The Campaign, covers his overhead. "I'm not struggling to find people to work with," he said. "I can work with who I want."
Choate gravitates toward guitar-based Americana music and its rootsy purveyors. He got his official start in engineering almost three years ago when he was playing guitar in local troubadour Josh Weathers' band.
"We were goofing off, playing in coffee shops," he said. "He got me in the scene and started dragging me out to shows. He needed to make a record, and I had quit his band to focus on recording school, so I just decided to open up my own studio."
Choate moved his equipment into Blue Smoke Studios in August 2007 and began work on what would eventually be The New Serenade. "It was over 100 degrees, and I didn't have doors or even an air conditioner," Choate said. After an initial spurt of activity, Choate and Weathers waited for temperatures to drop before completing the album.
The New Serenade turned out to be a huge success, jumpstarting Weathers' career and reeling in musicians who wanted to record with Choate. Since 2007, he has produced material for local musicians Sam Anderson, Luke Wade, David Matsler, and Cody Jinks. "I'm in a workaholic stage right now," said Choate, who recently turned 30. "I feel like I'm never getting enough done."
He earns his living by recording, running sound at clubs, and playing guitar for various groups – Luke Wade and No Civilians and now Cody Jinks. "It's either too many hours [of work in a day] or not enough," he said. "There is no set schedule … sometimes it is in 20-hour blocks. It's usually who can keep up with who, until the last man drops."
Choate charges around $35 per hour of studio time, "But that usually changes with a conversation and a handshake," he said. "Having that money from practice rooms allows me not to have to charge an arm and a leg, which is good, because I try to make albums for people without a lot of money.
"You can spend any amount of money on nice equipment, but what it really takes is an interesting eye and a sense of adventure," he said. "I'm tired of listening to records that sound like the last record I listened to … . What is inspiring is to hear sounds that you didn't expect to hear."
He's a collector of unique and vintage keyboards, amplifiers, and guitars, and he jumps at any chance to incorporate their unexpected sounds into his projects. "Other studios will say 'No, we can't,' but I don't subscribe to that. There's absolutely no reason not to try everything, and if it doesn't work, everyone in the room knows it," he said.
Choate wants precision from initial recordings because he's not one to use computer programs to go back into the files and alter them extensively after the sessions have ended. He works with a specific mantra in mind – "We're selling emotions, and emotions don't exist in grids."
He has many techniques at his disposal in recording but usually chooses the ones that replicate authentic sounds as honestly as possible. "New technology is so far past the point of what we're capable of doing as people," he said. "The recordings I enjoy are organic. They make it sound like the band is in the room." And if the final product contains a mistake or two, that's just fine. "I want to hear real people," he said, "not machines."
Despite the difficulties of making money at making music, he is doing pretty well. "It's not a competition," he said. "Fort Worth is a big small city, and my number is posted all over the place. I just want to help people make music."
He is encouraging others to take heart and follow suit. The more microphones in town, the more chances there will be for fans worldwide to experience the depth and quality of the music from Fort Worth.
---
"Lots of guys have rigs in their house. Just go make that record," he said.
Curtis Heath has been following that advice since his teenage years. Now 34, he plays guitar and sings in local retro-acoustic group The Theater Fire and writes music for commercials and films. After experimenting with tape recorders and buying high-tech recording software with the proceeds from his first job, Heath has taught himself to be a veritable recording mastermind.
Rather than accumulating the latest and greatest innovations in sound technology, Heath collects true vintage materials and puts them to use in his 1920s-era Fairmount home. "In a digital studio, I don't feel inspired or relaxed. It's like recording in a hospital or a pharmacy," he said. "The house affects me 100 percent. If you have a space conducive to your creativity, that's a great thing."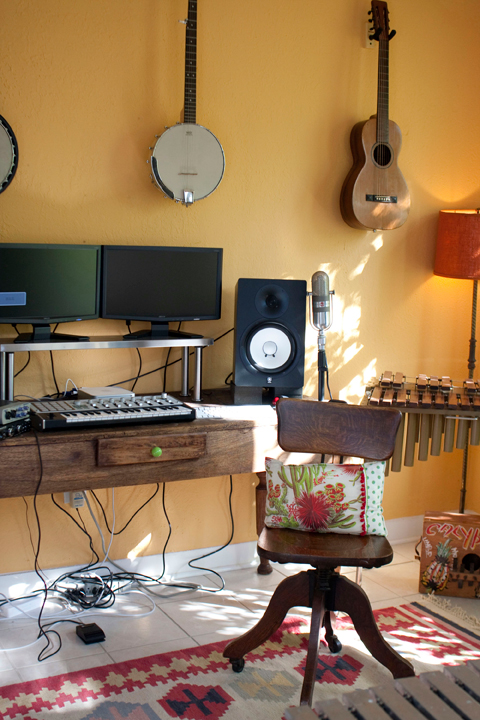 Heath uses the wood floors and other characteristics of his home to replicate old-school sounds. He lines his living room walls with antique guitars, collects piles of vinyl record albums, and generally goes about trying to recreate a historical atmosphere.
His obsession with the music of yesterday is not a new development. "It's been a natural progression," he said. From the beginning, he has been on the lookout for recording antiques, which is a hip trend now, but it wasn't that way even a few years ago. "Over time, it became sought-after and high-priced," he said.
Before the prices for old machines skyrocketed, Heath found and purchased an early-1970s reel tape recorder. To record in old-school analog format, the producer needs to find analog tapes. A few years ago, companies stopped producing the tape reels, forcing buyers to search them out in secondhand stores and on the internet.
Although markets now exist for new tape and its production has resumed, Heath still relies on his bandmate Donald Feagin to find analog tapes through his job at Half Price Books. When Feagin finds reels at Half Price, he sets them aside for use by The Theater Fire or its members. Before recording over the contents, Heath listens "to make sure there's nothing cool," he said.
Old tape is often brittle and using it can be a tricky business, but people like Heath feel the craft to be important enough to pull out all the stops. He even melts cracked tape back together in the oven. The advantages are numerous for analog enthusiasts.
"I don't have much use for technology," Heath said. "Sometimes I'll spend all evening trying to get some effect to work, and it's not helping me be creative. … And there's something very clinical about working on a computer. Analog equipment is more soulful and more forgiving. … It's not all ones and zeros."
For those and more reasons, The Theater Fire and other local groups like Stephenville's Bosque Brown always use studios that work efficiently with analog materials. Producers such as Stuart Sikes of Dallas and the trio of Matt Barnhart, David Willingham, and Matt Pence from Denton's EchoLab attract high-profile Fort Worth/Dallas groups that are sticklers for analog integrity. However, analog-oriented studios also operate in Fort Worth. Bart Rose of Fort Worth Sound has all the necessary equipment, as do the folks at the South Side's Eagle Audio, but people like Heath can use the old technology right out of the house.
The Theater Fire is currently working on an album at the homes of Heath, Feagin, and trumpet player James Talambas. Work done on old equipment doesn't run at the same smooth clip as computer music, so the disc has been in development for almost three years. A growing fanbase is eagerly awaiting the fourth Theater Fire full-length. It follows Matter and Light, Everybody Has a Dark Side, and The Theater Fire. The band completed a West Coast tour with Seattle's Trespassers William and Denton's Robert Gomez last summer and found support in far-flung places. The Theater Fire attracts fans precisely because its low-fi, acoustic songwriting does not at all sound like music for the masses.
Producers in more established recording cities earn substantial income by crafting soundtracks for movies, TV shows, and commercials. As technology levels the film field, more and more independent filmmakers in and around the Fort are contracting with producers to use home studios to create their soundtracks.
Last year, Bell met screenwriter Taylor Hayden through MySpace. Solely on the basis of a few streaming Shadow tracks, Hayden hired Bell to score and record all the music for his film, Pride, Superbia. "Basically I come up with all these sounds and mixes," he said. "I came up with 80 minutes of music in three days."
"That [ the movie industry ] is where it's at … . It's my ultimate goal now. Ten years ago, I wanted to be in a rock band, but now I want to sit around and enjoy what I have."
Bell's networking possibilities are likely to climb in 2010 thanks to a spot he earned in an upcoming reality show, School of Beats. Hip-hop artist Lil' Flip hosts the show, which will air on an undisclosed cable network. The show's producers chose up-and-coming engineers from across the country to chronicle the experience of making records. Bell likes his chances to earn the cash prize in the show, since he is one of two contestants with significant engineering experience. The show is set to start recording in Dallas in January, which means the local recording process will be on hold for a short time. He plans to pick up with his hectic schedule as soon as filming is complete.
When filmmaker Tom Huckabee ("Through a Lens, Gladly," Oct. 28, 2009) relocated to the Fort from Los Angeles a few years ago, he caught a thrown-together set from Heath and a few friends at Trinity Park and immediately took a liking to the young musician's style. He invited The Theater Fire to play at an after-party for the inaugural Lone Star International Film Festival, and the working partnership grew from there.
For his new film Carried Away, Huckabee initially asked to use The Theater Fire's songs for the soundtrack. Eventually, he asked Heath to write the score and appear in a scene of the film with his bandmates. Heath used his Fairmount studio to do almost all of the music for the film.
While other local producers, like Bell, are new to the music-in-film business, Heath had already hitched his wagon to a small troupe of Fort Worth filmmakers in years past. In 2008, he composed for James M. Johnston's film Merrily, Merrily, and he is currently working with Dallasite Clay Liford (My Mom Smokes Weed) on Liford's film Earthling.
Denton's Matt Pence started Heath on the TV route by asking him to compose several tunes for a Blue Cross & Blue Shield commercial. The insurance company used one of the five compositions he submitted, and Coca-Cola picked up an unused track for a web commercial. The paychecks couldn't have come at a better time for Heath, who recently completed his degree in education. "It paid for an entire semester of school," he said. "Otherwise, I wouldn't have graduated."
Heath now teaches special education at a Fort Worth elementary school to augment his income from music-related activities. Maintaining creativity as the main goal helps Heath progress in his combination of writing and recording. "It's mostly fun," he said, "or I wouldn't be doing it."
Turning a beloved hobby into a career is something a lot of folks would like to accomplish. Both the University of North Texas and the University of Texas at Arlington recently approved for-credit internships at Fusion Project Studios.
Other bands have joined in the trend without building actual studios. The prog-rock quartet Meander spent most of 2009 recording The Tower at keyboard player Matt Hansen's home, and the final product sounds like it could have been made in a Hollywood studio. Saving money on recording leaves more for necessities like disc replication, band promotion, and instrument maintenance.
Local DIY record producers would welcome more folks into the fold. Heath would like to see more "boutique" studios in town that could specialize in niche recordings. Choate just wants to see more and more people able to record their creations.
Fort Worth is full of musicians, and sometimes it really does take the whole urban village to build a vibrant scene. "There are awesome people here and awesome bands," said Choate, "so I relegated myself to being a sideman. What I can do lends itself better than being the guy in the front."