When the real estate market started crumbling a couple of years ago, Joseph Armstrong and his buddy, smokemaster Marion Culton, took a trailer-mounted smoker and started driving all over town selling barbecue. They stuck mostly to the East Side but occasionally made trips to Crowley and Burleson. Near Crowley they discovered an area with a lack of barbecue joints.

After two years of driving around and selling their food at construction sites and in parking lots, Armstrong and Culton had gained so much popularity and done so well for themselves that Armstrong was able to secure a lease on a pleasant Crowley Road building that needed only a little love to be made presentable.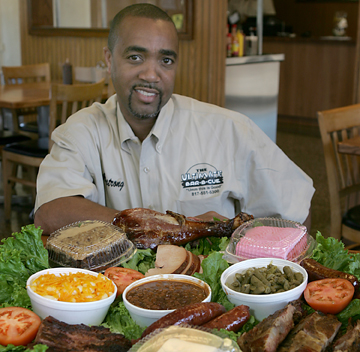 The name of the place is Ultimate Bar-B-Cue. A pretty ballsy name, especially for a 'cue joint in Fort Worth. What would the good folks over at Angelo's have to say of another barbecue restaurant's calling itself "ultimate"? Or Mama E's? Doesn't matter. The Crowley boys obviously think they do 'cue best. And based on some of Ultimate's offerings, their swagger's not totally unfounded.
When I picked up one of Ultimate's enormous pork ribs, all I got was bone — the meat had slipped off and piled up deliciously on my plate. The brisket was peppery, scrumptious, and juicy, with a nice smoke ring, but there was a little too much gristle going on. At least the stuff was easy to separate from the meat. The traditional sausage was everything trad-sausage should be: a little spicy and so plump that every bite was an explosion of juice. The garlic sausage was a bit of a flavor revolution: smoky, spicy, and full of garlic. Unlike most breasts of turkey in barbecue restaurants, Ultimate's smoked turkey was not only not dry but also full of juice and smoky goodness.
Which brings us to Ultimate's house sauce. It's a good'un: spicy and with a sweet bite achieved most likely by a ton of brown sugar or molasses. The sides run the gamut, and the ones sampled were homemade. The mac 'n' cheese was creamy and delightfully on the dense side, the pinto beans were melt-in-your-mouth, and the greens were on the verge of mushy, the way they should be. Props to cook George Kirkland, who handles all of the sides.
The dining room, with its plain, dark walls and basic table-chair combos and booths, is quaint, and the floors are squeaky clean. Although Armstrong, Culton, and Kirkland often pop out of the kitchen to check on customers, they seemed too busy to chat when we were there. In the "Bar-B-Cue" business, though, that's an ultimate achievement.
Ultimate Bar-B-Cue
5733 Crowley Rd, FW. 817-551-5300.
11am-5pm Sun, 11am-8pm Tue-Sat, closed Mon. Discover, MasterCard, Visa accepted.
Two-meat combo, two sides             $10.99
Three-meat combo, two sides           $13.99
Pork rib plate, two sides.                    $9.00
Smoked turkey plate, two sides         $7.00