Update to the peeves log: Chow, Baby has finally decided to stop punishing Lanny Lancarte for serving chicken surprise at Restaurant Week 2007. Now, two years into Chow, Baby's boycott of Lanny's Alta Cocina Mexicana (3405 W. 7th St.), the old parental plaint that "This hurts me more than it hurts you" has proved true – Lanny surely didn't mourn the loss of Chow, Baby's meager expense account, whereas all this time Chow, Baby has been missing out on his wonderful three-course lunch menu ($20).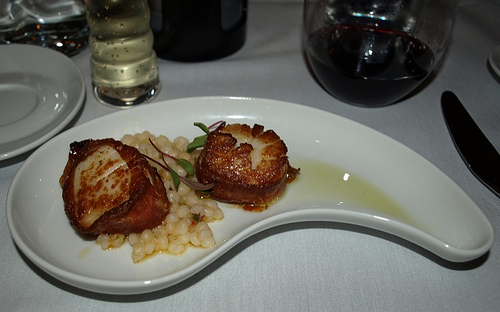 There's a la carte stuff, too, including some really tempting fancy sandwiches ($12-$14), but this menu makes choosing a lot easier. Can't go wrong with either first-course option, the hearty pureed cannellini bean soup or the salad of baby Lolla Rossa lettuce with blue cheese, grapes, and candied pecans. For the main, Chow Baby's chorizo-wrapped scallops were a tad dry, but their bed of housemade angel hair had mojo de ajo to spare. A companion's roasted chicken breast with an incredible blood orange and yogurt risotto was all-around amazing. Dessert pulled together all of Lanny's Mexican-French-Mediterranean influences: custardy crème brûlée on a pool of cajeta, the Mexican version of milk caramel, in perfect sweet-tangy-smoky balance.
It's funny that Lanny's fabulous haute Mexican cuisine is the 180-degree opposite of Joe T. Garcia's (2201 N. Commerce St.), the over-hyped Tex-Mex restaurant founded by Lanny's great-grandfather that's home to the worst fajitas in town. Is it inevitable, muses child-free/worry-free Chow, Baby, that your own progeny will one day show you up like that? Apparently not; Asdren Albanese, for one, isn't humiliating his parents. Rather than completely rejecting his family legacy, Asdren has kept the best parts of Ruffino's (2455 Forest Park Blvd.) – lovely room, great service, his father's lasagna recipe – while subtly introducing menu modernizations here and there. For Asdren's own good, Chow, Baby must deliver a few light spanks for cold fried olives on the otherwise lovely Ruffino's salad ($6) and overwhelmingly rich gorgonzola sauce on the pillowy potato gnocchi (appetizer $12). But when the lad is focused, he's Albanese all the way (exquisite salmon steak with roasted eggplant, $26).
Of course Chow, Baby loves all its sons-of chefs equally, but maybe Derrick Paez of Aventino (3206 Winthrop Ave.) just a tiny bit more, thanks to a dazzling renovation of his family's Neighborhood Italian Gem into a sleek modern-Italian bistro. His new Sunday brunch ($14) features, among other wonders, faultless frittata brimming with housemade spicy pork sausage and spaghetti alla carbonara with actual pancetta. Remember Chow, Baby's 2006 authentic-carbonara quest that necessitated a research trip to Rome? A waste. It should have simply waited a few years for this perfect dish.
Hard to see how Derrick is going to make any profit on his new lunch buffet ($12.50; Tue-Fri); Chow, Baby ate at least $25 worth of just the roasted lamb, along with pumpkin risotto, penne alla vodka that didn't hold up too well in the warming pan (but Chow, Baby went for thirds anyway), housemade pork sausage on polenta, and all kinds of yummy tidbits and sides. And since Derrick listened to Chow, Baby in August and put his braised wild boar and peppercorn pappardelle on the fall menu, maybe he'll take a follow-up appeal: Add it to the buffet, please? There, that's a good boy.
Contact Chow, Baby at chowbaby@fwweekly.com.