Anyone who's planning to see Stage West's production of Liz Lochhead's comedy Good Things should know this: A major cast member dropped out of rehearsals shortly before the original opening night and was replaced at the 11th hour with director Jim Covault. Stage West made no official statement on the reason given by the performer who left, but let's just say it had better be a good one.


If the theater were like the military, actors who depart arbitrarily would receive a hasty battlefield trial and then be shot by their comrades for dereliction of duty. An actor's commitment to the production is sacred and trumps all but the most dire of unforeseen circumstances.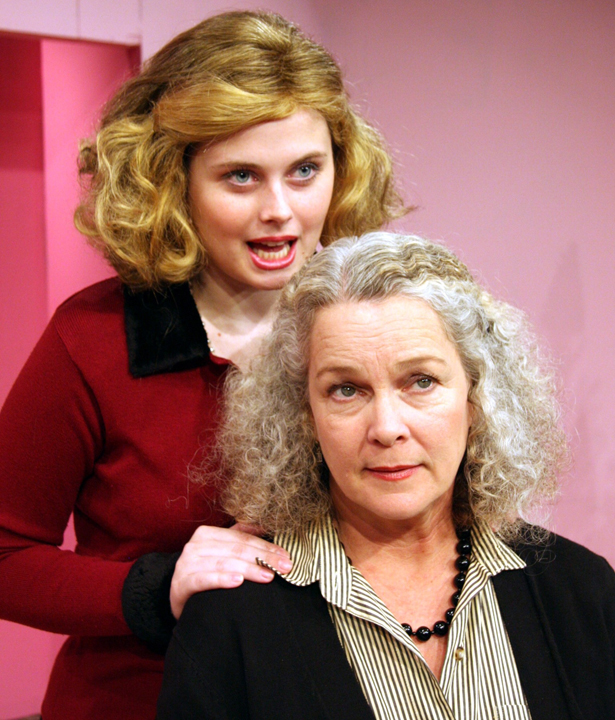 The crestfallen look on producing director Jerry Russell's face as he greeted patrons in the lobby before the show seemed to say it all: We did the best we could. As it turns out, though, Good Things, about a 49-year-old Glasgow woman recovering from a bitter divorce, sails as a very tight ship along its bighearted, meandering way. The major problems come with Lochhead's script, which is inflated to an epic 165 minutes (with two intermissions) by a lot of unnecessary farcical exits and entrances from actors playing multiple roles. Given that, the ensemble of four — led by a marvelously grounded performance from Stephanie Dunnam — managed to make those minutes fly by with sweetly detailed characterizations and an appreciation for the humble daily victories that the Scottish playwright celebrates here.
Fort Worth just missed giving Good Things its U.S. premiere — an Austin company debuted the show stateside back in June. Based on the provincial feel of this quiet, comic tale, you'd never know Lochhead made her name with gutsy psychological explorations into Gothic literature, including stage adaptations of Mary Shelley's Frankenstein, Bram Stoker's Dracula, the myth of Medea, and the bloody political fate of Mary Queen of Scots. There are no grand machinations or supernatural flourishes in the charity resale shop where Good Things is set, just the thistledown of lives lived in obscurity. Used jackets, shoes, purses, toys, books, and LPs abound. Customers, including regulars and first-timers, browse through randomly. Still, hearts are betrayed, risks assessed and taken, identities confused, and romance kindled anew amid otherwise mundane retail hours. However flabby Lochhead's script, Stage West's performers and directors Covault and Russell (who added his input after Covault had to leave the director's chair and join the cast) succeed at convincing you that some of life's most decisive moments can happen during office-break banter.
Susan (Dunnam) volunteers two days a week at this secondhand store while trying to put her life back together — her husband has left her for a much younger woman, her adolescent daughter has run away without any warning, and she has just re-entered the dating scene via internet and speed-dating services. Her acerbic work buddy Frazer (Covault) seems to be gay but insists he's not; having just lost the mother he idolized, he spends much of his time trying to bolster Susan's confidence. Their supervisor Marjorie (Amber Guest) is a stickler for work rules but doesn't mind meddling in both Frazer's and Susan's off-the-clock lives. A new face arrives – David (John S. Davies, solidly appealing as usual), a recent widower who reluctantly brings in boxes full of his late wife's expensive clothes in order to clear out his life and start fresh. Before love inevitably proves wonderful the second time around, complications arise in the form of Susan's dementia patient father Archie (Covault); her cold-hearted ex-husband Tony (Covault); his hot young wife-to-be Natalie (Guest, riding high on inane, spoiled chatter); an offstage stalker Susan acquired from her speed-dating experiment; and a coveted pair of red high heels.
Covault probably didn't relish assuming the emergency responsibility of six different characters in Good Things, but by happy coincidence, his naturally understated gifts as an actor square perfectly with Lochhead's unhurried, conversational style of dialogue. His Gielgud-ish tendency to play roles at a low flame gives the sidekick character of maybe-gay-maybe-not Frazer a drolly venomous quality, investing lines like "Did you get a Valentine's card? Neither did I" with sleepy comic bite. The short soliloquy of unrequited fealty that he delivers near the play's end makes a poignant case for the benefits of a sexless marriage. Even the shaggy mop-top wig he wears suits Frazer's dilemma — the style is too young for him, but here's a man whose lifelong devotion to a parent has rendered him permanently childlike in certain ways. Covault wears another ridiculous wig — wavy and with a ponytail — as Tony the ex-husband, and this hairpiece, too, offers merciless commentary, on a man hopelessly afflicted by the unself-conscious middle-age crazies.
The question of who should've played Covault's roles is much less important than it might have been because Good Things is unimaginable without Dunnam. She possesses those qualities of self-deprecating authority, sarcastic warmth, and affecting vulnerability that stage-bred marquee names like Joanne Woodward and Ellen Burstyn conveyed in their middle-age prime. (The fact that Dunnam bears a strong resemblance to Burstyn is part of what prompts the comparison.) With no hint of strain, she takes charge of this long production and nearly transforms it into a one-woman show about encountering that inevitable crossroads of adult life: whether to strive for more chances and new experiences or accept and enjoy with gratitude the life one has already made. Frankly, Dunnam is a lot better than Lochhead's play, and because she commands center stage for the run of the show, Good Things is more than good enough. — Jimmy Fowler
Good Things
7:30pm Thu; 8pm Fri & Sat;
3pm Sun thru Nov 29 at Stage West,821 W Vickery Blvd, FW. $26-30.
817-784-9378.
Moving Pictures
A collection of paintings by a group of early artists known as the Fort Worth Circle has spent much of this decade hanging on the walls at The Ashton, one of downtown's most exclusive hotels. If you haven't seen the collection — which includes works by Dickson Reeder, Bror Utter, Cynthia Brants, and Kelly Fearing — now is the time. It will soon be moved to a private residence and out of public view.
"It's been wonderful to share it with the hotel," said Shirlee Gandy, who began displaying the two dozen or so paintings in 2000 after she and her husband, Taylor Gandy, bought The Ashton.
The Gandys sold the hotel in 2007 but have kept the paintings there while shopping for a new house in Fort Worth.
"The Ashton has been very gracious to allow us to leave the artwork there," Shirlee said. "We sold the hotel almost two years ago, and we didn't have a home for [the collection] at the time." However, she said, "We just recently moved into a house, and we're going to be able to get reacquainted with our old friends [the paintings]. We're going to take the majority of it there so that we can enjoy it a while."
An Ashton employee said hotel management is still determining how to redecorate the walls. — Jeff Prince