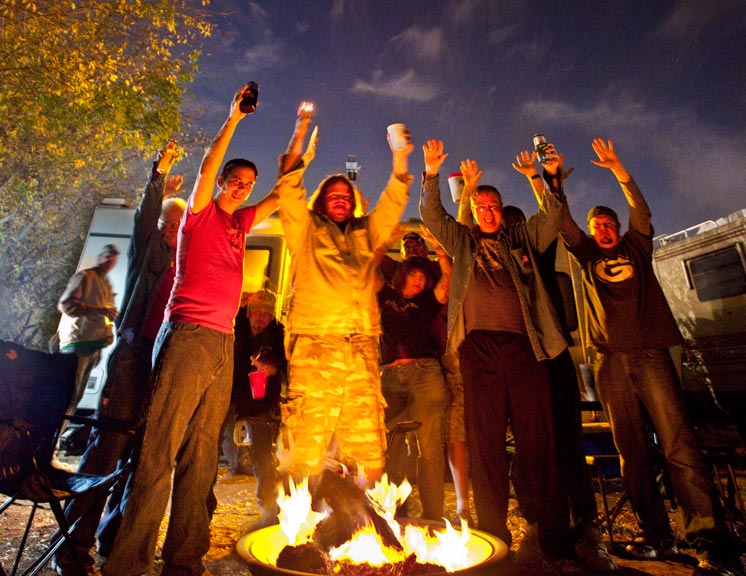 Those who have never been to a stock car race perceive NASCAR fans as rednecks with mullets and toothless grins — big southern dummies, and poor ones at that.
Photographer Byrd Williams IV was one of those who had never been to a car race before Fort Worth Weekly sent him out to the Texas Motor Speedway for the Dickies 500 race weekend. He wandered through the campgrounds outside the racetrack and past the souvenir trailers selling merchandise, talking with fans in the luxury suites and those watching the race from atop their motor homes in the infield. He hit the pits and the garages. He shot the start of the race, the vehicles zooming past crowds in a blur, and the pristine a car crossed it.
Williams' conclusion after four days among the NASCAR hordes? "It was nothing like I expected," said the longtime Fort Worth photographer, who now lives in Dallas. "I met executives from gas drilling companies, engineers who design helicopters, f amilies who pay a lot of money to come to these races twice a year. The fans all come from different backgrounds, but they share this love of the event. They are all part of the NASCAR tribe."
Close to 400,000 people attended the three races over the weekend, according to speedway officials. The encampment is almost like a big city that drops from the sky twice a year into north Fort Worth. Researchers estimate that fans inject about $100 million into the local economy on each NASCAR weekend. Since 1995, they figure, the local economic impact has topped $3 billion.
But Williams also found that the race itself was only one part of this tribal ritual and, for many, not even the most important part. The real draw was the chance to camp out with like-minded friends and family for a week. Bringing in piles of wood and smokers to cook everything from steaks to a whole pig. Flying the flags of their favorite drivers (with plenty of Confederate flags as well). Big plasma TVs mounted on the outside of bigger RVs. Listening to heavy metal and country music blasting through huge sound systems. And lots of drinking — weird concoctions like Apple Pie (apple cider and Everclear), whiskey, and, natch, American beer.
Williams has always been intrigued by what he sees as the tribal aspects of modern society, and he saw the NASCAR crowd as a great example. It's a group not defined by geography or bloodlines or political boundaries, but by racing as a starting point, something that gives its members a common language. "They all like to yell at each other about the drivers," Williams said. "It's, 'Fuck Jeff Gordon' and 'Fuck Dale Jr.' But that is only a small part of it.
"Tribalism is about crowd behavior, about the crowd knowing the ritualistic and celebratory rules they abide by," he said. "So at the [TMS] it is more about standing around the campfire with friends. Add lots of alcohol and a roasted pig. Jello shots are like the Eucharist.
"There is also a real warmth to this tribe," he said. "After meeting these fans for just a few minutes, they treat you like a long-lost brother. They give you a beer and ask you to come back for dinner."
The tribe is still very white and very male. One race team is sponsored by ExtenZe, the company that sells pills that supposedly make guys bigger where they figure it counts most. TMS has even gotten into this act, with a sign in the infield proclaiming "Stadium Envy: Ours is the Biggest."
NASCAR is working hard at getting more women and more non-whites into the tribe, because the races are all about selling. Speedway officials want people of all sorts to buy their t-shirts and flags and jewelry and miniature race cars.
{gallery}nascar{/gallery}