Many years ago, when Violet O'Valle was a drama teacher in Houston public schools, she discovered a collection of scripts by the great Irish playwright Sean O'Casey in a campus basement. O'Valle, a descendant of South Texas Irish immigrants, knew about O'Casey, of course. He's widely considered to be Ireland's greatest playwright, although his works are not often produced there or abroad. Indeed, the book had been cast aside in that basement as if waiting for the trash bin. O'Valle opened to a random page and read a passage that captured her instantly.


"It was a scene in which the poor people of Dublin are suddenly transformed by a dance," she said. "They're standing on a bridge utterly hopeless, and a man begins to dance. The sun comes out, and the people are lifted out of their hopelessness. It showed that O'Casey believed art and literature and music could be the salvation of a civilization. I guess I believe that, too."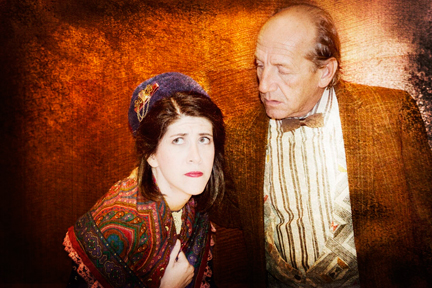 O'Valle is the co-founder and artistic director of Fort Worth's Pantagleize Theatre, a small troupe that specializes in staging international works. O'Casey, who died in 1964 at the age of 84, continues to exert a fascination over her — she wrote her master's thesis on his later, more obscure plays. After multiple visits to Ireland over the years, including for recent performances by Pantagleize at the Hopkins International Literary Festival in Kildare, O'Valle has finally summoned the courage to mount one of his strangest and most controversial works: 1949's tragicomedy Cock-A-Doodle Dandy. She's scored another coup. Thanks to grant money, O'Casey's 70-year-old daughter Shivaun, who currently resides in England, will attend this weekend's performances as Pantagleize's guest at the Fort Worth Community Arts Center.
O'Casey was eccentric and complex, both as an artist and a man. He was raised a Protestant in Catholic Dublin and became an outspoken socialist. He loved to denounce religious and sexual oppression by the Catholic Church, yet befriended many priests and nuns whose commitment to social justice he deeply admired. His plays tirelessly sounded the cause of Ireland's working poor, especially his famous Dublin Trilogy from the 1920s that included The Shadow of a Gunman, Juno and the Paycock (which became one of Alfred Hitchcock's first films), and The Plough and the Stars. But they were also deeply suspicious of Irish nationalism and deplored that it often led to violence. In 1926, opening night of The Plough and the Stars caused a riot at Dublin's Abbey Theatre.
That riot "was organized by the widows of the Irish rebels who died in the 1916 Easter Uprising," O'Valle said. "They said that the play was unpatriotic and anti-Irish. It was like a Texan writing a show critical of the last stand at the Alamo. It just wasn't done."
O'Casey's work eventually acquired a mystical, hyper-poetic quality, prompting William Butler Yeats (then of the Abbey Theatre) to reject O'Casey's submissions for having "no subject." By 1940, O'Casey had exiled himself to England. The difficult Cock-A-Doodle Dandy has been praised as a late-period masterwork and was his own favorite script: It's a musical fable that concerns an impoverished 1940s rural village dominated by a cruel, pleasure-hating priest. An interloper arrives in the form of a charming rooster who represents, among other things, "the spirit of sex," according to O'Valle. Although the badass bird has no dialogue, he seduces the women, alienates the men, and precipitates a crisis of community morals.
As you can imagine, a romantic leading man performing in a chicken suit may represent quite a challenge to 21st-century audiences as perhaps it did to mid-20th-century ones. Images of Foghorn Leghorn on the prowl are too hard to shake.
"It's obvious that if you make a mistake [with how the cock looks], you've ruined the show," O'Valle said. Pantagleize Theatre brought in Hip Pocket co-founder Diane Simons to design costumes for the show, and the whole cast offered its input until the chicken suit came out right. "The actor who plays him [in our show] is a beautiful young man," she said, "and we wanted the audience to see a beautiful young rooster. He didn't need to be obscured by too many feathers."
Cock-A-Doodle Dandy was banned in Ireland for being anti-Catholic, pro-communist, and dirty-minded in general, but it has history here. North Texas theater pioneer Margo Jones, who'd taken The Glass Menagerie and Inherit the Wind to Broadway, gave the show its world professional debut in Dallas in 1950. Jones tried to get it produced on Broadway as well. She got all the way to the rehearsal process before protests by members of the VFW and New York City's Catholic brass shut it down. They didn't have to work too hard — O'Casey was a card-carrying socialist in the commie-paranoid 1950s. File that away as one of the rare instances when our state's commie-pinko radar was less sensitive than that of Noo Yawk.
Cock-A-Doodle Dandy is returning to North Texas with the blessing of Shivaun. O'Valle met her several years ago at a theater festival in Dublin, and the two have maintained a correspondence ever since. Shivaun is an actor, director, and scenic designer, and in 2005 she filmed a documentary about her father's life called Under a Coloured Cap. The playwright's daughter has lived most of her life in her native England, but she still tries to keep her father's work alive around the world.
O'Valle sees hints of Sean O'Casey in hot contemporary Irish playwrights like Conor McPherson and Martin McDonagh. But the elder's lyrical combination of realism and idealism, comedy and tragedy, and the natural and the supernatural is not an easy sell, even in his native Ireland. Also, his lifelong commitment to relieving Dublin's severe slum conditions brings back bad memories for many folks there, O'Valle suggested.
"Living conditions are better now [in many parts of Ireland]," she said. "The Irish aren't like some cultures who wear hardship as a badge of honor. The Irish have never been proud of their poverty. They don't want to dredge it up again."
Cock-A-Doodle Dandy
7:30pm Thu, 8:15pm Fri, 8pm Sat,
3pm Sun at the Fort Worth Community Arts Center, 1309 Montgomery St, FW.
$14-16. 817-472-0032.