OPENING: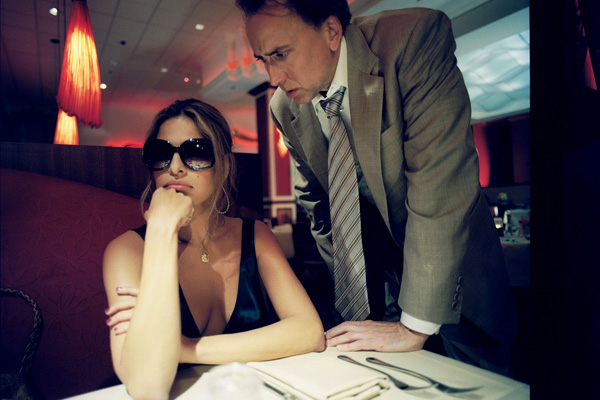 Bad Lieutenant: Port of Call New Orleans (R) Werner Herzog's remake of Abel Ferrara's 1992 film stars Nicolas Cage as a drug-addicted cop trying to solve the murders of five Senegalese immigrants in post-Katrina New Orleans. Also with Eva Mendes, Val Kilmer, Fairuza Balk, Michael Shannon, Jennifer Coolidge, Brad Dourif, Shawn Hatosy, Denzel Whitaker, Shea Whigham, Vondie Curtis-Hall, Irma P. Hall, and Xzibit. (Opens Wednesday)


Ninja Assassin (R) An animated musical about talking dogs who want to perform on American Idol – wait, no, it's a live-action thriller about a ninja (Korean pop star Rain) who turns against his clan after they kill the girl he loves. Also with Naomie Harris, Sung Kang, Randall Duk Kim, Shô Kosugi, Rick Yune, Stephen Marcus, and Ben Miles. (Opens Wednesday)
Old Dogs (PG) John Travolta and Robin Williams play business partners forced to take care of 7-year-old twins (Conner Rayburn and Ella Bleu Travolta) while on the verge of a major business deal. Also with Kelly Preston, Seth Green, Matt Dillon, Lori Loughlin, Amy Sedaris, Rita Wilson, Ann-Margret, and the late Bernie Mac. (Opens Wednesday)
Red Cliff (R) John Woo directs his first Chinese film in 17 years, with this period epic about a third-century naval battle. Starring Tony Leung Chiu-Wai, Takeshi Kaneshiro, Zhang Fengyi, Chang Chen, Vicki Zhao, Lin Chiling, and Shidou Nakamura. (Opens Wednesday in Dallas)
NOW PLAYING:
Astro Boy (PG) What should be a breezy, enjoyable family adventure instead becomes a series of toothless gags and lackluster visuals in this yawn-worthy animated film about a scientist (voiced by Nicolas Cage) who engineers a robot boy (voiced by Freddie Highmore) to replace his lost son. Both the characters onscreen and the filmmakers seem strangely blasé about Astro Boy's superpowers, and the plot – based on Osamu Tezuka's legendary manga comic – is weepy stuff about how robots have feelings, too. Your watch will be the only piece of technology that'll interest you as you sit through this. Additional voices by Kristen Bell, Donald Sutherland, Nathan Lane, Moises Arias, Bill Nighy, Eugene Levy, Samuel L. Jackson, and Charlize Theron. — Steve Steward
The Blind Side (PG-13) A Hollywood movie where most of the heroes are dyed-in-the-wool Southern Republicans, though that's the only non-cliché worth mentioning in this otherwise rote football drama based on the true story of Michael Oher, the homeless African-American teen taken in by a rich white family in Memphis and turned into an NFL-caliber left tackle. Sandra Bullock nicely underplays the role of family matriarch, which could easily have been overdone. Newcomer Quinton Aaron, though, isn't up to scratch as Oher, and writer-director John Lee Hancock leaves out too many details from Michael Lewis' book, turning an amazing story into a bland Hollywood product, without any of the uplift that he's aiming for. Also with Tim McGraw, Lily Collins, Jae Head, Ray McKinnon, Kim Dickens, and Kathy Bates.
The Boondock Saints II: All Saints Day (R) Remember all those third-rate Pulp Fiction-wannabe movies that came out in the mid-1990s? Yeah, Troy Duffy is still making them. Sean Patrick Flanery and Norman Reedus reprise their roles in this sequel to the 1999 cult thriller as Irish brothers and hit men who return to Boston to clear their names after they're implicated in a murder. The dialogue, acting, and editing are uniformly awful, and the movie's filled with unpleasant gay jokes. The humorous interludes fall flat, while the serious moments frequently prove to be unintentionally funny, a truly awe-inspiring achievement in bad moviemaking. Also with Billy Connolly, Julie Benz, Clifton Collins Jr., Judd Nelson, Peter Fonda, and an uncredited Willem Dafoe.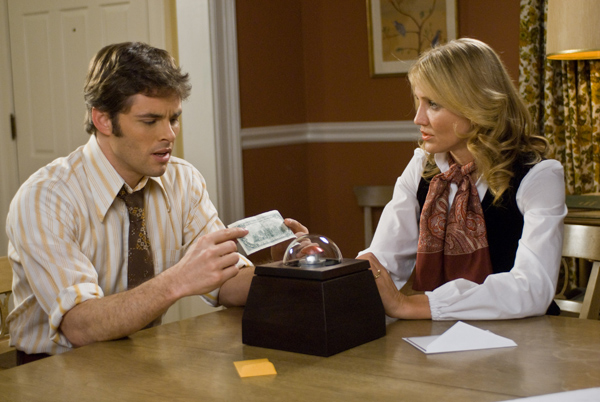 The Box (PG-13) Richard Kelly, the writer-director of Donnie Darko, tries to do a conventional thriller, and it doesn't quite take. Cameron Diaz and James Marsden star as a suburban couple in 1976 who are visited by a mysterious, disfigured stranger (Frank Langella) who offers them a Faustian bargain: If they choose to press the button on the box that he gives them, they'll receive $1 million in cash, but a stranger will die. Adapted from Richard Matheson's story "Button, Button," this thriller has a unique feel, with its lush, deliberate, retro atmosphere. However, the movie fails – despite massive efforts – to create much in the way of danger or to pull your heartstrings, and the ending falls apart completely. Also with James Rebhorn, Sam Oz Stone, Holmes Osborne, Gillian Jacobs, Celia Weston, and Deborah Rush.
A Christmas Carol (PG) After so many different versions of Charles Dickens' story, what does Robert Zemeckis' latest animated version have to add? Not much, although Jim Carrey makes a much better Scrooge than you'd think, and the ghost of Jacob Marley (voiced by Gary Oldman) is rendered in truly horrifying fashion. The motion-capture animation (better than it was in The Polar Express and Beowulf) still distances you from the emotions in the story, and the straightforward retelling underscores the flimsiness of Dickens' original material. Technically accomplished as this is, it's hard to warm up to. Additional voices by Robin Wright, Bob Hoskins, Daryl Sabara, Cary Elwes, Lesley Manville, Fionnula Flanagan, and Colin Firth.
Couples Retreat (PG-13) A depressing comedy, because it ends with four couples together but leaves you feeling that two or three of them would have been better off apart. Vince Vaughn and Jon Favreau co-write and co-star as part of a party of eight roped by their married friends (Jason Bateman and Kristen Bell) into taking part in a retreat where they work on their issues at an island resort. Much stale business ensues about New Age therapy, midlife crises, seven-year itches, and overworked professionals. Vaughn and Favreau have better chemistry with each other than any of the actors who play couples do, but the Swingers guys can't save this mirthless exercise. Also with Kristin Davis, Malin Akerman, Faizon Love, Kali Hawk, Tasha Smith, Peter Serafinowicz, Carlos Ponce, Jean Reno, John Michael Higgins, and Ken Jeong.
The Fourth Kind (PG-13) Purportedly based on a true story that no one can verify, this sci-fi/horror flick stars Milla Jovovich as a psychiatrist who uncovers harrowing similar tales among her sleep-research subjects about being abducted by aliens. The film is augmented by videotaped footage of the "real" sessions alongside re-enactments of those sessions. The fake documentary stuff is far more effective than the wretched dramatics. You wonder why writer-director Olatunde Osunsami didn't do the whole movie like a fake documentary. The film occasionally attains the skin-crawling power that it's aiming for but not often enough. Also with Elias Koteas, Will Patton, Hakeem Kae-Kazim, Enzo Cilenti, and Corey Johnson.
Law Abiding Citizen (R) Gerard Butler's acting is getting worse and worse. He hams his way amateurishly through this sadistic thriller as a government spymaster who turns his fury on the justice system – one assistant D.A. in particular (Jamie Foxx) – after a plea bargain sets his family's killers free. The bad guy's hypercompetency isn't fully explained by the big revelation near the end, and F. Gary Gray directs this like the latest installment of Saw when he should be keeping things light and witty. His lugubrious manner just exposes the rottenness at the heart of this exercise and lets the bad taste build up. Also with Colm Meaney, Bruce McGill, Leslie Bibb, Regina Hall, Michael Irby, Emerald-Angel Young, Annie Corley, and Viola Davis.
The Men Who Stare at Goats (R) This amusing war film stars Ewan McGregor as an American reporter in Iraq who meets an ex-soldier (George Clooney) claiming to have gained psychic superpowers – and to have once killed a goat with his thoughts – after being trained by a secret U.S. military unit. First-time director Grant Heslov gets tripped up by the flashback-laden structure of the script (based on a book by Jon Ronson). However, Heslov nicely manages the tone, mixing the seriousness of the characters' predicament with the absurdity of the former soldier's unreliable recollections. It all adds up to an entertaining shaggy-dog story, though the scene with one soldier on acid shooting up an Army base is an unfortunate coincidence. Also with Jeff Bridges, Kevin Spacey, Stephen Lang, Robert Patrick, Waleed Zuaiter, and Stephen Root.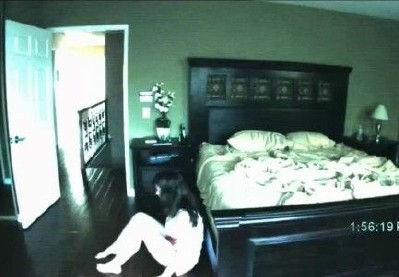 Paranormal Activity (R) I shook off this vérité horror flick when I first saw it and then found I had trouble sleeping later that same night. Oren Peli's instant cult film is a fake documentary about a day trader (Micah Sloat) who buys a video camera to record the demonic happenings that his new live-in girlfriend (Katie Featherston) claims are going on around her. The script goes through too many contortions to keep the characters inside their house and filming, but Peli stages some spooky stuff when the couple are sleeping at night with the camera running, making excellent use of a low-frequency rumble on the soundtrack to indicate the demon's presence. The film was reportedly made for $11,000. The results are dazzling. Also with Mark Fredrichs.
Pirate Radio (R) Richard Curtis' fatally innocuous British comedy stars Tom Sturridge as a young man who's sent to an outlaw rock 'n' roll station broadcasting from a ship off the British coast in 1966. Curtis adopts a much less glossy visual approach than he did in Love Actually, but there's a lot of fuzzy nostalgia weighing down this boat. Subplots are introduced, forgotten, and then resolved too easily, and too many characters are floating around here. The acting and writing, traditional strengths of Curtis productions, are subpar. For a movie that aims to celebrate the rebellious spirit of rock, this is way too tame. Also with Philip Seymour Hoffman, Bill Nighy, Rhys Ifans, Nick Frost, Rhys Darby, Tom Brooke, Chris O'Dowd, Katherine Parkinson, Gemma Arterton, Talulah Riley, January Jones, Jack Davenport, Kenneth Branagh, and Emma Thompson.
Planet 51 (PG) For once the Earthlings aren't plundering an alien planet and running roughshod over the natives. In this animated film, a buffoonish lone astronaut (voiced by Dwayne "The Rock" Johnson) lands on a planet of green-skinned creatures that hunt him down because they're paranoid and not terribly bright. Sadly, that's the only subversive note in this weak, derivative piece in which the aliens speak English and live in a place like 1950s America, for reasons that are never explained. There are much better options out there for family entertainment. Additional voices by Jessica Biel, Justin Long, Seann William Scott, Gary Oldman, and John Cleese.
Precious: Based on the Novel Push by Sapphire (R) Not as good as the hype, but there's enough truth to the hype to make this film worth checking out. Gabourey Sidibe portrays a fat, illiterate 16-year-old schoolgirl in Harlem who's been repeatedly raped by her now-absent father and abused physically by her mother (Mo'Nique). Director Lee Daniels embraces the filth and squalor of the setting but also plays off it with some skillful fantasy sequences that Precious uses to cope. The film is obvious, skirts a bevy of economic and practical issues, and gives Precious her deliverance too easily. Yet it also has a terrific performance by Mo'Nique as a monster with understandable motives, and it's willing to challenge the audience with its depiction of poverty rather than gently washing over it. Also with Paula Patton, Sherri Shepherd, Stephanie Andujar, Chyna Layne, Amina Robinson, Angelic Zambrana, Lenny Kravitz, and Mariah Carey.
The Stepfather (PG-13) Penn Badgley stars in this dull remake of the 1987 thriller as a troubled kid who comes home from boarding school and finds his mother (Sela Ward) newly engaged to a man (Dylan Walsh) who might well be a killer. The good news is that the bad guy is made to be clever; the bad news is that everybody else is made to be extremely stupid, which effectively kills any suspense here. The performances by a cast full of TV actors are indifferent, but given the film's unforgivably slapdash treatment of its characters, maybe that's understandable. Also with Amber Heard, Jon Tenney, Paige Turco, Jessalyn Gilsig, and Sherry Stringfield.
This Is It (PG) There's no hint that this documentary was shot in the final days of Michael Jackson's life. Instead, with its extensive rehearsal footage, it's intended to take the place of the concert tour that the pop star was working on in the days leading up to his death. Jackson clearly still has all his dance moves, even as he moves at half-speed through the routines. Aside from a vocals-only rendition of "I Just Can't Stop Loving You" with Judith Hill, the performances (mostly of Jackson's old hits) are too sketched-in to replace the ones on record and video. However, director Kenny Ortega (the director of the stage show as well) shows Jackson interacting with his fellow performers as a fanatically precise though generous taskmaster. This film could have been an exploitive cash-in. Instead, it's fashioned into a valuable look at the pop star's creative process.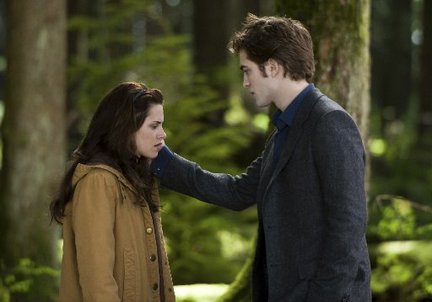 The Twilight Saga: New Moon (PG-13) They changed directors for the sequel, yet the flaws from the original remain: This vampire film is still poorly paced and edited, the special effects are still subpar, and the romanticism here is still absurd rather than sublime. Kristen Stewart returns as a high-school girl who falls in with a Native American boy (Taylor Lautner) and his clan of werewolves after her vampire boyfriend (Robert Pattinson) leaves her. The new film is intentionally funnier, several of the supporting actors click into their roles (Ashley Greene, Billy Burke, Anna Kendrick), and Michael Sheen adds a nice dainty performance as a vampire overlord. The improvement is noticeable, but it's not enough to make this into a good movie. Also with Graham Greene, Gil Birmingham, Chaske Spencer, Rachelle Lefevre, and Dakota Fanning.
2012 (PG-13) Unintentionally funny, this latest piece of disaster porn by Roland Emmerich stars John Cusack as a hack sci-fi writer trying to move his family to a safe place when earthquakes and tsunamis kill off more than 99.99 percent of the Earth's population. The filmmakers barely try to come up with a scientific explanation; they'd much rather show L.A. dropping into the ocean and St. Peter's Basilica crushing a bunch of worshippers in Rome. The thing is, you can see all this in the film's trailer and TV spots without having to sit through 157 minutes' worth of weepy melodrama. With disaster flicks like these, the apocalypse can't come soon enough. Also with Chiwetel Ejiofor, Amanda Peet, Oliver Platt, Thandie Newton, Tom McCarthy, Liam James, Morgan Lily, Zlatko Buric, Beatrice Rosen, Chin Han, Osric Chau, Blu Mankuma, George Segal, Woody Harrelson, and Danny Glover.
Where the Wild Things Are (PG) Spike Jonze and scriptwriter Dave Eggers strip down Maurice Sendak's beloved children's book to its emotional essence and then gracefully expand it into a series of adventures about a kid (Max Records) discovering that he's not the center of the universe. Sendak's mythical beasts are rendered beautifully by Jim Henson's workshop and given extraordinary expressive range, and the fake-documentary filmmaking style gives the movie an unnerving tinge of reality. The result is a sweet, bleak fantasy full of blunt truths about families that traces a goofy, scary, and poignant arc. Also with Catherine Keener and Mark Ruffalo. Voices by James Gandolfini, Catherine O'Hara, Forest Whitaker, Paul Dano, Lauren Ambrose, and Chris Cooper.
Zombieland (R) Terrifically funny postapocalyptic movie stars Jesse Eisenberg as a paranoid shut-in who teams up with a redneck (Woody Harrelson) and two sisters (Emma Stone and Abigail Breslin) to survive after most of the world's population is turned into zombies. Director Ruben Fleischer and writers Rhett Reese and Paul Wernick manufacture tons of gags centered on rules to live by in a zombie world and creative ways to kill zombies. Encouragingly, the jokes don't stop during the movie's few zombie-free stretches, and the actors know how to play this tricky material. (Eisenberg's beta-male neuroses are much more amusing in this context than in The Squid and the Whale.) A fiercely original and funny debut for these brilliant comic filmmakers. Also with Mike White, Amber Heard, and Bill Murray.
DALLAS EXCLUSIVES:
Antichrist (NR) Lars von Trier's horror film stars Willem Dafoe and Charlotte Gainsbourg as a couple who descend into madness while vacationing at a secluded cabin in the woods.
Coco Before Chanel (PG-13) Audrey Tautou stars in this biography of the French fashion giant, written and directed by Anne Fontaine (The Girl From Monaco). Also with Alessandro Nivola, Emmanuelle Devos, Benoît Poelvoorde, Marie Gillain, and Régis Royer.
Gentlemen Broncos (PG-13) The latest comedy by Jared and Jerusha Hess (Napoleon Dynamite) stars Michael Angarano as a teen science fiction fan who discovers that his idea for a story has been stolen by a famous washed-up novelist (Jemaine Clement). Also with Jennifer Coolidge, Josh Pais, Héctor Jiménez, Mike White, and Sam Rockwell.
The Messenger (R) The closing night selection at the Lone Star Film Festival, Oren Moverman's drama stars Woody Harrelson and Ben Foster as two soldiers assigned to inform civilians that their loved ones have been killed in Iraq. Also with Samantha Morton, Jena Malone, Eamonn Walker, Yaya DaCosta, and Steve Buscemi.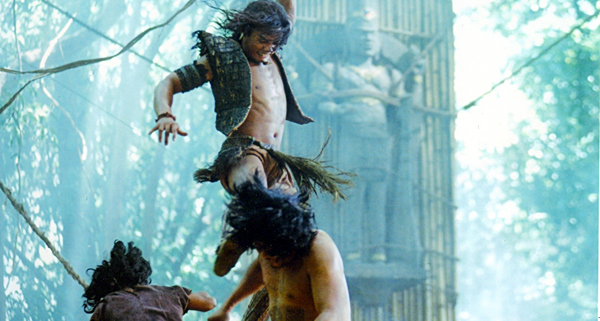 Ong Bak 2: The Beginning (R) Tony Jaa stars in the prequel to his 2003 martial arts hit as a young warrior in medieval Thailand who discovers the discipline of Muay Thai. Also with Sorapong Chatree, Sarunyu Wongkrachang, Nirut Sirichanya, Santisuk Promsiri, and Dan Chupong.
A Serious Man (R) The Coen brothers' latest film stars Michael Stuhlbarg as a physics professor in 1960s Minnesota whose life suddenly falls apart. Also with Richard Kind, Sari Lennick, Fred Melamed, Aaron Wolff, Adam Arkin, Jessica McManus, Peter Breitmayer, David Kang, Amy Landecker, George Wyner, Michael Lerner, and Fyvush Finkel.