With an author's love of wordplay and keen eye for gritty details, 26-year-old Eaton Lake Tonics frontman Tony Ferraro draws inspiration from "dude-lit," writers such as Charles Bukowski, Jack Kerouac, and John Fante. Whether Ferraro is floating into the sunset and arriving "at the coast of milk and granite" or crooning about Jesus "bleeding dry with his dead and golden eyes," the singer-songwriter offers up symbolic prose that paints bizarrely evocative and powerful scenes.


He's captivated by all of the possibilities inherent in writing about different characters. It's a passion that serves some of the best tracks on his band's new album, Rancho Folly IV.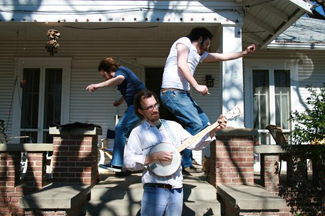 Ferraro moved to Fort Worth from his North Dallas birthplace when he was 8, sliding from one town to the next in the Mid-Cities with his parents and two younger brothers. Half Italian and all Catholic, Ferraro grew up with religion. But eventually his family quit attending church, and Ferraro began to see religion as "full of more questions than answers."
At 14, he got a job at a Domino's Pizza and became quick friends with a co-worker, future ELT bass-player David Howard. With the new friendship came this "thing," something foreign and new: old-school-ish punk rock. Ferraro had never heard anything like it before. Propagandhi, Face to Face, Jawbreaker, NOFX – these strange men writhing in perverse pleasure across stages and shouting throughout three-chord anthems became influential saints. The newly discovered genre had such an impact on Ferraro that its penchant for experimentation, spotlighting frayed edges (pickup squeals, crunching distortion), and rowdy sense of humor now feed the core of the Eaton Lake Tonics' melody-driven, alt-folk leaning, explorative indie rock.
Ferraro and Howard soon started a band. Named Feeler after the discarded original title of "Hell Above Stars Below" by The Toadies, the duo shared bills with the likes of Whiskey Folk Ramblers' drummer Trey Ownby and Chat Room co-owner Ben Rogers. Like most young bands, the group dissolved almost as quickly it formed. By 17, Ferraro had put down his guitar and picked up drugs. Partying more than he studied, Ferraro eventually dropped out of college by age 20.
Influenced by Howard, Ferraro continued educating himself after dropping out, devouring the works of literary fiction that now inform his songwriting.
Eventually, the two old friends began playing together again. Recruiting Jonathan Losasso on drums, Howard and Ferraro recorded the first Eaton Lake Tonics album in 2005. An uneven mix of rock 'n' roll and country, the work failed to establish the band's sound or identity.
Then Ferraro got serious. A year later, with an almost entirely different backing band, Ferraro and Howard recorded a new record: the "crybaby" opus, Long Arm Days. Soon ELT were playing the local scene two or three nights a week. That frequency, however, did more harm than good, Ferraro said. The group quickly found that it was oversaturating Fort Worth's indie market. Howard stepped back, while Ferraro went on. He recorded Eaton Lake Tonics' third full-length, Bernadina, in 2007. The band had essentially become a solo project. The moniker was maintained for the sake of longevity.
Now with the release of Rancho Folly IV – an allusion to John Fante's home, "Rancho Fante" – the Eaton Lake Tonics are more than just a name. With all three original members from the first album on board and with the addition of RTB2's Ryan Thomas Becker on guitar, ELT are a real band again. That much is obvious in the album's soaring production quality. In sprawling, fully realized indie-rock gems such as "John Fogerty" and in the rollicking, pop-conscious ambushes of "Barbara" and "Business Just Gets Bad," the Eaton Lake Tonics achieve a big, catchy sound without sacrificing any of the dynamics that make the music such a consistently rewarding return.
The album evolved over three recording sessions in Ferraro's home studio in Fort Worth. From basic elements written by Ferraro over the course of about two years, the songs were tightened and polished via a collaborative writing effort. All of the initial recordings were scrapped — they were too entrenched in the "lo-fi indie aesthetics" that had defined the band's previous releases, Ferraro said.
But the singer-songwriter sees challenge as part of the fun, which explains why seven of the album's songs came from Chat Room co-owner Brad Hensarling's nudging to write 10 songs in 10 days. It also might explain why a larger search for meaning, mainly through a changing cast of characters, persists in many of the lyrics.
Intent on capturing the kind of rambunctious live energy that demands feverish guitar-dueling and howling in pleasure at tempo changes, the group returned its original regular producer, Mark Hubal. In one week, the band quickly nailed down the album's tracks in the foyer of Hubal's window-tinting business in Watauga. Reconciling Ferraro's punk and classic-rock roots with his ambitions for a colossal, professional sound, Rancho Folly IV is the current high-water mark from a band whose potential continues to rise.
Ferraro also has already written nine new songs loosely based on John Fante's works. He's also back at school comparing the finer points of Hamlet to The Glass Menagerie. He's studying English every other semester at a local college to further his ambitions with the band. "We've had a lot of fun," said Ferraro with a sigh. "I don't really expect much to happen. I'm truly happy with the record."