OPENING: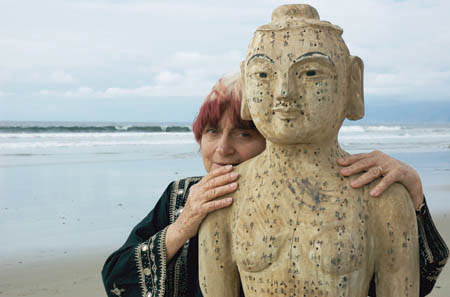 Beaches of Agnès (NR) An autobiographical documentary by French New Wave filmmaker Agnès Varda (One Sings, the Other Doesn't) looking back over her long career and life. (Opens Friday in Dallas)


Did You Hear About the Morgans? (PG-13) Hugh Grant and Sarah Jessica Parker star in this comedy as a Manhattan couple forced to hide out in Montana under the federal witness protection program. Also with Mary Steenburgen, Sam Elliott, Wilford Brimley, Dana Ivey, and Elisabeth Moss. (Opens Friday)
The Hurt Locker (R) Kathryn Bigelow's austere, nerve-jangling thriller is set in the thick of the Iraq war, but it's not about Iraq or even war in general so much as it is a character study of a U.S. Army bomb technician (Jeremy Renner) who likes the thrill of his job a bit too much. The occasional ridiculousness of Bigelow's earlier thrillers (Strange Days, Point Break) is absent from this muscular, stripped-down film, and the director gives individual character to each of the film's many action sequences. Renner fully inhabits his fundamentally unknowable character, evoking his mix of unflappable bravado and detail-orientation that makes him good at what he does. You walk out not knowing what makes the guy tick but feeling like you've gotten as much of an answer as you'll ever get. Also with Anthony Mackie, Brian Geraghty, David Morse, Christian Camargo, Guy Pearce, Ralph Fiennes, and Evangeline Lilly. (Re-opens Friday at AMC Grapevine Mills)
The Road (R) Every frame of this Cormac McCarthy adaptation trembles with grim nobility, but it flirts with so many different genres (sci-fi, disaster, art house, family drama, zombie flick) that it never develops an identity of its own. Viggo Mortensen stars as a lone man trying to get his young son (Kodi Smit-McPhee) to the coast in a post-apocalyptic world. The movie suffers from a terminal case of pretentious vagueness, and it feels dramatically rigged to make its characters crawl. The result is thin and disposable, an ambitious exercise in wheel-spinning. Also with Charlize Theron, Guy Pearce, Molly Parker, Garret Dillahunt, and Robert Duvall. (Opens Friday at AMC Grapevine Mills) – Jimmy Fowler
The Young Victoria (PG) Emily Blunt stars in this biopic detailing the first years of Queen Victoria's reign and her romance with Prince Albert (Rupert Friend). Also with Paul Bettany, Miranda Richardson, Jim Broadbent, Thomas Kretschmann, Jesper Christensen, Harriet Walter, Julian Glover, and Mark Strong. (Opens Friday in Dallas)
NOW PLAYING:
Armored (PG-13) Columbus Short stars as an Iraq war veteran-turned-armored truck security guard who turns against five of his colleagues after their plan to steal the $42 million that they're hauling goes awry. Director Nimród Antal (Vacancy) sketches in just enough character to keep us engaged while making effective use of the confined spaces: Much of the film takes place in an abandoned warehouse, and Short's character spends much of his time locked in a truck. It adds up to a diverting, unpretentious throwaway thriller. Also with Laurence Fishburne, Matt Dillon, Jean Reno, Skeet Ulrich, Amaury Nolasco, Milo Ventimiglia, and Fred Ward.
The Blind Side (PG-13) A Hollywood movie where most of the heroes are dyed-in-the-wool Southern Republicans, though that's the only non-cliché worth mentioning in this otherwise rote football drama based on the true story of Michael Oher, the homeless African-American teen taken in by a rich white family in Memphis and turned into an NFL-caliber left tackle. Sandra Bullock nicely underplays the role of family matriarch, which could easily have been overdone. Newcomer Quinton Aaron, though, isn't up to scratch as Oher, and writer-director John Lee Hancock leaves out too many details from Michael Lewis' book, turning an amazing story into a bland Hollywood product, without any of the uplift that he's aiming for. Also with Tim McGraw, Lily Collins, Jae Head, Ray McKinnon, Kim Dickens, and Kathy Bates.
The Boondock Saints II: All Saints Day (R) Remember all those third-rate Pulp Fiction-wannabe movies that came out in the mid-1990s? Yeah, Troy Duffy is still making them. Sean Patrick Flanery and Norman Reedus reprise their roles in this sequel to the 1999 cult thriller as Irish brothers and hit men who return to Boston to clear their names after they're implicated in a murder. The dialogue, acting, and editing are uniformly awful, and the movie's filled with unpleasant gay jokes. The humorous interludes fall flat, while the serious moments frequently prove to be unintentionally funny, a truly awe-inspiring achievement in bad moviemaking. Also with Billy Connolly, Julie Benz, Clifton Collins Jr., Judd Nelson, Peter Fonda, and an uncredited Willem Dafoe.
Brothers (R) Jim Sheridan's drama stars Tobey Maguire as a U.S. Marine who's taken hostage in Afghanistan, while his wife (Natalie Portman) and ex-con brother (Jake Gyllenhaal) try to move on after being mistakenly told that he's been killed. This starry cast can't match the raw power of the similarly titled 2005 Danish movie on which this film is based. Still, Maguire and Gyllenhaal are well-matched as brothers, and Maguire in particular is terrific as the family's responsible sibling in the first half and then as a violent, unstable, psychologically traumatized soldier in the latter scenes. For those who haven't seen the Danish film, this is a fair substitute. Also with Sam Shepard, Clifton Collins Jr., Mare Winningham, Ethan Suplee, Bailee Madison, Taylor Geare, and Carey Mulligan.
A Christmas Carol (PG) After so many different versions of Charles Dickens' story, what does Robert Zemeckis' latest animated version have to add? Not much, although Jim Carrey makes a much better Scrooge than you'd think, and the ghost of Jacob Marley (voiced by Gary Oldman) is rendered in truly horrifying fashion. The motion-capture animation (better than it was in The Polar ExpressBeowulf) still distances you from the emotions in the story, and the straightforward retelling underscores the flimsiness of Dickens' original material. Technically accomplished as this is, it's hard to warm up to. Additional voices by Robin Wright, Bob Hoskins, Daryl Sabara, Cary Elwes, Lesley Manville, Fionnula Flanagan, and Colin Firth. and
Couples Retreat (PG-13) A depressing comedy, because it ends with four couples together but leaves you feeling that two or three of them would have been better off apart. Vince Vaughn and Jon Favreau co-write and co-star as part of a party of eight roped by their married friends (Jason Bateman and Kristen Bell) into taking part in a retreat where they work on their issues at an island resort. Much stale business ensues about New Age therapy, midlife crises, seven-year itches, and overworked professionals. Vaughn and Favreau have better chemistry with each other than any of the actors who play couples do, but the Swingers guys can't save this mirthless exercise. Also with Kristin Davis, Malin Akerman, Faizon Love, Kali Hawk, Tasha Smith, Peter Serafinowicz, Carlos Ponce, Jean Reno, John Michael Higgins, and Ken Jeong.
Everybody's Fine (PG-13) Robert De Niro actually gives a decent performance as a recently widowed retiree who impulsively decides to travel the country to pay unannounced visits to each of his grown children (Drew Barrymore, Kate Beckinsale, and Sam Rockwell). A remake of a similarly titled 1990 Italian film, this is being sold as a cheery family comedy but is actually a bittersweet meditation on parents' expectations for their kids. There are parts of this that really don't work, like the climactic hallucination where all of the family secrets are revealed. The movie suffers by comparison with the similar Up in the Air, but this drama with enough unconventional hooks to keep you engaged is a creditable example of the sort of movie that Hollywood has largely stopped making. Also with Melissa Leo, James Frain, Lucian Maisel, Ben Schwartz, Brendan Sexton III, and Katherine Moennig.
The Fourth Kind (PG-13) Purportedly based on a true story that no one can verify, this sci-fi/horror flick stars Milla Jovovich as a psychiatrist who uncovers harrowing similar tales among her sleep-research subjects about being abducted by aliens. The film is augmented by videotaped footage of the "real" sessions alongside re-enactments of those sessions. The fake documentary stuff is far more effective than the wretched dramatics. You wonder why writer-director Olatunde Osunsami didn't do the whole movie like a fake documentary. The film occasionally attains the skin-crawling power that it's aiming for but not often enough. Also with Elias Koteas, Will Patton, Hakeem Kae-Kazim, Enzo Cilenti, and Corey Johnson.
Invictus (PG-13) One of the 20th century's great leaders deserved a better movie than this sluggish, fatally reverent drama about Nelson Mandela (Morgan Freeman) and how he helped unite South Africa by throwing his support behind the national rugby team in 1995. The script focuses so much on the political calculations that, for all its attempts to portray Mandela's fractured family life, the leader never comes off fully as a human being. This inspirational sports story plays to precisely none of Clint Eastwood's strengths as a director. He does a decent job filming the rugby sequences, but he's never been a filmmaker to rouse audiences from their seats in jubilation. His failure to do so here turns the movie into a museum piece. Also with Matt Damon, Tony Kgoroge, Patrick Mofokeng, Matt Stern, Julian Lewis Jones, Adjoa Andoh, and Leleti Khumalo.
Law Abiding Citizen (R) Gerard Butler's acting is getting worse and worse. He hams his way amateurishly through this sadistic thriller as a government spymaster who turns his fury on the justice system – one assistant D.A. in particular (Jamie Foxx) – after a plea bargain sets his family's killers free. The bad guy's hypercompetency isn't fully explained by the big revelation near the end, and F. Gary Gray directs this like the latest installment of Saw when he should be keeping things light and witty. His lugubrious manner just exposes the rottenness at the heart of this exercise and lets the bad taste build up. Also with Colm Meaney, Bruce McGill, Leslie Bibb, Regina Hall, Michael Irby, Emerald-Angel Young, Annie Corley, and Viola Davis.
The Men Who Stare at Goats (R) This amusing war film stars Ewan McGregor as an American reporter in Iraq who meets an ex-soldier (George Clooney) claiming to have gained psychic superpowers – and to have once killed a goat with his thoughts – after being trained by a secret U.S. military unit. First-time director Grant Heslov gets tripped up by the flashback-laden structure of the script (based on a book by Jon Ronson). However, Heslov nicely manages the tone, mixing the seriousness of the characters' predicament with the absurdity of the former soldier's unreliable recollections. It all adds up to an entertaining shaggy-dog story, though the scene with one soldier on acid shooting up an Army base is an unfortunate coincidence. Also with Jeff Bridges, Kevin Spacey, Stephen Lang, Robert Patrick, Waleed Zuaiter, and Stephen Root.
Ninja Assassin (R) An animated musical about talking dogs who want to perform on American Idol – wait, no, it's a thriller about a ninja (Korean pop star Rain) who turns against his clan after they kill the girl he loves. Director James McTeigue (V for Vendetta) stages some acceptable action sequences, but you have to wade through some heavy-handed dramatics, wretched acting, and laughable attempts at Eastern philosophy to get to them. A real ninja would have edited this film with a lighter touch. Also with Naomie Harris, Randall Duk Kim, Shô Kosugi, Rick Yune, Sung Kang, Stephen Marcus, and Ben Miles.
Old Dogs (PG) Let's see, um, "These old dogs need to learn some new tricks!" No, that's wrong. "Like an old dog, this movie should be put down." How about, "This movie stinks so bad, it should be called Wet Dogs." Wait, I've got it: "Gaaah!" Yes, that's the right reaction to this idiotic, overacted, borderline racist, soul-killingly terrible comedy starring John Travolta and Robin Williams as business partners who are informed of the existence of the latter's seven-year-old twins (Conner Rayburn and Ella Bleu Travolta) after their mother (Kelly Preston) shows up to dump the kids in their laps for two weeks. The slapstick bits here are carried off joylessly, uninventively, and with relentless contempt for any scrap of intelligence you might have. Also with Seth Green, Matt Dillon, Lori Loughlin, Amy Sedaris, Rita Wilson, Ann-Margret, and the late Bernie Mac.
Planet 51 (PG) For once the Earthlings aren't plundering an alien planet and running roughshod over the natives. In this animated film, a buffoonish lone astronaut (voiced by Dwayne "The Rock" Johnson) lands on a planet of green-skinned creatures that hunt him down because they're paranoid and not terribly bright. Sadly, that's the only subversive note in this weak, derivative piece in which the aliens speak English and live in a place like 1950s America, for reasons that are never explained. There are much better options out there for family entertainment. Additional voices by Jessica Biel, Justin Long, Seann William Scott, Gary Oldman, and John Cleese.
Precious: Based on the Novel Push by Sapphire (R) Not as good as the hype, but there's enough truth to the hype to make this film worth checking out. Gabourey Sidibe portrays a fat, illiterate 16-year-old schoolgirl in Harlem who's been repeatedly raped by her now-absent father and abused physically by her mother (Mo'Nique). Director Lee Daniels embraces the filth and squalor of the setting but also plays off it with some skillful fantasy sequences that Precious uses to cope. The film is obvious, skirts a bevy of economic and practical issues, and gives Precious her deliverance too easily. Yet it also has a terrific performance by Mo'Nique as a monster with understandable motives, and it's willing to challenge the audience with its depiction of poverty rather than gently washing over it. Also with Paula Patton, Sherri Shepherd, Stephanie Andujar, Chyna Layne, Amina Robinson, Angelic Zambrana, Lenny Kravitz, and Mariah Carey.
The Princess and the Frog (PG) Much has been made of this being the first Disney film with an African-American heroine, but really this is no different from the animated musicals that the studio put out in the 1990s. Therein lies the problem. The main character (voiced by Anika Noni Rose) is a waitress in 1920s New Orleans who's transformed into a frog after kissing a similarly froggified prince (voiced by Bruno Campos). The story is filled out by predictable slapstick and supporting characters, plus a batch of Randy Newman songs that imitate jazz, Tin Pan Alley, and zydeco to undistinguished effect. Some bright voice acting can't disguise the lack of imagination here. Additional voices by Keith David, Michael-Leon Wooley, Jennifer Cody, Jim Cummings, Jenifer Lewis, Terrence Howard, John Goodman, and Oprah Winfrey.
The Twilight Saga: New Moon (PG-13) They changed directors for the sequel, yet the flaws from the original remain: This vampire film is still poorly paced and edited, the special effects are still subpar, and the romanticism here is still absurd rather than sublime. Kristen Stewart returns as a high-school girl who falls in with a Native American boy (Taylor Lautner) and his clan of werewolves after her vampire boyfriend (Robert Pattinson) leaves her. The new film is intentionally funnier, several of the supporting actors click into their roles (Ashley Greene, Billy Burke, Anna Kendrick), and Michael Sheen adds a nice dainty performance as a vampire overlord. The improvement is noticeable, but it's not enough to make this into a good movie. Also with Graham Greene, Gil Birmingham, Chaske Spencer, Rachelle Lefevre, and Dakota Fanning.
2012 (PG-13) Unintentionally funny, this latest piece of disaster porn by Roland Emmerich stars John Cusack as a hack sci-fi writer trying to move his family to a safe place when earthquakes and tsunamis kill off more than 99.99 percent of the Earth's population. The filmmakers barely try to come up with a scientific explanation; they'd much rather show L.A. dropping into the ocean and St. Peter's Basilica crushing a bunch of worshippers in Rome. The thing is, you can see all this in the film's trailer and TV spots without having to sit through 157 minutes' worth of weepy melodrama. With disaster flicks like these, the apocalypse can't come soon enough. Also with Chiwetel Ejiofor, Amanda Peet, Oliver Platt, Thandie Newton, Tom McCarthy, Liam James, Morgan Lily, Zlatko Buric, Beatrice Rosen, Chin Han, Osric Chau, Blu Mankuma, George Segal, Woody Harrelson, and Danny Glover.
DALLAS EXCLUSIVES:
Me and Orson Welles (PG-13) Richard Linklater's adaptation of Robert Kaplow's novel stars Zac Efron as an aspiring actor who falls in with Welles' theatrical troupe in the 1930s. Also with Claire Danes, Christian McKay, Ben Chaplin, Zoe Kazan, Saskia Reeves, Eddie Marsan, and Kelly Reilly.