Four men who played pivotal roles in the creation of Texas are being honored in a one-of-a-kind exhibit at the Stockyards.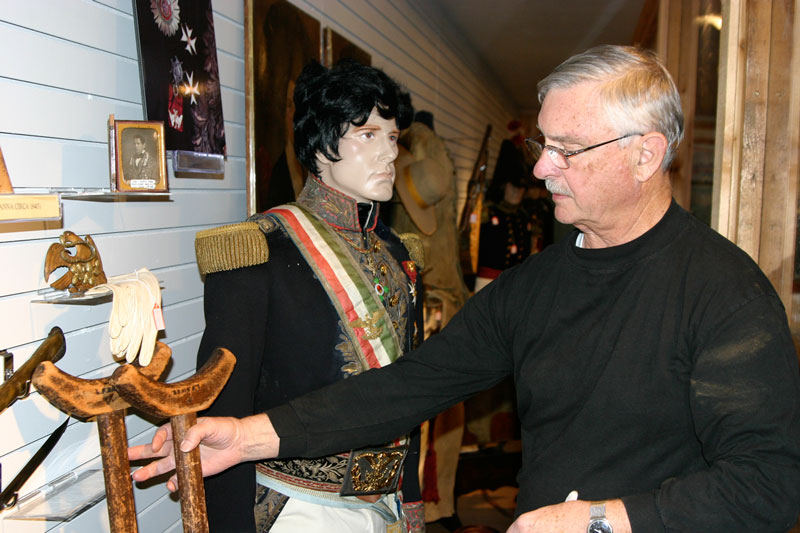 The 1830s and '40s were a remarkable era in this part of the world. Texas went from being a Mexican state to an independent republic to being annexed into the United States during that time. And the men who were knee-deep in this revolution and evolution, waving swords and making history, included Fort Worth founder and U.S. Army Maj. Ripley Arnold, Col. John Coffee Hays and Capt. Sam Walker of the Texas Rangers, and Mexican President and Gen. Antonio Lòpez de Santa Anna.
A new exhibit at the Texas Cowboy Hall of Fame in the Stockyards offers a startling array of these four men's personal belongings, clothing, weapons, and photos. Many of the artifacts, hidden away for decades, belong to Dallas-based historic collectors Wes Clark and Shirley and Marvin Applewhite.
"We wanted to get [the collection] out so we could see it all," said Marvin Applewhite. "It makes a good slice of Texas history."
Some items haven't been shown in public since the 1936 Texas Centennial Exposition at Dallas' Fair Park.
"It's one of the most exciting things we've had here in Fort Worth," said local historian and Tarrant County Historical Commission member Clara Ruddell. "Who else has such a Texas exhibit? Look what's in there. Nobody else has anything with Santa Anna in their museum."
The exhibit also marks the culmination of a years-long effort to display the Arnold artifacts, including two of his Army uniforms and an engraved sword, in the city that he is credited with founding. Fort Worth's most influential pioneer has been conspicuously absent from the city's various museums over the years because so few of his belongings still exist.
Two years ago, Fort Worth Weekly reported on attempts to bring the Arnold artifacts to the public eye ("What's it Worth to Save the Fort?" Nov. 21, 2007). Snags, disputes, money issues, bickering over provenance, and problems in finding a suitable place to display the artifacts have kept the collection under wraps until now. But the Cowboy Hall of Fame stepped up, a grant from a local business paid for new display cases, and the collection finally found a home.
And what a collection it is. Some of the more interesting items include an engraved sword given by Catherine Arnold to her husband, Ripley, on their wedding anniversary in 1852; a buckskin outfit worn by Hays, the most celebrated of all the Texas Rangers; and a Bowie knife and canteen owned by Walker.
The Santa Anna artifacts include a war chest and the hand-carved wooden crutches that the Mexican general is believed to have used after losing a leg in battle.
Local author and historian Rick Selcer has viewed much of the collection and said that while he enjoyed seeing the relics, what captivated him most are the daguerreotype images of the men. The first chapter of Selcer's 2009 book Fort Worth Characters is devoted to Arnold and features a reprint of the daguerreotype from the Applewhite-Clark collection.
"When I think of a collection, I think of the documents and images first, because that is what I'm most interested in as a historian," he said. "Anybody interested in 19th-century photography or Texas historic figures ought to go look at it."
The Applewhite-Clark Historical Collection
Opening 10am Thu at the Texas Cowboy Hall of Fame, 128 E Exchange Av, FW. $3-5. 817-626-7131.