Having curtailed its season for budgetary reasons, Metropolitan Classical Ballet makes its only public appearance in Tarrant County this weekend, performing The Nutcracker through Sunday in Arlington.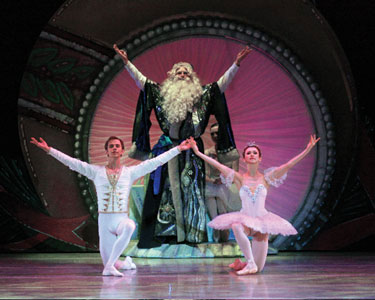 The company has already performed the Christmas classic for more than 10,000 area schoolchildren and completed a two-weekend run in San Antonio accompanied by the San Antonio Symphony.
The production has been staged by co-artistic director Alexander Vetrov, and company regular Marina Goshko will dance the Fairy Doll (as the Sugar Plum Fairy is called here). Her prince will be Andrey Prikhodko. Recorded music will be used.
Meanwhile, Texas Ballet Theater continues its run of The Nutcracker in Bass Performance Hall — with one oddity. See: Sunday's Night & Day blurb.
– Leonard Eureka
Metropolitan Classical Ballet's Nutcracker runs Fri-Sun at Texas Hall, University of Texas-Arlington, 701 W Nedderman Dr, Arlington. Tickets are $10-30. Call 817-275-0598.
Texas Ballet Theater's Nutcracker runs thru Dec 24 at Bass Performance Hall, 525 Commerce St, FW. Tickets are $19-99. Call 817-828-9200.