With Houston Mayor Bill White in the Democratic race for governor, humorist/author Kinky Friedman has shifted his attentions to the race for agriculture commissioner.
And he'll have an opponent in the primary – Hank Gilbert, who made the same governor-to-ag commissioner switch. Gilbert lost to Republican Todd Staples for ag commissioner in 2006.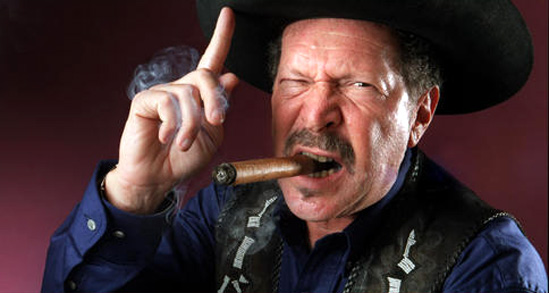 Kinky the populist may sell better for ag commissioner than Kinky for governor.
With his ever-present cigar, black mustache, and man-in-black cowboy duds and hat, the Kinkster looks like a cross between Johnny Cash and Groucho Marx. Given the history of the ag commissioner's office, he might fit right in.
Holders of that office have included a former Air Force pilot, a tall woman rancher/novelist, the guy who stuck his hand in a fire ant mound, another who advised Texans to eat jackrabbits, and a writer/entertainer whose cowboy hat was white.
The Texas Legislature created the office in 1907. The first ag commissioner, appointed until the 1908 election could be held, was Robert Teague Milner, who quit to become president of Texas A&M University.
After three more ag commissioners (including the jackrabbit guy) freshman State Rep. James E. McDonald won the open job in a 1930 Democratic runoff (before Republicans mattered). Although elected as a Democrat on the eve of the Great Depression, McDonald opposed the New Deal, President Franklin D. Roosevelt, and crop supports, and he endorsed Republicans over Democrats like FDR and Harry Truman.
After a record 20 years, McDonald was challenged by John C. White, 25 – as loyal a Democrat as McDonald wasn't. White, who picked cotton as a kid, joked later that the ag job appealed to him because it was "indoor work with no heavy lifting."
White said new blood was needed – but a few terms later said experience was key. In his 27th year in office, White was named deputy secretary of agriculture by Democratic President Jimmy Carter in 1977. White later chaired the Democratic National Committee.
After 47 years with just two ag commissioners, the turnover pace picked up. When White vacated, Gov. Dolph Briscoe appointed his agricultural aide Reagan Brown to the job. Brown won election in 1978.
But populist and humorist, Texas Observer editor, and anti-big ag author Jim Hightower, seldom seen without his white straw hat, challenged Brown in 1982. In that race, Brown inadvertently helped Hightower by 1) sticking his hand in a fire ant mound for reporters, on purpose, on TV, and getting stung 32 times; and 2) referring in a speech being recorded by WFAA-TV/Channel 8 to renowned agricultural educator Booker T. Washington as that "great black nigger."
Oops. "I mean, the black, uh, educator," he stammered. Damage done. Various groups withdrew their endorsements of Brown, and Hightower won with almost 60 percent of the vote.
Enter the Republicans. In 1990, State Rep. Rick Perry, then a Democrat, switched parties and ran against Hightower, who had drawn the ire of the agricultural establishment.
Hightower, who had strongly hinted at a run for the U.S. Senate seat held by Republican Phil Gramm in 1990, instead at the last minute chose to seek re-election. Hightower also had clasped hands aloft in much-photographed endorsement of African-American Jesse Jackson for the Democratic presidential nomination in 1988.
Hightower bought no ads on what he called "the electric TV," while Perry,  coached by Republican guru Karl Rove,  spent $400,000. Perry won by more than 44,000 votes.
Perry, a pilot, spent much of his ag commission tenure flying around Texas making appearances, and in 1998, after staring down multimillionaire David Dewhurst, became the first Republican lieutenant governor since just after the Civil War.
Perry's successor as ag commissioner was another former legislator, Republican Susan Combs of Austin, whose family owns a West Texas ranch. After eight years, she was elected state comptroller. Her successor, Staples, a former state sentator, is seeking re-election.
Whether Kinky can win the Democratic nomination, much less a general election in what is considered a "red" state, remains to be seen. Some Dems are still mad at him for running for governor as an independent in 2006, which they figure helped re-elect Perry.
Kinky, who considers Hightower his political mentor, no doubt will continue to market his books, cigars, and salsa on the campaign trail. And he probably will stay with the slogan the late Molly Ivins gave him for that 2006 governor's race:
"Why the hell not?"
Jackrabbit, anyone?
Veteran Texas political writer Dave McNeely can be reached at davemcneely111@gmail.com.