Chances are if you're reading this column, you at least appreciate local music and musicians (and maybe artists in general). You probably won't mind then if I put out a call for the safe return of a guitar recently stolen from a local musician: Until it was heisted from in front of his
North Arlington house
last weekend,
Jordan Mycoskie's Seagull acoustic guitar
was rarely seen far from the Texas rock 'n' roller's body.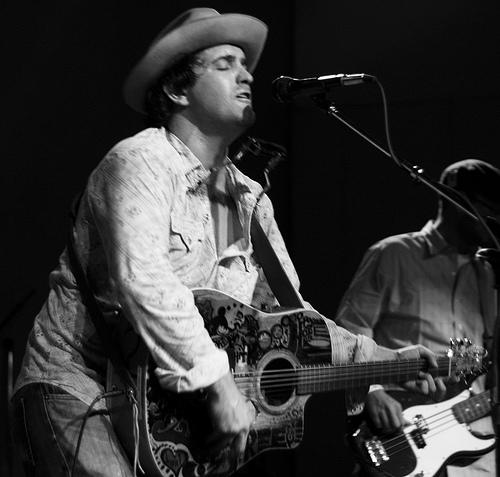 He had been playing and loving it for nearly
10 years
— and the instrument looks every bit its age. A friend had stepped through the back of guitar, and
Speedtrucker Josh Davis
once sat on it and broke the neck. But Mycoskie never ditched the thing. Instead, he had it repaired (and repaired and repaired) and, to cover up some of the scars, began drawing all over the body with a
Sharpie
. The designs, he told
Weekly
staff writer Jeff Prince, "kind of grew like a tattoo — I just started doing it, and it became addictive." The guitar also is unique for having an
L.R. Baggs pickup
, an unusual contraption that runs on
two 9-volt batteries
. Mycoskie, who has spent "a ton" on repairs, according to Prince, just wants his priceless guitar returned, no questions asked. "I kick myself when I think about leaving it in the car," he told Prince. "I never do that. I wasn't feeling good." He had performed for hours at a private party earlier in the evening. "I just went in and went to bed," he said. "Like an idiot, I left [the guitar] in my car. It just kills me. I had one guitar before [my Seagull], but after that, it's pretty much the only guitar I played." Check out photos of Mycoskie's beloved instrument at
www.jordanmycoskie.com
. If you have any info, please call him at
817-991-9163
. … Let his story be a cautionary tale. I've noticed an increase in the amount of stolen equipment over the past few months. From now on, I'll do my best to broadcast information about missing stuff here in my column and on our blog,
Blotch
. What would also be really helpful is a photograph of the purloined goods — the owner or owners should also probably be in the photo. If you haven't already, take pictures of all of your gear and store them in a safe place. You'll also want to document the serial numbers, naturally. Thanks. … Before embarking on a small tour through
Washington
,
D.C.
,
New York City
, and parts of
Missouri
,
Naxat
will perform at
1919 Hemphill
on the
South Side
(817-920-9665) on
Saturday
, the day after Christmas, "also known as the worst day to have a show in general," according to Naxat mastermind
Alex Atchley
. Joining him on the bill will be
Denton
's
A Smile Full of Ale
and acoustic
Arlington
space cadet
Star Commander
(a.k.a.
Christian Medrano
). Atchley has added a 15 minute-long "sound collage" to his most recent recording, the
Tree Tunnel
EP, transferred all of the tracks to cassette, and made
50 copies
. He'll be selling them at the show for an as-yet-unnamed price. The
Tree Tunnel
is still available for free download at
http://hotdogstorm.com/naxat
.
Contact HearSay at hearsay@fwweekly.com.