A Tommy Alverson live performance with his band at a smoky dancehall is something to see as well as to hear. Alverson's die-hard fans get juiced up, sing, heckle, laugh, holler requests, and generally have a noisy boot-scootin', buckle-polishin', Cuervo-sipping good time. Dragging Alverson into the mix is half the fun, so they send longnecks and shots to the stage to help their musical pied piper get happy feet as well.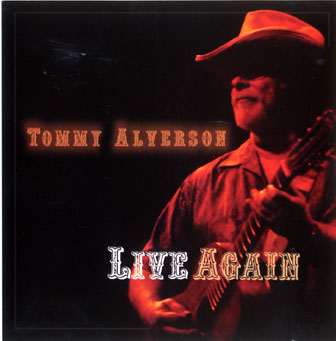 Alverson, well into his 50s, notes in his song "Pretty Boys" that up-and-coming artists aren't going to last long by doing shots all night. Alverson might need to heed his own advice. But I'm not here to lecture on liver disease. Truth is, Alverson's bent for beer, whiskey, honkytonks, and roots music makes for a magical evening, and that enchantment comes streaming through the speakers when listening to Alverson's latest, Live Again.
Recorded at Pearl's Dance Hall & Saloon in the Fort Worth Stockyards, Live Again offers an eclectic trip through Alverson's set list of cover material. Vintage honkytonk is represented by "Anytime, Anywhere," a remake of Doug Sahm's "Texas Me," and "Let Me Go Home Whiskey." Alverson also covers Merle Haggard's overlooked "30 Again," Bob Dylan's "Tonight I'll Be Staying Here With You," Townes Van Zandt's "Pancho & Lefty," and a stirring version of Michael Martin Murphey's "Southwestern Pilgrimage" featuring some of Alverson's best vocal work.
A couple of originals get tacked on at the end – "Fallin' Off A Log" and a ghost track of "Pretty Boys" – but this album is about Alverson and his excellent road band taking on Americana gems written by hallowed mentors. It's a trip well worth hearing.