It's one of the oldest stories in music: Local boy grows up singing and playing guitar in talent shows, coffee shops, and church camps, then attempts to parlay talent and ability into becoming something more than just another dude with a guitar on the local bar circuit. But instead of finding easy stardom, the guy discovers that, well, making music is hard work.


Joey Green knows. The cherubic, slightly punk-looking 27-year-old began singing at age 12 along with a karaoke machine and at 13 graduated to playing guitar. He grew up in Crowley among some diverse musical influences. "My sister was rebellious, into Radiohead and Nirvana," he said. "My dad fed me Conway Twitty."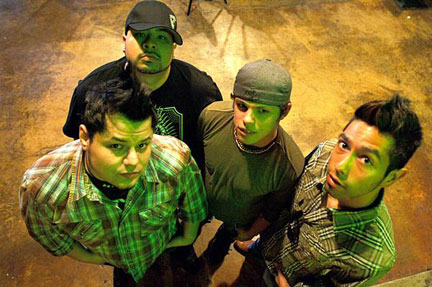 College wasn't in the cards. In the summer of 2004, a couple of years removed from high school graduation, Green and his band at the time released his debut album, Outside the Circle. He chose the title to reflect the overall local music scene at the time. "There were certain groups that ran together," he said. "And we were kind of outside." Though mostly rock, the CD somehow got lumped in with Texas Music albums, perhaps because Green was a fixture on the Stockyards circuit.
His band's next album, 2008's Vinyl Destination, was more soaring Eagles-like harmonies and charging guitar riffs — and more confusion. No one knew what to do with the single "Blue Jeans," a Beach Boys-influenced summertime ditty. Was it country? Was it rock? Who knew. Without radio play or record promotion, the band crumbled.
When records aren't moving, one of two things likely happens: The main man either gets a day job or starts expanding his music workload. In Green's case, he dived further into music. He has played guitar for a few locals, most notably up-and-coming Red Dirt singer-songwriter Austin Allsup. Green also produced Saginaw native Ryan McBride's debut CD, Quicksand, last year and will produce the debut of Weatherford singer-songwriter VanDarien (a.k.a. Vanessa Bussey). Green also hosts two acoustic shows: one on Tuesday nights at The Eagle's Nest Sports Bar/Restaurant near Eagle Mountain Lake; the other at R Bar in Denton on Mondays. "I do acoustic stuff so I don't have to work," he said. "I'm the only one in the band without a day job."
Being a sideman and not the guy in charge has given Green a fresh perspective, he said. Sometimes it's nice to just be in a band and not feel responsible for every note from every instrument. Besides, he said with a smile, "Guitar is the only cardio I do."
Though Vinyl Destination didn't catapult Green to stardom, the album sold well enough, and between that and his part-time gigs, Green was able to pay for the recording of his next and most recent album, Whatever Lady?! Recorded last spring at Fort Worth Sound, the album is mainly a solo project — Green plays almost every instrument on the CD.
Originally meant to be a six-song EP, Whatever Lady?! is a collection of 10 tracks and two previously released songs. "This is stuff he'd wanted to do," said co-producer Bart Rose. "There were some things he needed to get off his chest."
The album swings all over the musical map. A lot of the material is semi-experimental and not radio friendly. Anyone expecting a dozen songs like the breezy "Blue Jeans" is in for a shock. "Heavy" is about an unplanned pregnancy, and "Roommates" is about trust-fund friends who mask serious drug addictions. "It's only going to be real music if you write about real stuff," Green said. "If you don't feel it, it ain't worth listening to."
The first single, "Natchitoches Blues," is a backwoods romp in which some unusual items, including cardboard boxes and hand drums, were used to establish the rhythm section. The second single is "Alone Tonight," a sweetly plaintive, jangly outing about a guy reminiscing over lost love after one beer too many.
In the studio, Green is less worried about the technical aspects of the music and more about nailing the emotions of the songs. "It's hard to capture the gestalt of music," he said. "The live show's what sells us."
He's right. The Joey Green Band now includes bass player Jakeb Hall and drummer James "Slim" Dunn, in addition to guitarist Noah Garcia, who's been with Green almost since the beginning. The band's live performances pack an alchemy that would be hard to recreate in any studio. Green and Garcia take turns chatting up the audience, and while Green plants himself firmly on stage, Garcia whirls around like a dervish. Along with material from Green's three CDs, the band also unearths some '70s chestnuts, pulling out some Credence and even a little AC/DC — bands that peaked before Green was even born.
In addition to his production work and acoustic-night hosting duties, Green also plans on spending more than half of 2010 playing shows here and all over.
Rose said, "There's no telling what he'll do next."
Joey Green Band
Sat at The Cavern, 1914 Greenville Av, Dallas. $6. 214-828-1914.