Waits has had quite an odyssey, from Troubador doorman to protégé of Frank Zappa manager Herb Cohen (who sponsored the recordings released as two volumes of The Early Years) to Eagles "Ol' 55" songwriter — lending boho cred to the '70s Asylum Records singer-songwriter stable — to his own apotheosis following his marriage to Kathleen Brennan and albums like Swordfishtrombones and Mule Variations. Like an unholy agglomeration of Kurt Weill, Captain Beefheart, and Ken Nordine, Waits' songcraft combines Bukowskian narratives of the passing scene with jaded romanticism and twisted blues sensibility.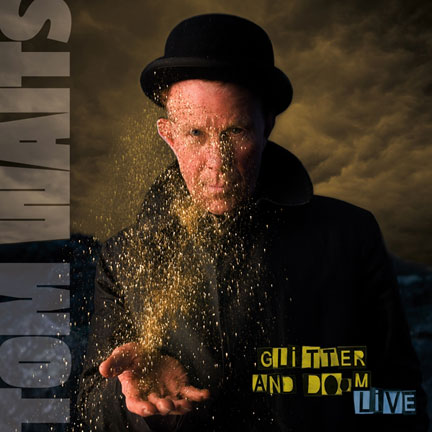 Glitter & Doom Live documents the tour that, for many, was the live event of 2008. My sweetie 'n' I chose to forgo Tom in favor of Boris at Rubber Gloves when the Waits caravan came to House of Blues in Dallas, even though Tom was an avatar of her personal salvation as a nonconformist teen in the Chicago 'burbs. It's a long way to these packed, plush venues from the live-in-the-studio saloon ambience of 1975's Nighthawks At the Diner, but Waits and his crack band — anchored by longtime bassist Seth Ford-Young and son Casey on drums — provide solid entertainment throughout.
It'd be difficult to surpass the artistic achievement of 2006's sprawling Orphans: Brawlers, Bawlers and Bastards, and Waits and Co. don't even try. Waits' brand of twisted cabaret has become a genre of its own, but he somehow manages to avoid self-parody here. While it was probably a tactical error to separate from the musical portion of the program his comedic spiel (included here on a separate disc, Tom's Tales, that you'll want to hear once), Waits can still say more with less voice than Dylan, Neil Young, or Lou Reed. And he does, bless him.