It would be wrong to call Words Project III Miniatures a "poetry-jazz" record. To many folks, that description evokes a '50s movie cliché of goateed beret-and-turtleneck wearers in a smoky basement, snapping their fingers to signify approval of some "Howl"-era Ginsberg caricature backed by stale bebop. What New York-based composer Sam Sadigursky's up to here is something entirely other. The phrase that pays is "art song." The record is as redolent of classical music as it is of jazz, while the vocalists' delivery and Sadigursky's setting produce a resolutely contemporary sound.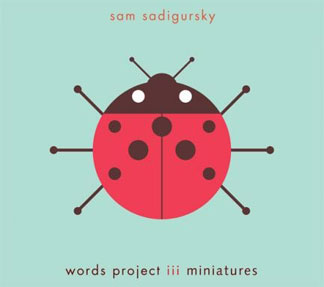 The previous installment, Words Project II, juxtaposed a Zappa-esque setting of a beauty pageant contestant's incoherent ramblings with a poignant reading of Langston Hughes' "The Dream Keeper." On Miniatures, Sadigursky and his collaborators — a brace of singers including Monica Heidemann and co-producer/multi-instrumentalist Michael Leonhart — focus on texts by Carl Sandburg, William Carlos Williams, Maxim Gorky, Kenneth Patchen, and Emily Dickinson, among others.
Vocalist-arranger Petra Haden's lovely album with jazz pastoralist Bill Frisell is evoked here, especially via the lush, gorgeous arrangements that adorn Sandburg's "Wistful," Sadi Panson-Polizzotti's "Now," and Patchen's chorale-based "Do Me That Love." Several other pieces evoke British art-rocker Robert Wyatt's stellar Comicopera. Incidentally, two of the album's finest vocal performances — Williams' "Danse Russe" and Gorky's "A Muzyke Tolstykh" — belong to Sadigursky, who's definitely a talent to watch.