Read the backstory on these guys, and you'll think they're superheroes. Paraplegic street musicians who tool around the streets of Kinshasa in the Democratic Republic of the Congo on custom-built motorized tricycles, the musicians of Staff Benda Bilili live by the city zoo and serve as mentors to and protectors of the city's street kids.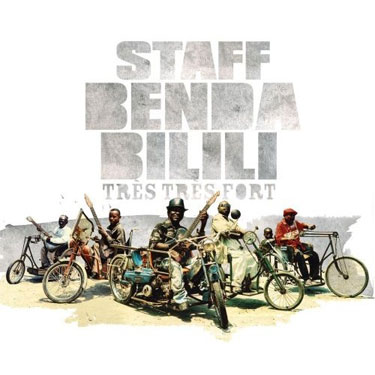 The band consists of four singer-guitarists, a rhythm section, and Roger, an ambulatory 17-year-old virtuoso who solos on a satonge, a one-stringed instrument that requires its player to bend a wooden bow to shift pitches — which Roger does with remarkable speed and accuracy. The main guys in the band are: founder Ricky, an entrepreneur and tough guy; lead songwriter Coco; and soprano vocalist Theo.
In their native Lingala, their name means "look beyond appearances." En français, their album title means "very, very strong," and they earn it. Their music's an eclectic stew that includes flavors from Cuban rumba – the opening "Moto Moindo (Black Man)" – which joins James Brown's "Say It Loud" and Peter Tosh's "African" at the pinnacle of pride anthems), reggae ("Sala Mosala"), and even doo-wop ("Sala Keba"), as well as the soukous sounds of Congolese masters Franco, Papa Wemba, and Tabu Ley Rochereau. Staff Benda Bilili's most compelling lyrics include "Polio," which encourages parents to vaccinate their kids, and "Tonkara (Cardboard)," about sleeping in the streets. Best moment here: "Je t'aime," which isn't the feelthy Jane Birkin/Serge Gainsbourg classic but rather an irresistible funk groove that communicates no matter what language you speak. Cop via www.staffbendabilili.com.