Jeez, everybody gets so freaked out about the "wind chill factor." That's all Chow, Baby heard last week: "Ooh, it's only 14 degrees outside – with the wind chill factor." "It's going to get down to 6 degrees tonight – with the wind chill factor." Where is this brutal wind you can't get away from? Are you up on one of Fort Worth's mountaintops, with gales whipping all around you? No, you're on a 10-second stroll from house to driveway, where the wind-shielded ambient temperature is a balmy high 20s. Pretend you live in Paris and throw on a chic scarf. Chow, Baby, meanwhile, is pretending that no one actually has to work outside in this weather, or wait at a bus stop, or will ever have car trouble on a semi-frozen road.


In fact, Chow, Baby, who works indoors except when patronizing taco trucks or patio seating, spent most of Freeze Week snuggled in its house, which the beloved, a native Northerner whom Chow, Baby adores anyway, insisted on sealing with plastic so the dreaded wind chill couldn't get us. (None too aesthetic, but it actually did make a big comfort-difference.) And when hunger did force Chow, Baby and its chic scarf to brave that 10-second exposure to high-20s temperature, it found itself drawn like a moth to places with "heat" in their very names.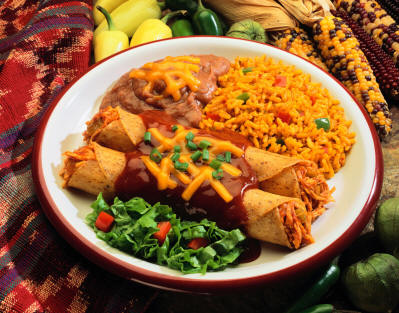 Salsa Fuego (3520 Alta Mere Dr.) opened about four months ago in a former KFC, more proof of Chow, Baby's theory that fabulous indies can flourish amid plastic, floor-anchored chairs. (In between, a purple-explosion Charley's Hamburgers operated for a few years.) Warm and friendly owner/cook/busboy Carlos grew up in El Paso, and you can see his multi-border influences in, for just one example, the New Mexico red chile sauce on your-choice-of-filling enchiladas ($4.99-7.99). Carlos whips up all his sauces to order; for that matter, everything on the menu is either made to order or has been simmering for hours. So you'll wait a minute or two for a side of guacamole ($1.89) or creamy zucchini-corn casserole ($1.99), but not for the astoundingly juicy and tender shredded brisket and spiced-up carnitas, all ready for their taco, torta, or burrito treatment ($4.99-5.99). Oddly, not much here is super-fuego; even Carlos' honey chipotle shrimp tacos ($2.89 each) are mellowed with mango sauce. Scoffing at the alleged outside temperature, Chow, Baby washed down every delicious bite with chilled melon agua fresca ($2.49).
On the other side of Cowtown, on Highway 10 in Euless, sits a small building outlined with red and white flickering lights that, from a distance, look like a big flame. It is, indeed, The Flame Steakhouse (3755 W. Euless Blvd.), and has been since 1964; Chow, Baby's first thought upon entering was, "This makes Arlington Steak House look upscale." It happened to be poker night (well, at least we missed karaoke night), and the accompanying chain-beer-drinking and chain-smoking action gave the small room quite the decrepit-neighborhood-bar feel. Dive-loving Chow, Baby thought it was wonderful, and in fact it only got better.
Ordering the top-priced "Flame Strip Steak" (10oz, $16.95) seemed like a very bad idea in a place like this, but what the hell. And what a nice surprise it was. Not what you'd call a prime piece of beef, but the meat had been given a red wine/garlic/black pepper bath and had been perfectly medium-rared on a flavor-infusing grill. The beloved's chili cheeseburger ($5.95), too, featured juicy, fresh-tasting meat plus fresh toppings. Our sides may have come straight from a can, but John's attentive service was not generic. What a warm, friendly place, a wonderful haven on a freezing – or any – night.
Contact Chow, Baby at chowbaby@fwweekly.com.