One wonders if Lester Bangs was foreseeing this when he wrote that rock 'n' roll is a "raw wail from the bottom of the guts." Recorded by redoubtable noise maven Steve Albini in his Chicago lair last summer, Drug Mountain's eponymous album is one confrontational, assaultive slab.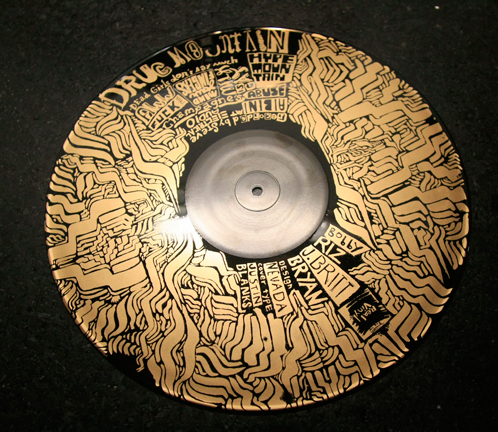 Pummelers with an arty sensibility, the four Fort Worthians (led by Britt Robisheaux, late of Nouns Group) combine minimalist guitar grunt with the crash-and-thump from one or two drummers, overlaid with dual-saxophone skree and shrieks/howls/wails of what must surely be the deepest human suffering imaginable.
Sounding at times like a parade of dinosaurs slogging their way to the tar pits of extinction (much like the men from Yeti in their last live performance), at others like industrial machinery with a madman at the controls, Drug Mountain is some heavy ramalama. The sound is the sort of thing that is generally more impactful in live performance, but listen hard and you'll discover something: What makes Drug Mountain so effective is the ironclad lock between the guitar and drums. Respect the fundamentals.
An auspicious first release for Real Vinyl, the nonprofit vinyl-only label helmed by Ben Rogers, who works or has worked with The Chat Room, Metrognome Collective, 100 Second Dash, Roman Seasonal. The non-playing side of the disc comes adorned with an arresting silkscreen by Zanzibar Snails muso/graphic artist Nevada Hill, who's since joined Drug Mountain's lineup. The run is a limited edition of 100. Folks with a mind to should cop with haste via www.realvinyl.org or www.myspace.com/drugmountain. Definitely not for the squeamish.