A musically incisive nerd-punk who makes instrumental music inspired by video game soundtracks? That's Alex Atchley, a 24-year-old Fort Worthian singer-songwriter who now performs as Naxat, the name of one of his previous projects.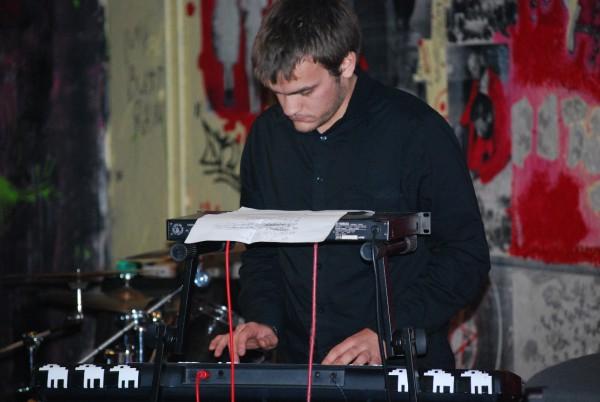 He brought back Naxat not too long ago as a revolt of sorts against what he was doing at the time: The Alex Atchley Experience, an indie-rock-ish project. "I was having a lot of second thoughts," he said. "All the AAE songs were simple three- or four-chord standard rock progressions. It sounded very derivative of indie rock."
Naxat's music is instrumental, computer-based, sprawling, and thunderous, performed onstage by a lunatic who has some serious guitar chops. It's one of a kind, and that's just how Atchley wants it.
He grew up in Mansfield in a secure home where, to calm him down, his mother would play Van Morrison's Moondance. The Irish folk artist is still one of Atchley's favorites, along with punk heathens The Minutemen and instrumentalists Chromelodeon, whose 2005 Wreck Room show made him cry and inspired him to keep on making music.
An audio engineering student at Tarrant County College, Atchley has played drums in Black Wizards and guitar in The Hack-and-Slashers, and he tried busking as part of the acoustic act Johnny Carson. AAE started off as a solo project but eventually morphed into a full band, polished and streamlined in a non-crazy, socially acceptable way. A big following quickly rose — and fell. Atchley had recorded an AAE album at Automorrow member Ben Napier's house but ended up scrapping the whole thing. "I figured the world didn't need another pop-rock album," he said.
He wanted to do something completely different. Enter: Naxat. "Songs with no words can be expressive," he said. "I wanted to explore that more."
Music soundtracks to video games are "pure melody," he said. Although he likes how his voice sounds on tape, Atchley didn't want to taint his Naxat compositions with vocals. "It bothers me when bad singers ruin decent bands," he said. "When you add vocals, you dumb down what everyone [else in the band] is playing."
Atchley created melodies mainly via the music software program Fruity Loops, and he even composed on his Nintendo Game Boy via the program Little Sound DJ. He laid down the foundations of songs with drums and looped patterns and then filled in the space with live guitar, synth, and bass. This past August, Atchley/Naxat put out the Tree Tunnel EP, a selection of four of his best songs.
The EP's opener, "letsdothis," showcases Naxat's originality in a Super Mario-at-a-rave sort of way. For "good weather," Atchley remixed a song by Baltimore's Abiku with the tortured disco singing of Jane Vincent. The EP is still available as a free online download at www.hotdogstorm.com/naxat or in limited cassette version.
In future releases, Atchley said he might use singers, but for now he is working on paring down the electronica in his music to leave more space for live instrumentation. Last month, Atchley and a friend from Phoenix, Cameron Rosewicz, did a small tour through New York City and two cities in Virginia. In Alexandria, he and Rosewicz performed live as part of MAGfest, an annual video and computer gaming festival that features a lineup of artists inspired by early video game compositions. The Naxat duo played for a crowd of around 200, which is Naxat's performance highlight to date.
Rosewicz' addition to the lineup was fun, Atchley said, but he lives too far away to become a regular contributor. Other musicians would be nice, but Atchley has grown accustomed to doing things his way. "My songs can be a headache," he said. "There are a lot of time signature changes, and things can get long-winded."
Atchley is aiming to release a Naxat album and do another tour this year and will be playing guitar and acting in Cannibal! The Musical at Dallas' Hub Theater later this month.
Playing solo is just fine for Atchley, though, who says all his goals are personal. "If anyone picks up [my music] and becomes a fan, that's fine," he said, "but it's not something I strive toward."