OK, the reason Chow, Baby has been all depressed and road-tripping recently is because it got unexpectedly and non-negotiably dumped by the beloved. Chow, Baby didn't mark the precise dump-date, but going by its diary, a.k.a. this column, it must have been sometime between Jan. 13 ("the beloved … whom Chow, Baby adores") and Jan. 20 ("that special kind of bad day when you just want your mommy").

Post-breakup was a tough go at first, but eventually came the signs that Chow, Baby was back to its old self, able once again to appreciate tasty foodstuffs and cuties in cargo shorts (Friday night a week ago, Lowe's on Eastchase, by the Duraflame logs: Call me!).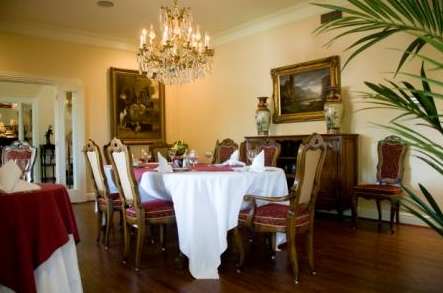 Relieved to find that a couple of  weeks is all that's needed to move from four years of "you're the love of my life" to "just friends," last week a dry-eyed Chow, Baby invited the ex-beloved to hang out, not a date or anything, on Sunday – with no idea at the time that Sunday was Valentine's Day. Not that it mattered; even when Chow, Baby wasn't a bitter single person, this Hallmark holiday meant only that it was hard to get a table at a decent restaurant, and even if you did they had a prix-fixe chicken menu. Still, it's weird for the newly unwed to spend Valentine's Day at The Sanford House (506 N. Center St., Arlington): Damn, this place is romantic. Roaring fire in the dining room, chandeliers, cushy drapes, landscape paintings in gilt frames, and perfectly attentive but not hover-y waiter Frank – you could easily fall in love (again) in this room. Chow, Baby feared the brunch menu would be similarly rococo, but instead the pot roast ($13.95) was simple perfection, with al dente carrots and potatoes in incredibly rich gravy; the ex-beloved's delicate "eggs Benny" ($12.95) featured a light, scallion-spiked cream sauce in the place of hollandaise, with a side of gloriously naked fresh fruit. As our meals were equally delicious, there was a lot of just-friends cross-forking going on.
After brunch, Valentine's Day reared its head again at the Fort Worth Community Arts Center. It's closed on Sundays, a fact Chow, Baby always forgets because that's a stupid day for an artsy place to be closed, but an employee smiled on the happy (non)couple on this romantic day and let us in to wander around. Chow, Baby won't detail the current exhibits, because that's what art critics are for, but do check out the astonishing hand-embroidery "paintings" from Vietnam. This reminded Chow, Baby that Sunday was not only Valentine's Day but also the first day of the Year of the Tiger, which we decided to celebrate at Pho Saigon (1730 Randol Mill Rd., Arlington).
Once again we were greeted with a Happy Valentine's Day sign. Some ex-couples would capitulate at this point, but we stuck to our just-friends guns: Friends can share an appetizer of shrimp spring rolls ($2.45) with amazingly fresh peanut sauce and a banh mi of juicy grilled pork on French bread ($2.95), though they generally get their own soups. Chow, Baby's pho ($5.25) was darn good, but the ex-beloved's Hue-style spicy beef noodle soup ($5.95) was fantastic, a not-too-spicy symphony of rich, earthy flavors. There was much companiable cross-spoonage going on. All in all, in an odd way, it was Chow, Baby's best Valentine's Day ever.
Contact Chow, Baby at chowbaby@fwweekly.com.