The small storefront on Magnolia Avenue has been getting a lot of attention from local foodies: Vance Martin and Martin Thompson have more collective cachet than almost any other duo in town. Martin's Lili's Bistro, just up the street, still overflows at lunchtime, and Thompson is the former chef from Del Frisco's Double Eagle Steakhouse. Their new place is Cat City Grill, named in honor of Fort Worth's nickname Panther City. If any two people can make such an oddly named place work, it's Martin and Thompson.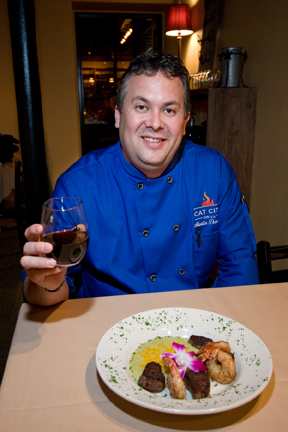 The larger-than-Lili's place boasts a nice-sized bar and private dining area. Pretty earth-toned walls and steel-topped tables with black chairs create a soothing environment that is neither falsely hip nor fake-homey. On the night of a recent visit, a local news station had gotten word of some trendy new area called the "South Side," and camera crew, anchor lady, and all of her assorted minions were hogging the area by the bar.
Fortunately, none of the hoo-hah fazed server Tyler. He deftly parried questions with thoughtful recommendations. Many of the items, including the Gorgonzola fries and the fried pickle spears, will look familiar to Lili's lovers. The tempura asparagus, which came with a sinus-clearing wasabi cream sauce, featured a delicate batter that clung to the al dente asparagus, and the sesame seeds scattered atop and along the plate added a lovely, deep, nutty dimension of flavor. The earthy combo of the portabella mushroom (which came thoughtfully sliced) and delicate escargot in another app was bolstered by a strong garlic sauce and delicately grated Parmesan cheese. The only thing missing was some doughy bread to mop up all of that yummy sauce.
While Tyler couldn't produce a baguette, he did proffer a lovely layered spinach salad, with Gorgonzola cheese, pine nuts, mandarin oranges, and dried cranberries atop three buttery, delicate wontons. The plum vinaigrette was sweetly tart, and the complex layers were a delight. Each bite tasted a little different, depending on the combination of sweet fruit, salty cheese, or buttery pine nuts on your utensil.
The sea bass entrée came "poached in a lite lime sauce," with salty, soy-tinged bok choi, mushrooms, and asparagus. The veggies were sweetly redolent of sesame oil, and the mild, succulent, light fish was perfectly poached and arrived beneath chopped pistachios. It was definitely the food-envy dish of the evening.
The King Ranch poblano chili wasn't as stellar. The creamy chicken dish suffered from too many red and green peppers. Although the al dente veggies added a lovely crunch, the delicate tomatillo sauce was totally lost in the green pepper flavor. The delightfully spicy poblano was beautifully complemented by delicious, creamy jalapeño cheese grits.
For dessert, try the coffee and cake: French-press coffee and four Italian cake balls. The coffee was heavenly: black as night, stronger than sin. Sweetly, slightly spicy and almost caramel-flavored, the drink didn't need sugar –– especially when paired with the doughy, coconut-laden iced cake balls.
Every plate that comes out of Cat City's kitchen is a feast for the eyes, with beautiful and — you can safely assume — edible flowers.
Cat City Grill
1208 W Magnolia Av, FW. 817-916-5333.
11am-2:30pm Mon-Fri, 5-9pm Mon-Thu, 5-10pm Fri-Sat.
All major credit cards accepted.