My friend Emily is possibly the funniest woman in the world. At least, in my world. And she is brilliant at organizing boozy get-togethers. Late last year, she organized a St. Stephen's Day Party. Not being familiar with saints (other than those of the Who Dat? variety), I had to ask.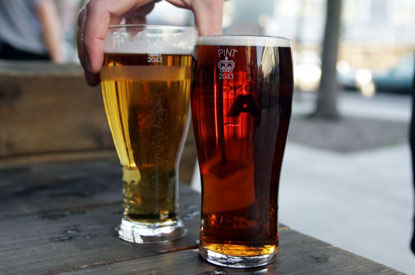 "St. Stephen's Day is the day after Christmas," Emily told me. She had lived in Ireland for a while, and St. Stephen's Day is one of nine public holidays there. There's apparently a very complicated set of rituals around the celebration, which merges Christian and pagan traditions. Emily explained thusly: "It's a pub crawl," she said. "You go from pub to pub and have a drink at each one." She might have been oversimplifying just a tad.
I was not clear how the holiday honoring the first of the Catholic Church's martyrs was tied into drinking, but in Irish cities, it's pretty easy. Bunches of pubs are stacked like grapes. Hitting 12 of them on St. Stephen's Day is no big whoop.
Emily gathered some friends together on a recent Thursday night (not sure which saint's day –– if any –– that we were celebrating) and picked the neighborhood that was most likely to yield the largest number of quasi-pubs with the least amount of transportation involved: the West 7th Street corridor.
We began our urban cowgirl pub-crawl at Gloria's in Montgomery Plaza. I am not sure why Emily chose it, but the luck o' the Irish was with her. Gloria's, in addition to having the world's best bean dip, has a killer happy hour: all day Monday through Wednesday and Thursdays from 3 to 7 p.m. Most of the best things are on sale. The house margaritas and sangria, both stiffer than a sailor on shore leave, are a mere $3 (as are the mojitos). The fancier strawberry and mango margaritas, as well as swirls, are only $5. Beer is $3 domestic, $3.50 imported. Very generous. We snapped pictures, all of us smiling cheerfully.
Thus fortified, we wove our way across the street to The Pour House. The place has a diverse menu, but we weren't hungry. By this time, we had exceeded our happy-hour pricing options for drinks. But we discovered that The Pour House has something unique: a giant fishbowl filled with lord-knows-how-much fruity alcohol. The bartender won't sell it to you if you're drinking alone. Several of us –– each with her own straw –– shared several bowls, which magically seemed to grow tastier the longer we drank. At one point, a discussion began about the history of The Pour House and its location change to the trendy side of 7th Street.
"This doesn't look like The Pour House," slurred my not-sober companion Cassie. Apparently, she and the old Pour House location in Sundance Square used to be this close.
"Well, I like it," I said. "The floor's not sticky. And look at all the televisions!" We ogled the large screens and also frequently visited the lovely, shiny new-looking bathroom. After we'd drained the fishbowls, we snapped a picture, all of us grinning like we'd won the lottery, and wandered to our next pub.
By this time it was close to 11 p.m. For reasons still not clear to me, I suggested 7th Haven. I know it as the place where I get to sit on the awesome rooftop patio and drink in the downtown skyline (among other things). However, during the dead of winter, the Haven's generous outdoor deck is closed. So you're left with seating inside the place, which can be described as charmingly cozy. The bartenders were polite and didn't flinch at the sight of about a dozen women straggling in. We raised some eyebrows among the regulars, but they tolerated us once we'd all gotten settled and drinks were ordered.
In the harsh glow of the neon and Christmas tree in the corner (which is there year-round), I started to realize that there was no way I could make a fourth pub, let alone 12 of them. Then one of my friends started to dance near the tree in a very St.-Stephen's-Day fashion. Although there were several more drinking establishments within a mile that we could have visited, the Haven seemed to be a good place to stop. Maybe we'll pick it back up on St. Patrick's Day. (In fact, I'm sure we will.) By which point, the grand total of bars and bar/restaurants in the West 7th corridor surely will number in the dozens, bless St. Stephen.
–– Laurie Barker James
Contact Last Call at lastcall@fwweekly.com.