"Someone tell Chadra Mezza there's definitely competition in town," e-mailed executive legman Michael B., promoted from associate legman last year after his Al Wadi find in Bedford. Michael, who unquestionably knows his hummus from his baba ghannouj, was talking about the expansive lunch buffet ($10) at Terra Mediterranean Grill (2973 Crockett St.), the new Lebanese restaurant that has been getting raves since it opened last month in the West 7th development. Same owners as Dallas' popular Ali Baba, so the place does sound promising. But — as good as Chadra Mezza? Really?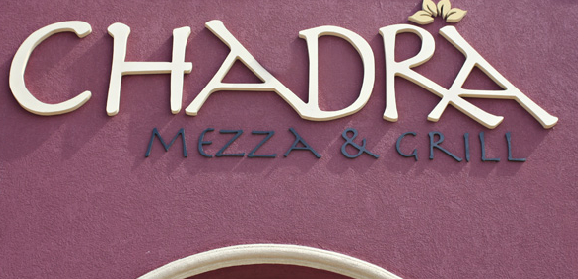 Color Chow, Baby pretty darn skeptical. Chadra Mezza & Grill (1622 Park Place Av.) is, according to this column, "super-duper," serving up the best Lebanese food — and some Italian dishes too — that Chow, Baby has ever had. (Note to global-cuisine-research calendar: Lebanon this year?) Indeed, Chow, Baby believes the fault line in its recent split with the beloved started two years ago over a Chadra dish (Heavenly Chicken, $13.95) that was too tasty to share, beginning a pattern of non-sharing that eventually led to never sharing again. Takes a mighty impressive dish to do that. And oh, Chadra's swoon-inducing Friday night lamb buffet ($15.95). But Chow, Baby was determined to remain, what do you call it, open-minded, and headed off to dinner in Dallas — oops, on West 7th. Hard to tell them apart sometimes.
Cool décor, yeah yeah, but this hummus ($6) is amazing. Ultra-silky, richly nutty, just-right flick of garlic. And nice warm, fluffy pitas, too. The meal-sized mound of tabouli ($8) popped with fresh parsley, tomatoes, onions, and lemon juice. But no thrills in Chow, Baby's lamb kabob ($16), which featured a goo-pile of what tasted like original Rice-A-Roni (not the low-sodium version); supposedly roasted but possibly just boiled vegetables, mainly peppers; and several good-sized chunks of lamb that were at once over- and undercooked to a uniform grayish tone. Nothing at all like Chadra chef/owner Nehme Elbitar's seared-outside, ruby-inside lamb lovelies. Nothing.
This is where somebody (a restaurant manager, usually) writes in, "Jeez, Chow, Baby, if instead of whining about it in print, you had just told somebody your order was cooked wrong, they would have happily redone it." Good point. As it happens, Chow, Baby had its appeal for justice all rehearsed and ready to deliver — but never got the chance. No managerial "How is everything?" cruise-by, which is odd for a new restaurant at this price level; and Chow, Baby saw its waiter three times, none of them opportune: "What do you want to drink?" "You ready to order?" "Here's your check." Chow, Baby left its worst tip ever (15 percent), envying the nearby lucky tables whose servers were describing menu items, smiling at their patrons, and even suggesting dessert before dropping the check.
Anyway, the meat-cooking problem wasn't restricted to the lamb. Chow, Baby's midnight snack of saffron chicken ($14) had a delightful curry-wine-cream sauce, so scrumptious it made the Rice-A-Roni into a real treat, but the chicken itself was overcooked and dry. The cardboard-textured and -flavored gyros (side order $6) were good for hummus-scooping but nothing else, certainly not eating. Major points to the saucier and whatever you call the guy who makes the hummus; everybody else should be sent back to food/waiter/manager school. Chadra Mezza has nothing to worry about.
Contact Chow, Baby at chowbaby@fwweekly.com.