Walking into Korea House BBQ in Cityview is a little like entering a meditation center. The walls are a pale tan, white flowers bloom in dark vases, and placid woodwind and string music trickles from the speakers. Even the smiles of servers are calming. But file all this ambience under "looks can be deceiving": Unless you order it otherwise, the food here is tongue-blazing, sinus-clearing spicy in the authentic Korean vein. And it's awesome.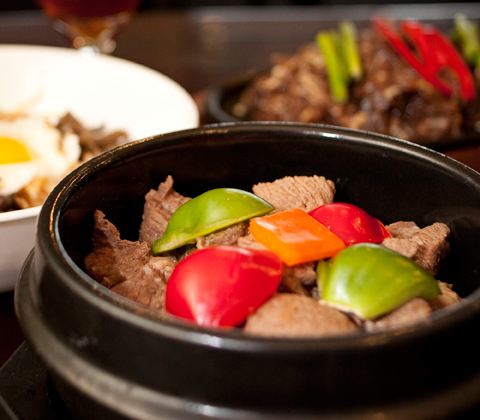 The appetizers, however, seemed to continue the theme of the décor: mellow and comforting. The goon man doo were fried, half-moon-shaped dumplings modestly stuffed with steaming meat and veggies that included tiny bits of clear onion. The bin dae ttuk offered something more unusual and delicious: two smallish mung bean pancakes that were crisp around the edges, tender and cakey in the thin center, and had a soothing earthy flavor.
Every Korea House BBQ meal comes with traditional pan chan sides: 10 large white saucers holding little heaps of, among other things, fiery fermented kim chi (with both fat cabbage leaves and slivers of cucumber in red pepper paste), silky and slightly fishy seaweed salad, thin triangular slices of non-fishy fish cake (also in red pepper), and bite-sized pieces of fried tofu flecked with zesty sesame seeds. Be careful, because the pan chan can easily steal your attention from the main courses.
The menu advertises bi bim bap as "rice with mixed vegetables with Korean spicy sauce." That's an incomplete description, to say the least. Little mounds of soft green beans, crunchy bean sprouts, portobello mushroom slices, and slivers of carrot and potato –– all marinated to a vinegary tenderness –– were accompanied by succulent shredded beef and a fried egg sunny side up. The red "Korean spicy sauce" had a heavy tomato flavor and an eye-watering heat level. Bi bim bap should satisfy more adventurous palates.
The spicy bulgogi was stellar. The server pointed out that it was different from the menu's similarly spelled "boolgogi," which is marinated beef. Bulgogi was thick shreds of savory pork tenderloin and thin-sliced onions simmered in a barbecue sauce that struck the right balance between hot and sweet. Mixed with sticky white rice, it was irresistible despite the bonfire that raged after several bites. That's just one example of how Korea House BBQ lures you in and sets you aflame.
Korea House BBQ
4750 Bryant Irvin Rd, Ste 842, FW. 817-370-0685.
11:30am-2:30pm, 5-9:30pm Mon-Fri, noon-9:30pm Sat. Closed Sun.
All major credit cards accepted.