BlackFinn American Saloon is fairly well known in Southwest Arlington as the place with cheap drinks every night of the week. During happy hour (4 'til 8 p.m. daily), everything but the fancy liquor and bottled beer is half-off. BlackFinn often contributes portions of happy-hour proceeds to certain worthy causes. SafeHaven of Tarrant County is just one local charitable organization that has benefited from the 'Finn's generosity.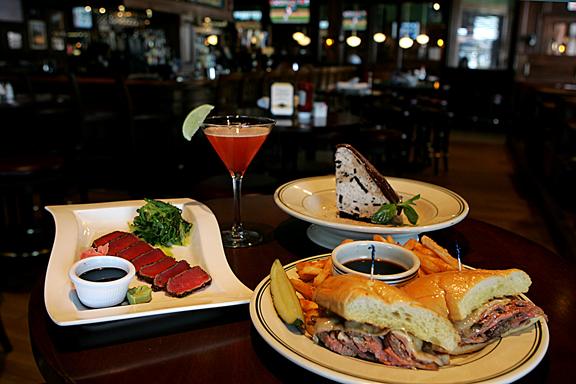 But there's a restaurant half to the place as well, and it's definitely trying to offer something for everyone. In addition to classic saloon grub (sliders, pizza, cheese sticks, fried fish), BlackFinn also offers pulled pork, rib-eye steak, and, according to the menu, "sushi-grade" ahi tuna.
Oh, and kids eat free Sundays through Wednesdays.
On a recent visit, the dining room was pleasantly noisy, courtesy mainly of the bar patrons nearby, the '80s music in the air, and the huge TVs all around, tuned to ESPN and CNN.
The fried calamari app was a good start. The rings and tentacles had been cooked perfectly: crunchy outside, chewy inside without being rubbery. They were visibly greasy but not on the tongue.
A good rule of thumb is to avoid ordering raw tuna in a bar. However, the thinly sliced ahi atop a mix of spring greens was sweet, mild, and beautifully presented, even if there was too much pepper and not enough garlic. The salad came with a honey-cider vinaigrette that was fine but not salty enough. The tuna also is served as an appetizer with soy sauce and wasabi –– maybe that's a better way to go.
The evening's server, Ben, had recommended the ahi and also another entrée, the lemon chicken. Basically, it's chicken piccata: three pounded-thin cutlets of bird, lightly pan fried, and served with a luscious, tart lemon-and-caper sauce. The entrée was perfect.
The prime rib Balboa sandwich was a lovely mess of rich, not-lean, probably not-good-for-you meat, smothered in mozzarella cheese on what was described as garlic toast but tasted actually like Texas toast. Either way, the bread was delicious, especially after dipping it into the salty beefy au jus that accumulated on the plate. The fries that accompanied the sandwich were wonderfully crispy. Though dense enough to wreck any diet, the Balboa's got nuthin' on the Porkopolis, a sandwich so loaded with pork that there's apparently no room for veggies of
any kind.
BlackFinn offers an interesting variety of desserts. The apple crisp was a nice twist on the traditional apple pie: cinnamon-kissed apples under a sugar cookie crumbly topping, with a scoop of vanilla ice cream and plate accents of caramel. It was a delight, especially if you like the hot pie/cold ice cream combo.
More impressive to look at but less impressive to eat was the ice cream pie. Though huge, it had to have come out of a cardboard box and was so frozen it was hard to slice into. The Oreo ice cream was fine, but the chocolate crumb crust tasted freezer-burned.
BlackFinn American Saloon
4001 Bagpiper Way, Ste 101, Arlington. 817-468-3332.
11am-2am daily, full menu 11am-11pm.
All major credit cards accepted.
Ahi tuna salad $11.99
Apple crisp $6.99
Fried calamari $10.99
Lemon chicken $13.99
Prime rib Balboa sandwich $9.99